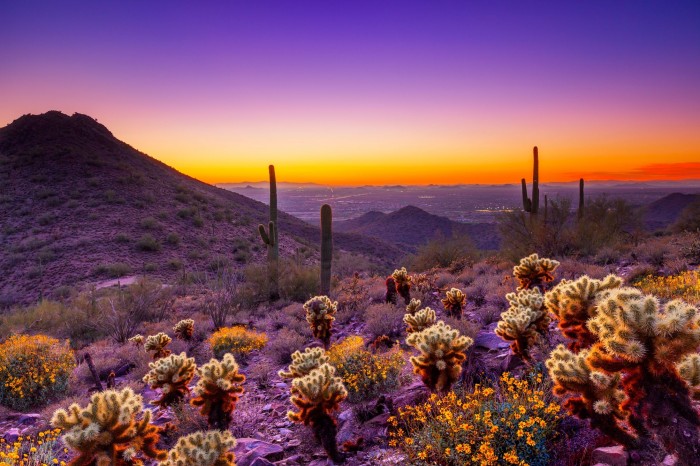 Travel
Top 10 Best Places to Live in Arizona
Arizona is considered as one of the hottest, coolest, best places to live in USA. It is home to some of the most remarkable places in terms of education and income. The capital and the largest city in Arizona is Phoenix. Arizona is famous for its desert climate in its southern half, with very hot summers and mild winters. Here are the top ten places where you can lead a decent happy life full of tranquility, hope and optimism.
10 Litchfield Park
This is one of the best places to live thanks to many elements that this area is distinct in. This area is characterized by low crime rate, high median income, high home value, and some of the best high school diploma attainment rates. The low crime rate means that this area is the safest place to live in Arizona. Residents can have a median household income that reaches $73,996.
9 Fountain Hills
It was named after the towering fountain in the center of the city. It is a small, scenic desert community located east of Scottsdale. This city gets an excellent level of education, with a high school diploma attainment rate 25 percent higher than the state's average, and high median household income of $75,083. This town is surrounded by mountains including Four Peaks, the Superstition Mountains and the McDowell Mountains in addition to a natural desert landscape.
8 Gilbert
This is one of the most prominent places to live in thanks to high population density, high median income of $79,989, and high school diploma attainment rate of 94 percent. It is regarded as the "safest municipality in Arizona and 24th safest in the nation" by Washington, DC-based CQ Press.
7 Oro Valley
The population of the town is 41,011. It hosts more than 10 high tech firms and has a median household income of nearly 50% higher than the U.S. median. It has major parks such as the oldest, James D. Kriegh Park  with an Olympic-sized swimming pool, recreational fields, and racquetball courts.
6 Paradise Valley
This place provides you with the opportunity to make a journey through widely differing scenery and locations. Many visitors travel onwards from the palm groves and gorges of the river Tamrhakht up into the mountains towards Imouzzer. Most of Paradise Valley is within the Scottsdale Unified School District.
5 Surprise
At the 2000 census, the population was 30,848.  In 2010 the number of population reached 117,517. It was founded by Flora Mae Statle because she "would be surprised if the town ever amounted to much". It is surrounded by mountain park-lands, a regional lake and pristine, open Sonoran desert.
4 Carefree
This is a place of soothing and simple spaces with uncluttered panoramic views of the Continental Mountains. Carefree is home to world-class resort living and shopping. Street names such as Primrose Path reflect the town's whimsical nature. The surrounding natural scenery is spectacular, with sharp mountains and abundant desert growth.
3 Chandler
It is one of the largest cities with a population that reaches 236,123. However, it has a higher median household income than the rest of the state of over $70,000, a median home value of over $278,000. It also has a high school graduation rate of 88 percent. It is a three-hour drive from the Petrified Forest, a beautiful spot in Arizona.
2 Peoria
Peoria certainly has some of the sunniest and warmest Arizona weather. It is located near Desert Botanical Garden which is one of the best attractions. Peoria also has a higher than average high school diploma attainment rate of 88 percent and a median household income of and $63,935.
1 Scottsdale
Scottsdale has more spas per capita than any other city in the U.S. it is located in the heart of the lush Sonoran Desert. The glittering star-filled skies create the perfect atmosphere for a romantic dinner or exciting night out on the town. It hosts a large number of churches, chapels, temples, mosques and other religious places.
These are the most attracting places in this famous spot of the leading superpower, the United States of America.