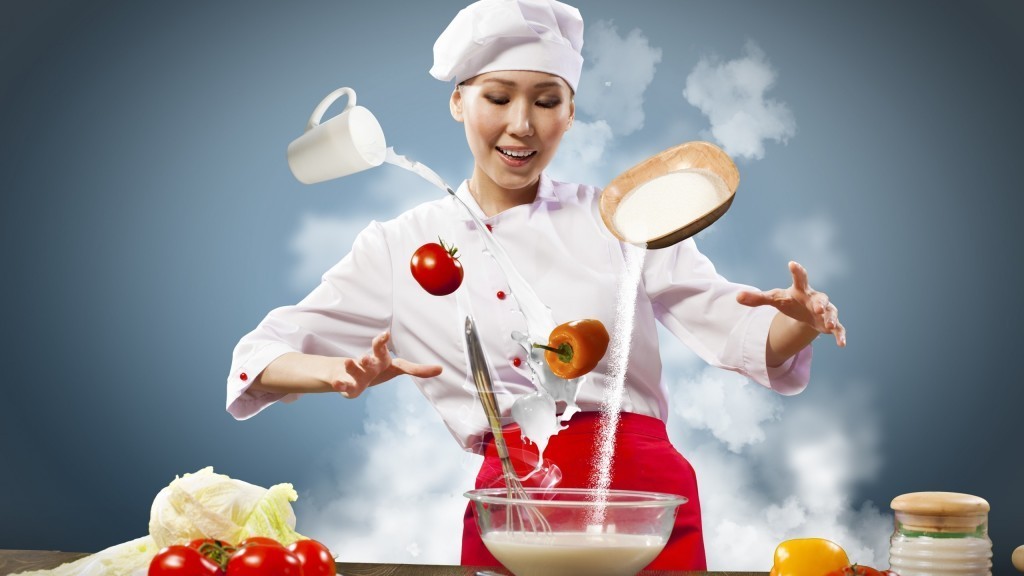 Do you like cooking? Do you find it easy to cook what you eat? We believe that our mothers are the best in the whole world especially in what is related to cooking and preparing delicious types of food. They know what we love and do their best to prepare it, but how do our mothers learn to cook? There must be other professional persons who have the ability to help us learn how to cook and keep our families happy while preparing different types of food at home instead of wasting our money for purchasing what we want to eat. If you want to learn how to cook professionally without exerting a huge effort or wasting a long time, you have to look at what is presented by professional chefs from around the world. Those creative chefs differ in their techniques and cooking styles which makes them the best. Let's start learning how to professionally cook through taking a look at what is presented by the top 10 best & most famous chefs in the world who are listed here. 10 Alain Ducasse – Monaco
Alain Ducasse is a Monégasque chef who was a French citizen, as he was born in France, but then he lost his citizenship because he chose to be a Monégasque citizen in 2008 to make use of the principality's tax rates. In 1980, he became a chef for the first time and after just one year he was a head chef. He holds 21 Michelin stars and operates several famous restaurants in different places around the world such as Alain Ducasse at The Dorchester – London, Adour – New York, Aux Lyonnais – Paris, La Trattoria – Monaco, Benoit – Tokyo and more. In addition to operating restaurants and authoring cookbooks, Alain Ducasse opened two cooking schools; one of them is for chefs and the other one is for general public in Paris. 9 Eva Arguiñano – Spain
Eva Arguiñano is a Spanish chef and TV presenter as well. She started her journey as a chef working at the restaurant and TV shows of her brother Karlos Arguiñano, who is also known as one of the best and most famous Spanish chefs. In March 2006, Eva Arguiñano started presenting Hoy cocinas tú on laSexta. Eva Arguiñano is not just a creative chef and TV presenter as she is also an author who has published many cookbooks which show that Eva Arguiñano is more interested in preparing desserts. 8 Chef Oropeza – Mexico
Chef Juan Alfredo Oropeza Mercado, or just Chef Oropeza as he is commonly known, is a Mexican chef who studied at some of the best culinary colleges in the world after finishing his studies at the Universidad Anahuac del Sur. He studied at Culinary Institute of America – New York, Baipai Thai Cooking School – Bangkok and Raffles Academy – Singapore. He is known for hosting the cooking show Al Sabor Del Chef "The Taste of Chef" trying to teach others how to cook and prepare hundreds of dishes. Chef Oropeza is also the author of La Nueva Cocina Saludable del Chef Oropeza. He focuses in his work on presenting rich and easy recipes which are above all HEALTHY. 7 Gaston Acurio – Peru
Gastón Acurio Jaramillo is a Peruvian chef who operates his own restaurants in many countries around the world. He studied cooking in Paris at Le Cordon Bleu and after discovering more about international cuisine he returned to Peru in 1994 to help in developing Peruvian cuisine and become one of the most famous chefs in the world. He is an ambassador of Peruvian cuisine and is known to be the host of his TV program in Peru. In addition to being a professional chef, Gaston Acurio is an author who has published numerous books and contributes to several magazines as well. 6 Nigella Lawson – England
Nigella Lucy Lawson is not just a gorgeous woman, she is also an English gourmet, food writer, television personality and journalist. She started her career as a restaurant critic and book reviewer and then she worked as a freelance journalist to write for several magazines and newspapers. The first cookery book written by Nigella Lawson is "How to Eat" and it was published in 1998 to be a best-seller. Nigella Lawson hosted several cooking shows and has won many awards such as the British Book Award for Author of the Year in 2000, the Guild of Food Writers Award in 2001 and the World Food Media Award in 2001 and 2007. 5 Vikas Khanna – India
Vikas Khanna is an award-winning chef from India and is known for hosting the famous TV Show MasterChef India. He is also a food writer, restaurateur, humanitarian and filmmaker. He started gaining culinary experience and learning more about the art of cooking and using spices at a young age as he was helping his grandmother in the kitchen which allowed him to early start developing recipes and become one of the most famous chefs in the world. Vikas Khanna became an Executive Chef of Salaam Bombay Restaurant after moving to New York in 2000. He has received several awards such as the Rising Star Chef Award, a Michelin Star for his restaurant Junoon, the Access to Freedom Award, The Shining Star Award and more. 4 Osama El-Sayed – Egypt
Osama El-Sayed is an Egyptian chef, culinary consultant and TV presenter. He is a Certified Executive Chef and a member of the American Culinary Federation (ACF), the Epicurean Club of Washington, DC, the International Association of Culinary Professionals (IACP) and the Emirates Culinary Guild (ECG). He tries through the several cooking shows that he hosts to simplify everything for the ordinary viewers to help them learn how to cook in easy steps. Chef Osama El-Sayed is the host of "Ma Osama Atyab" (It's More Delicious with Osama) and "Bil Hanna Wa Shiffa" (With Joy and Good Health). He contributes to several magazines in the Middle East and has published many cookbooks such as "Bil Hanna Wa Shiffa" that was published in 2001. 3 Jamie Oliver – United Kingdom
James Trevor Oliver who is commonly known as Jamie Oliver is a British chef, restaurateur and media personality as he appears on both television and radio advertisements and shows. The first place in which Jamie Oliver started practicing cooking was the kitchen of his parents' restaurant "The Cricketers". He started his career as a pastry chef at Antonio Carluccio's Neal Street Restaurant where he discovered more about Italian cuisine. Jamie Oliver is known for hosting a number of TV shows such as the BBC show "The Naked Chef", Jamie's 15-Minute Meals and more. He has won several awards such as an MBE (Member of the Order of the British Empire), TED Prize and Honorary Fellowship by the Royal College of General Practitioners for his role in improving the nutritional value of school dinners trying to solve the problem of childhood obesity. 2 Ina Garten – United States
Ina Rosenberg Garten is one of the best chefs in the United States and is known to be the author of the Barefoot Contessa cookbooks. She is also the host of Barefoot Contessa on Food Network and focuses in designing her recipes on two main things which are using fresh ingredients and providing time-saving tips to make cooking easier. With the help of French and New England cookbooks, Ina Garten succeeded in learning culinary techniques on her own without resorting to formal training to start learning how to professionally cook. Receiving feedback from friends and customers had also helped Ina Garten to refine her recipes and become a famous chef. 1 Gordon Ramsay – United Kingdom
Gordon James Ramsay is a British chef, who was born in Scotland, and a restaurateur whose restaurants currently hold 9 Michelin Stars (16 Michelin Stars in total). He has many successful and famous restaurants in different countries around the world but the most famous restaurant owned by Gordon Ramsay is "Restaurant Gordon Ramsay" that is located in Chelsea, London and it holds three Michelin Stars. Gordon Ramsay is also an author and TV presenter who is widely known for hosting several famous TV shows such as "Ramsay's Kitchen Nightmares", "Hell's Kitchen", "The F Word", "MasterChef Junior" and the famous cooking show "MasterChef". Gordon Ramsay has won three Catey awards and was ranked by Forbes the world's 21st highest earning celebrity in 2015.
What do you think of the professional chefs who are presented here?
Which one do you like the most and why?