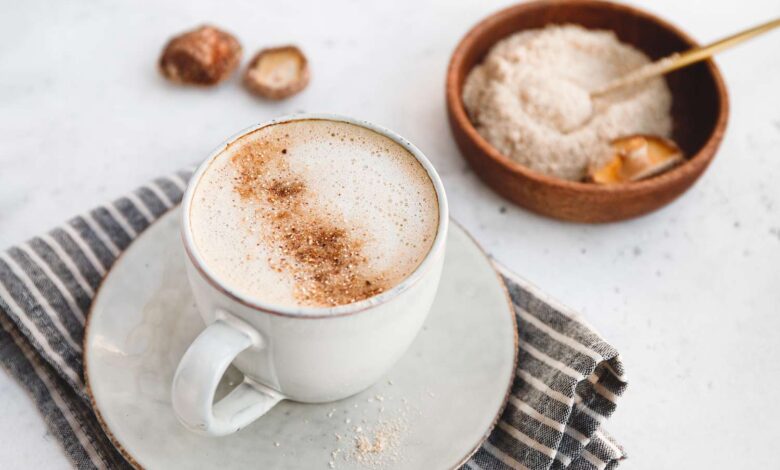 It's no secret that coffee is America's favorite drink. Who of us doesn't have a 2-cup morning wakeup routine or an afternoon cappuccino for a mid-day boost? Life is busy, and everyone is tired, and the caffeine coffee contains is the best way to get out of that drowsy, foggy-brained state. Right?
According to the National Coffee Association, well over 60% of Americans drink coffee every day, and the average is right around 3 cups. That's 300 milligrams of caffeine. For reference, the recommended max caffeine safe to drink in a day is 400 mg. So if you've drank 2 cups of coffee this morning, grabbed a 2 shot latte at lunch, and are considering an Americano at 2 pm, you're well outside of the safe zone, and you haven't even made it through the day.
Big doses of caffeine may wake you up for a bit, but they come with consequences – jitters, cold sweats, anxiety, headaches – and then there's the crash that comes after the energy boost. And that's because caffeine is really just a bunch of empty energy promises. The boost it offers isn't sustainable. Plus, coffee's habit-forming, which is why you're an absolute mess when you miss your morning medium roast. Caffeine withdrawal is real.
This has led many of us to search for a way to detox from coffee and maybe caffeine altogether. The health drink market is booming, with wellness drinks that offer immunity, mood, and energy boosts without massive doses of caffeine. And these drinks go further than a little energy boost; companies are incorporating powerhouse ingredients like adaptogens, medicinal mushrooms, nootropics, superfoods, and amino acids to create daily wakeup routines that help your mind and body perform their best.
Here are 10 of our favorites:
1

Rasa



Rasa offers a whole line of coffee substitute blends that you brew just like regular coffee, which is an elegant way to keep your morning brew ritual while ditching the energy hamster wheel it creates. Rasa's products are adaptogen-focused, with Classic Rasa as their most coffee-like product. Classic Rasa takes advantage of 6 adaptogens that support energy, immunity, mood, digestion, and better sleep.
The key ingredients that make Rasa such a great alternative to coffee are red ginseng, maca, cordyceps, rhodiola, shatavari, and gynostemma. Intended for daily use, the positive effects of these adaptogens accumulate over time. And Classic Rasa contains no caffeine. In fact, none of their wellness drinks contain more than 5 mg of caffeine.
2

Qualia Mind



Neurohacker Collective's Qualia Mind Energy Shot utilizes complementary nootropic compounds that offer all-around support for cognitive function and brain health. While it does contain some caffeine, it is by no means the driving force of this energy shot's focus-boosting abilities. Qualia Mind's clean, natural ingredients support the serotonin system and dopamine signaling, antioxidant defenses, and acetylcholine signaling to boost memory, productivity, focus, athletic performance, and more.
The key ingredients that make Qualia Mind a better route to energy than coffee include galanga root, ginseng extract, Celestrus paniculatus seed, niacinimide, and saffron. It is meant to be taken 5 days a week with 2 off-days, which may or may not be consecutive – it's up to you. The supportive effects of nootropics accumulate over time, with caffeine acting as a fuel for those bioactive ingredients.
3

MUD \ WTR



Perhaps one of the most recognizable names in mushroom coffee, MUD \ WTR utilizes medicinal mushrooms, Ayurvedic herbs, and adaptogens to support overall health, which in turn supports your body's ability to have energy in the first place. MUD \ WTR has less than 15% of the amount of caffeine that's in a cup of coffee, is 100% organic, and has no sugars or sweeteners. It uses a masala chai base to carry its potent bioactive plant extracts.
The key ingredients in MUD \ WTR are lion's mane mushroom for focus, reishi mushroom for immunity, cordyceps to support energy production, chaga for immunity, cacao for mood and energy support, and turmeric and cinnamon for their antioxidant value. MUD \ WTR is intended to be a part of your daily wellness routine.
4

MTE



A new powerhouse player in the healthy energy drink market is MTE, which stands for More Than Energy. Formulated to disrupt how we think about and approach energy, MTE is a feel-good shot that uses an advanced blend of 11 adaptogens, nootropics, and superfoods to help you feel better by supporting healthy energy but also mood, sleep, immunity, focus, and performance – all while helping to reduce inflammation. MTE only has half the caffeine as a cup of coffee, while using a nootropic theacrine, to offer a longer, calmer energy boost than caffeine alone.
MTE is extremely transparent about its ingredients and the evidence for the profound health benefits behind them. Key ingredients like ashwagandha, maca, GABA, amaranth, and siberian ginseng support accumulating benefits to things like mood. MTE can be taken daily instead of or in tandem with coffee and is great either in the morning or afternoon.
5

Magic Mind



Magic Mind is a productivity drink that uses adaptogens and nootropics, fueled by a little bit of caffeine, to support all the things you need to be, well, productive: energy, mood, focus, attention, reduced stress, memory – the list goes on. They've also written a book called Beyond Coffee, which is a complete guide to the clinical evidence on nootropics, adaptogens, and mushrooms as science-backed alternatives to coffee dependence.
Some of the key ingredients in Magic Mind's formulation Bacopa monnieri for attention, lion's mane mushroom for neural support and anxiety management, and vitamin D3 for immunity, cognitive performance, and mood. Magic Mind is meant to be taken daily, with max benefits experienced at 5-10 days. You can drink it instead of or along with your morning coffee.
6

LMNT



This electrolyte drink mix takes a different approach to energy and cognitive performance: salt. LMNT was formulated as a result of extensive clinical research on sodium's effects on the body, and what they found is that population-based studies say we aren't getting enough salt. Turns out, 4-6 grams of sodium (instead of the recommended 1.5-2 g) doesn't increase the risk of hypertension or heart issues, and it's actually the ideal amount you need to reap its benefits.
The key ingredients in LMNT that make it a solid option for those who need an energy boost are sodium chloride and potassium. This higher dose of sodium actually protects, supports, and boosts the cardiovascular system while improving sleep and brain health. LMNT is meant for daily use and formulated with people on whole-food, low-carb diets and active lifestyles in mind.
7

Kaged Mindset™



Kaged's Mindset™ focus drink uses a complex blend of nootropics to boost cognitive performance, drive, attention, and memory, all without caffeine. Meant as an alternative to coffee, Mindset's™ formulation is about pure, potent, science-backed ingredients at exactly the right doses.
Some of the key nootropics in this healthy energy drink include Alpha GPC for acetylcholine support, ginseng for attention and focus, acetyl-l-carnitine for brain health, and vitamins C, B, and more. Mindset™ is meant to be taken 30 minutes before your work session and offers hours of steady focus and sustained attention without the jitters or crash of coffee.
8

Ka'Chava



Ka-Chava is more of an everything replacement instead of just a different choice than coffee. Packed with 85 superfoods, it's available in 5 flavors. Ka'Chava helps get you your daily energy by revamping your overall nutrition. It's a convenient grab-and-go way to make sure your body is getting what it needs for you to perform at your best.
Key ingredient groups in the spectrum of superfoods packed into this one include plant proteins, adaptogens, antioxidants/super-fruits, omega and fiber, super-greens, and probiotics. Touted benefits are everything from sleep, immunity, and energy support to heart and skin health. Ka-Chava is meant to be a daily replacement meal.
9

Beyond Brew



This stalwart of mushroom coffees goes well beyond the caffeine kick your morning brew gives you. Beyond Brew is made of 6 medicinal mushrooms rounded out with pre and probiotics and cacao for immune support and flavor. By the name, you can tell this product is directly marketed as a coffee replacement, but the creators say Beyond Brew is great alongside coffee or in smoothies as well as on its own.
Key ingredients in this energetic health drink are the 6-in-1 mushroom blend: lion's mane, reishi, chaga, 2 species of cordyceps, and turkeytail, formulated to offer overall physical and cognitive support, which gives you the energy you need organically so you're not constantly chasing something that will help you not be tired. Beyond Brew only has 10 mg of caffeine, so it can be taken daily anytime you want, whether morning or afternoon.
10

Athletic Greens



AG1 by Athletic Greens got huge shortly after coming on the market because it's an adaptogenic alternative to coffee that also makes getting all your good leafy greens super easy. Athletic Greens focuses on hacking the mind and body from the gut, aiming to create a healthy microbiome that then helps regulate other systems and keep your body in homeostasis. AG1 promotes immunity, stress management, metabolism, energy, and more.
There are 75 natural and potent plant ingredients in Athletic Greens' AG1, including antioxidants, pre and probiotics, and vitamins and minerals we often don't get enough of in a typical diet. It's meant to be taken daily and is useful for everyone, from those who just need an energy boost to elite athletes who need a recovery aid.
Whether you're looking to cut down on coffee, get it out of your life altogether, or simply add a healthy drink to your daily routine, you've got options. Go ahead – explore what's out there because it's a lot more than energy.