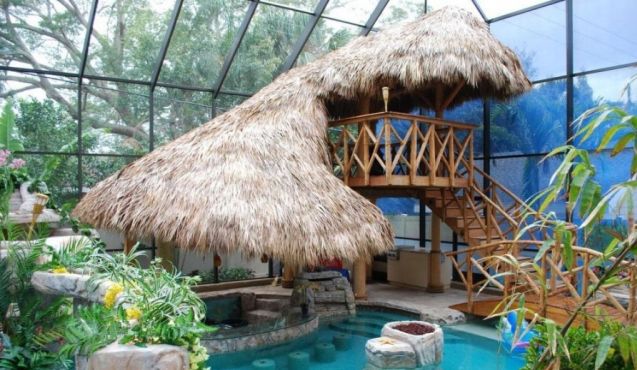 Designs
Top 10 Modern Backyard Trends in The World
Home is the only place in which we can find the complete comfort that we need, relax our minds, and refresh our bodies after working for long hours and facing different problems that tire our minds throughout the day. This importance makes it essential for us to care about designing and decorating our homes. The most important thing that we care about and attracts most of our attention while designing our homes is the interior design but what about the exterior design? There are numerous outdoor design ideas that are presented to us every year and may each season to allow us to choose what meets our taste, makes us comfortable, and complements the interior design of our homes.
If you feel that you are bored and do not want to spend all your time staying inside your home, then you can make use of the external space around your home especially the backyard. You can turn this space into another fascinating place which is more interesting and inviting not just for you and your family, but also for others such as your friends and guests who come to visit you. There are simple and creative design ideas that are presented for the next year to transform backyards into breathtaking place that allows you to enjoy your time at your home. You can find materials for outdoor kitchens to bring a social area to your home.
Here is a quick glance at the top 10 modern backyard trends to help you to freshen your backyard.
1. Low-maintenance gardens to save effort
This type of garden is preferred by many gardeners as it does not cost them a lot of money, does not waste their time, and is not tiring like other types of gardens especially when you find that your garden has less turfgrass which is one of the hottest trends for the next year to modernize your backyard without more maintenance.
2. Drought-tolerant plants to save water
Save water, money, and time through growing drought-tolerant plants that are suitable for different seasons especially summer, and do not require a lot of water. This type of plant is not chosen for just saving water and money, but it is also used for creating a fascinating garden that can endure difficult conditions.
3. Blended gardens
Instead of growing ornamental plants only in your garden, you can mix these dazzling plants with edibles. This allows you to create a breathtaking garden and you will also get all the herbs, fruit, and vegetables that you need for your home and family instead of purchasing them which saves you a lot of money. You can also share some of your bountiful harvest with your neighbors to strengthen your relationship with them.
4. Urns, fountains and water walls for a breathtaking backyard
Nothing is better than sitting in the backyard and watching water falling in front of you while listening to its relaxing sound. Bring the beauty of nature to your backyard by using fountains, urns, or water walls to transform your backyard into a dazzling place that relaxes your mind and makes you enjoy the best moments.
5. Functional fabrics and comfortable furniture
You can turn your backyard into a permanent living space in which you can spend most of your time the same as you do inside your home at any time you want without being restricted to a specific season thanks to the new perfect materials and fabrics that are specially manufactured for the backyard furniture. You can enjoy the new fabrics that are really comfortable as they are made from acrylic fibers, are waterproof, and fade-resistant which makes them ideal for different seasons throughout the year.
6. Adding bees and birds
One of the hottest backyard trends that are presented to homeowners for the next year is to add birds and bees to their backyards. Designing backyards is not limited to creating amazing gardens, but it also includes adding other creatures such as bees and birds that move around you to make you enjoy your time in the backyard and you will also benefit from these bees and birds such as chickens which saves you more money.
7. Open to all rooms
The yard was designed before to be open to just one or two rooms inside the house but the new backyard trends come to change this and make the yard open to most of the rooms in the house if it is not all of them which makes us care more about the design of the yard and the way we decorate it to complement the interior design of our homes.
8. Creative swimming pools
If the yard is large in its size and wants to consume this large space, then you can create one of the awesome and unusual swimming pools that can transform the yard into another fascinating place that allows you and your children to enjoy your time in especially during the summer season.
9. Playgrounds for children
Do not forget your children while designing your backyard even if you are going to specify a small space for them to play in. children always need a place to enjoy their time playing with their friends and the backyard is the best place for this. There are creative kid playground design ideas from which you can choose what suits the size of your yard and the needs of your children.
10. Outdoor gym
If you want to encourage yourself to do exercises, then you can do this outside your home. It is one of the hottest and most noteworthy trends that are presented to you in the next year. It allows you to enjoy your time while exercising in the fresh air and is also an ideal solution for those who have small homes and do not have enough space for an indoor gym.