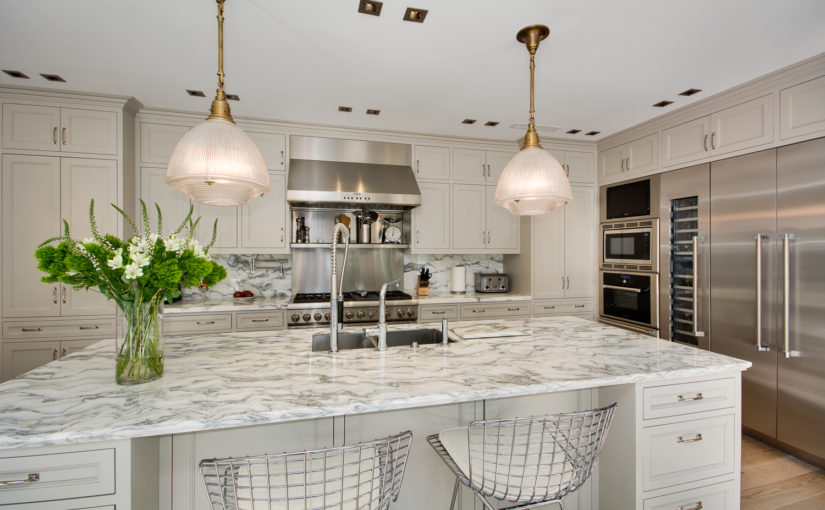 Designs
Top 10 Kitchen Upgrades to Boost Your Home's Value
We are quickly approaching moving season, and if you're thinking about selling your house you most likely want to give it an update before putting it on the market. This is the best way to ensure that you receive the maximum value for your home. There are many things you can do to achieve this, but arguably the room with the most deciding power is the kitchen. They can be game changers, whether that's due to size, appliances, or practicality. Luckily there are a number of things you can do to fix up your kitchen, ranging from the paint job, new appliances and installing custom kitchen cabinets, to increase your house's overall value.
10
Replacing the Faucets
This is one of the easiest and most inexpensive things that you can do to improve the overall look of your kitchen. While they need to match the sink that they will perched onto, the right faucet can really be the bow on top of the whole package. Since they are a small detail, this is where you can get adventurous in you choices, adding flare to the room through your selection.
9
Add a New Kitchen Sink
The sink is one of the most important features in a kitchen, along with the oven and fridge. Due to this it becomes a focal point in the room, so don't let it become an afterthought. A large and unique sink gives the illusion of a customized kitchen, something which is coveted on the market. If your sink is small and unsightly, replacing it might do wonder to increasing value, and at a reasonable price.
8
The Paint Job
A coat of paint can go a long way to improving the look of your kitchen and is one of the most inexpensive kitchen upgrades you can make. Whether you just want to add a new coat of white or go in another direction entirely, it's up to you. Just make sure your new coat of paint matches the general color scheme of your kitchen. A colorwheel tool can help.
7
Painting Hardwood Flooring
Repainting hardwood floors is a fantastic way to breath new life into your kitchen. It will freshen up the room while hiding any blemishes that have formed over the years. Your best bet is to go with an enamel paint that doesn't chip. If you're hesitant to make the commitment take home a couple paint chips and see how they look in the light throughout the day.
6
Install a Modern Stainless Steel Hood
If you don't already have one, installing a stainless steel hood over your oven is a great way to capture the attention of potential buyers. It is immediately registered in a quick scan of the room, while making the room feel fresh and modern. Not to mention its practicality.
5
Include a Practical and Cool Butcher Block
This might sound strange at first, but installing a butcher block on a portion of your countertop might be a good idea. Since much of your time in the kitchen is spent preparing food, a block like this incredibly practical, not to mention it looks great.
4
Installing New Light Fixtures
Lighting is important in any room. After all, lighting is consistently listed as one of the most important features sought after in a new home. While you might not have control over sunlight, a good way to increase the value of your home is to invest in the lighting fixtures. Avoid harsh fluorescent lights, and use LED lights sparingly. Make sure that the lighting is plentiful but soft. Ideally you should be able to adjust it. After all, it is important not to overlook the details, and lighting fixtures are also a good way to add a bit of style to any room.
3
New Countertops
Countertops take a lot of abuse over the years and often gather a collection of dents and scratches, so if you're looking at selling your home, this is an easy way to fix up your kitchen. The best thing you can do is to replace it with a neutral coloured, laminate countertop. Bright colors are fun and personal, but are often too particular when trying to sell. Laminate is the best option of materials too, because while countertops made from granite and marble are beautiful, its difficult to get a full return on their cost in the value of your home.
2
Install New Appliances
It's hard to get the best value out of your home without up-to-date appliances. Stainless steel is the standard these days, it lets people know that the appliances are modern and functional. If you find yourself with white appliances that look like they came from the 1970s, you might have a hard time getting the best value for your home. If you choose to update your appliances keep energy efficient options in mind, as they are highly valued on the market. A home warranty is also something you should consider. Home systems and appliances can break down over time after regular use. Suppose you are looking for a homeowners warranty. You can research home warranty plans online to see how a plan can protect your budget against costly home repairs. You should also steer clear of overly-complicated options that are difficult to recuperate in the value of in your home.
1
Reface Kitchen Cabinets
This is one of the most inexpensive ways to give your kitchen the quick facelift it needs. The cabinets are one of the first things that people see when they walk into the room simply because of the size, prominence, and location. They are literally right in front of your eyes. All you need to do to fix them up is with a coat of semi-gloss finish, or if you're feeling adventurous try paint to add a splash of colour to your kitchen.