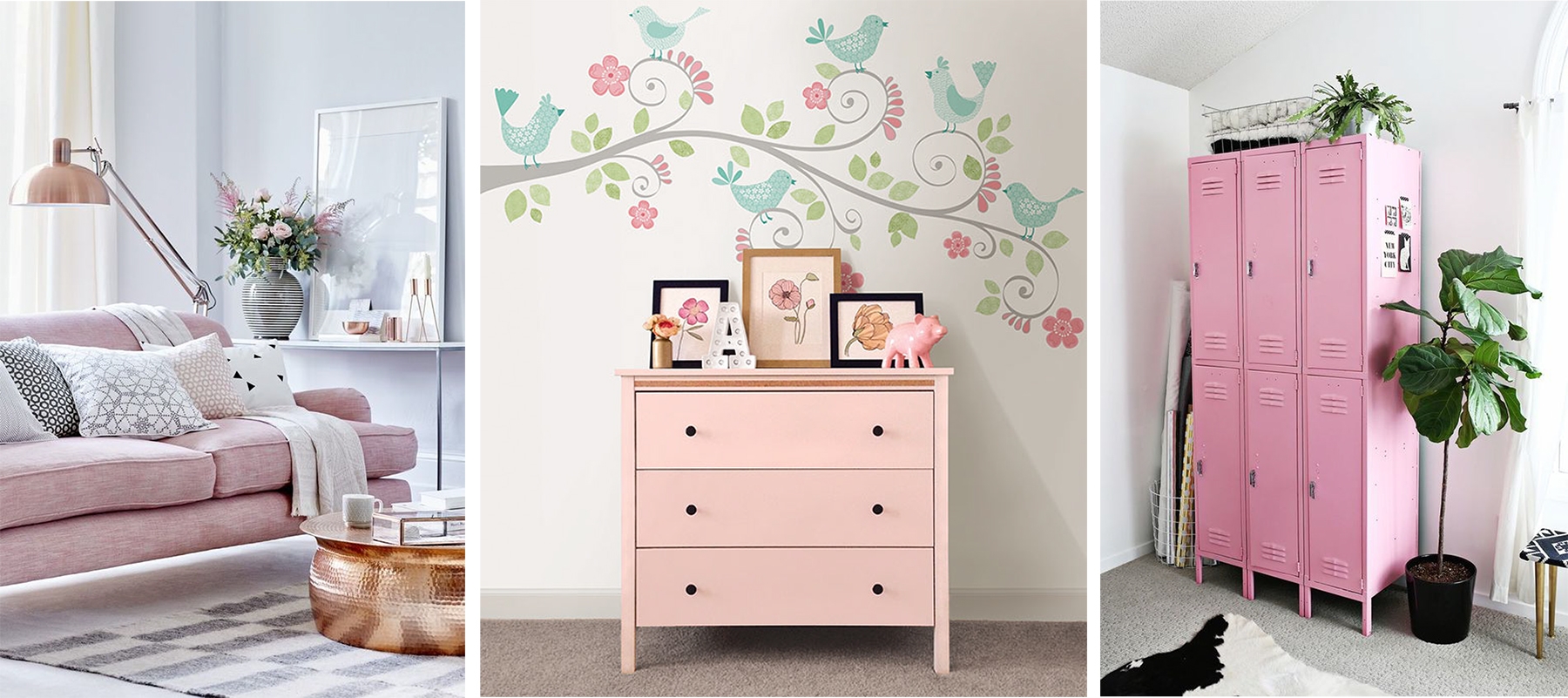 Designs
Top 10 Hottest Pink Room Design Ideas
The pink color is a pale red color and it is also named after a flower of the same name. We all know that pink is the color associated with charm, sensitivity, sweetness, tenderness, childhood, femininity and the romantic.
It is associated with innocence when combined with white, but associated with eroticism and seduction when combined with violet and black it is just a tricky color and is beloved by many people, the majority of them are girls and women.
And with just a little direction pink color will be turned from the teenager's girly color to such a different and unique color. Now we will talk about 10 tips for hot room design ideas using the pink color.
1 Entrance and front doors
Mixing black with pink is just a magical idea for using pink in a tricky way and change it from childhood color to just a different and not ordinary home entrance.
Playing with color in the mirror, chair, lights, and wallpapers is making a wonderful touch and also adding some pink flowers is a wonderful idea.
The pink color is not only for the modern also we can use it in classic decorations.
Mixing the color with gold is amazing ideas also. Using the pink color in wall painting adding a lot to the entrance.
2 Bedrooms
As we mentioned that pink is not only a childhood or teenager's color, the choice of pink color in this bedroom reflecting the feminine side also, the wall painting color, slipcovers, carpets, chairs corners, and cushions all these pieces is just a magical mix, especially it is mixed with black color.
The bedroom also we can use the pink color in three degrees in painting the wall and adding it in the curtains, slipcovers and in a frame is just perfect modern look.
3 Teenager's bedroom
Using pink color in children and teenager's bedroom is a great choice, we can add it in slipcovers, cushions mixing it with other colors and adding a wonderful touch to the room especially as when it mixed with white color it adds an innocent touch to the room.
4 Mix and match patterns
We can mix and match pink color with other patterns it will add a lot and turns the room in a new direction in a nice way.
5 Using flowers
We can use the Color in corners and add pinky touch to the room.
6 Wall painting
We can use the pink color in wall painting with some simple drawings it will add a lot to the wall in one wall in a room.
7 Home accessories
Be dare to Use a pink accessories for tables and corners will make the room shines such as vases, ashtrays and frames it will move the room with simple touch and pieces to wonderful place.
8 Kitchens and bathrooms
The pink color is a versatile color it feels exciting and dynamic or comfortable and fluffy it depends also in pink color tone and degree. The bright pink especially red-pink colors and shades add some passion and also energetic splash whereas the pale pink add tender you can use it in any way you prefer as bold color or combined with other colors such as brown-black or neutral white. In the kitchen, we can use it in the cabinet, carpets, kitchen accessories, and floors and also in the bathroom we can add curtains, cabinet and bathroom accessories.
9 Curtains and carpets
Of course using pinky curtains materials is successful idea in room decoration and also using pink color will add calm touch to any part in your home.Using pink color in Carpets  also a nice idea for room decoration especially when it mixed with solid colors such as off white it will add a lot to the room and change it to more calm place in a tricky way.
10 Furniture
Adding some pink pieces of furniture maybe appear some not familiar but it is something very important in any room decorations and also we can use chairs, sofa, console and tables.
At last i will repeat that pink color is just a versatile color you can use it in a tricky way and add a wonderful change in any room and any part in your home it depends on your choice for the tone and degree of the color it an awesome color which add tender and fluffy touch to our home use it and spread the passion and tender in your home and enjoy the magical change.