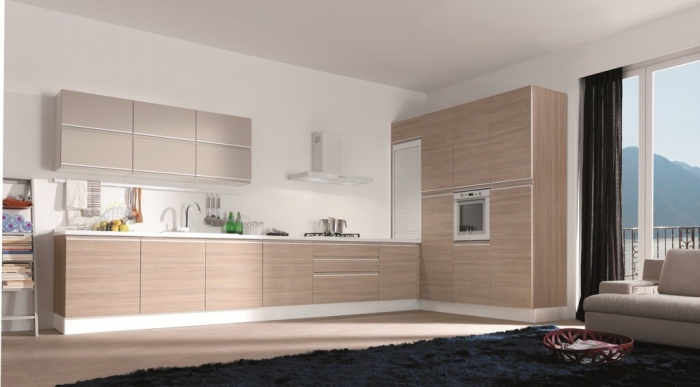 Designs
Top 10 Hottest Future Trends of Kitchen Designs
Are you bored with your kitchen and want to modernize it? Do you escape from freshening your kitchen because you feel that it is tiring and requires spending a long time in addition to wasting a lot of money on what you will need to buy? If you want to freshen the look of your kitchen and do not want to waste your money, then why do not you think of changing simple details that can affect the whole look of your kitchen to be easily renewed without wasting your time or money? Before starting the mission of changing the look of your kitchen, you have to take a look at the latest and hottest kitchen design trends that are presented to you for the next year.
Getting more information about these new design trends will help you to decide what you are going to do for modernizing your kitchen and giving it a new look which is more interesting for you. Here is a quick glance at the top 10 hottest future trends of kitchen designs that you will find this year to save your time and money and to get a new kitchen at your home in the new year.
1.

 Open kitchen space
This trend featured by Boss Design Center and allows you to see all that is going on in the family room instead of being isolated from the family while being in the kitchen because it is closed. Designing an open kitchen requires paying attention to the colors, accents, and decoration that you have in your kitchen as they should harmonize with what you have in your family room.
2.

 Wood cabinets
The hottest kitchen design trend that you are going to find in the next year is the wood kitchen cabinets. Most of the kitchen cabinets in the next year will be made of wood and even the color that will be used for the new cabinets will be the wood color to the extent that you are going to find wood grains and stains on the cabinets of the next year. You will find oak kitchen cabinets, maple kitchen cabinets, walnut kitchen cabinets, and cherry kitchen cabinets in addition to new wood tones such as that of the driftwood and its gray color, honey tone, walnut and other dark wood tones.
3.

 Matte finish
Applying lacquered materials is going to be changed in the next year as you will find a matte finish for the kitchen cabinets instead of the high-gloss finish that you used to see in the last years.
4.

 White cabinets
The white color is one of the hottest colors that will never die and are expected to be present every year whether it is in what we wear or in our kitchens. You are going to find white kitchen cabinets and even the appliances are going to be white to match and complement the color of the cabinets in your kitchen.
5.

 Gray cabinets
It seems that you do not like the idea of making your kitchen cabinets white, it's okay as you can try the gray color and it will be a perfect idea to pair it with white which is the hottest color for the next year. The gray color was used in the last few years and it will continue to be present in the next year.
6.

 Metallic cabinets
One of the newest kitchen design trends that you will find in the new year is the metallic surfaces. Choosing any metallic paint color for coating the boring surfaces in your kitchen can help you to modernize the look of your kitchen without the need to waste your time or money in remodeling it.
7.

 Bronze, nickel & chrome fixtures
Stainless steel fixtures have become boring for most of the people and this is why a new trend is presented to us in the new year. Oil-rubbed bronze fixtures including handles, faucets, towel rings and knobs are going to give your kitchen a new and irresistible look. If you do not like oil rubbed bronze because it is dark, then you can try other lighter options such as brushed nickel and there is also chrome.
8.

 Warm-colored metals
They are the perfect choice for adding a warm touch to your kitchen and this can be achieved by using copper or brass fixtures and accents. For creating an elegant look in your kitchen, you can combine those brass or copper fixtures with other metals such as chrome.
9.

 White Sinks
It seems that we are going to be white in the next year while modernizing our kitchens. Presenting white sinks is great to match the color of different faucets that tend to be dark in their colors. You have bronze, copper and brass fixtures that need to be paired with light colors for adding an inviting look to your kitchen.
10.

 Drawers
One of the best ways that you can follow for keeping your kitchen clean and well-organized is to use drawers. Drawers are not going to be used for just storing spoons, forks and other small items that are usually used in your kitchen and are stored to be kept from being lost, but they are also going to be used for storing other larger items such as pots and pans to be the best storage solution for you in the next year.
More protection: In order to save your money and to protect the changes that you are going to add to your kitchen, there are a different solution that is presented to you such as laminates and veneers.