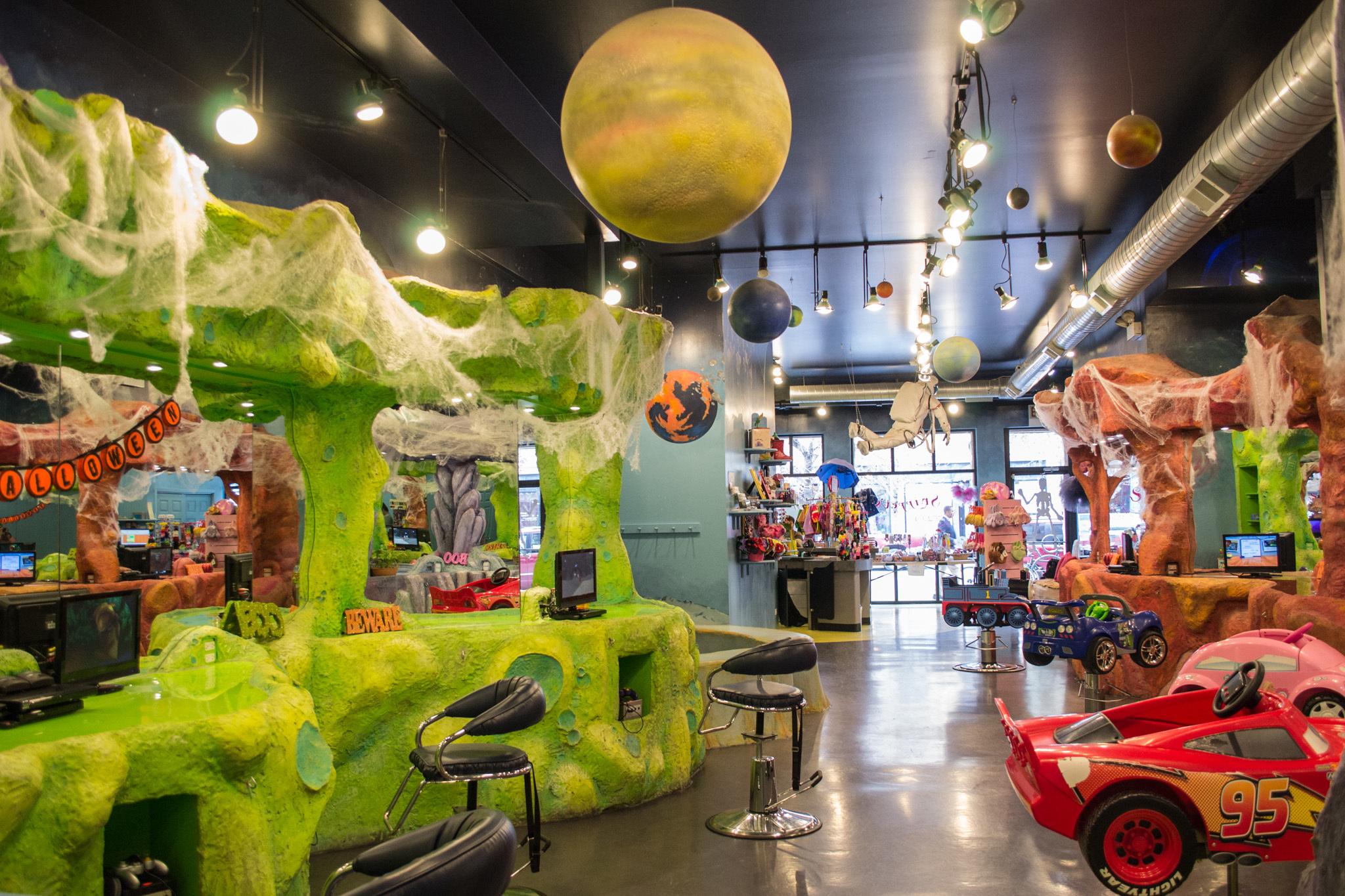 Places
Top 10 Kids Fun Places To Visit on Holidays Around The World
Vacations are supposed to be fun for everyone, but usually, the kids end up losing interest and getting bored. Planning a vacation with kids can be quite challenging as you have to make choices keeping in mind your kid's interests to keep them entertained on your holiday. Most countries now have dedicated attractions for kids that would help in getting more of family travelers to their destinations.
Here are the best 10 hotspots where grownups and kids together can have an amazing time together on their vacation.
Germany seldom amuses families to take a trip around its cities, this, however, is a major misconception that there is nothing much of interest here for families traveling with kids and there aren't many fun places to go with kids. For starters, there is plenty to experience such as visiting castles, taking scenic train rides, exploring the Black Forest regions and then there is  Europa Park – the largest theme park in Germany, located in Rust, southwest Germany.  A great place to bring your family to spend some exciting moments, the theme park has 14 different worlds stacked at one spot where visitors, especially the little guests can enjoy thrilling rides and fabulous shows amid stunning ambiances from around the European countries. You can even find yourself amid a fairytale at the Grimm's Enchanted Forest. The park has lots of adrenaline rushing roller coasters and high speed rides for the adventure lovers and mild rides, farm adventures, water park and play areas for kids. A day would not be sufficient to explore the park, hence it is recommended to stay for a couple of days to get the best experience. Europa Park offers you five impressive resorts and a low budget option of Camp-Resorts as accommodation options. A basic entrance ticket for a day costs about EUR 40 per person.
Set in Johor, Legoland Malaysia is Asia's first Legoland Park which consists of a theme park, water park, and a hotel. The park is immensely impressive offering plenty of things to do for kids – with more than 70 fun rides, shows, and attractions, fun meets state of the art technology here at Legoland Malaysia. An ideal fun destination for children, Legoland Malaysia has an amazing array of entertainment such as the Miniland – which offers a miniature version of Asia's popular landmarks made of Legos. The Lego Ninjago World offers a thrill ride fused with cutting edge techniques and a massive replica of Ninjago Monastery. Kids and toddlers can have a joyous time at Duplo Playtown, Duplo Express, and Lego Studios. Grownups too can have their share of enjoyment along with their kids at adventurous rides, Ninjago Movie 4D and at the waterpark. That's not all, get set to divulge in some scrumptious meals, Italian and Japanese cuisines and there is also the option of staying back at the Legoland hotel to extend your delightful holiday. The park stays open from 10 am till 7 pm and one day ticket costs approx. MYR 196 per adult and MYR 156 per child.
When you talk about theme parks in France, the only prominent name that crops up in your mind is Disneyland, which is undoubtedly the most clichéd fun place for families to spend their time with kids. However, there is one theme park in France – Futuroscope located in Poitiers which is around 3 hours away from Paris, which takes you to a futuristic fantasy world the moment you step in. Operating since 1987, this theme park is created in futuristic ambiances and offers radical fun in its state of the art attractions, 4D shows and adventure rides and grand visual entertainment all revolving around groundbreaking technology. In this imaginative realm, you can have unexpected experiences such as soaring in the sky, taking a plunge down a skyscraper or taking a trip through space. Take breaks between to relish a delicious range of buffet meals, fast foods, and amazing gourmet cuisines at its many restaurants, cafes and food outlets. The theme park is open from 10 am till nightfall and basic fare costs about 45 Euros per adult and 37 Euros per child for a one day ticket.
A marine park, oceanarium, and animal theme park all clubbed together to form an impressively fun theme park – Ocean Park, Hong Kong is one of the most popular family theme parks in the world. Sprawling across 90 hectares of land, divided into two segments by a huge mountain – The Waterfront & Summit areas which are further divided into sub-zones, Ocean Park Hong Kong has a superb collection of attractions that enthralls visitors of every age group right from the moment they arrive. Come and see the enchanting underwater life teeming with dolphins, shark and manta rays. Watch pandas playing around, koalas dozing off on branches and penguins frolicking around. Get close encounters with long tusked walruses, spotted seals, artic foxes, and many such exceptional animals. Explore the exotic rainforests, enjoy a cable car ride to the Summit or take the Ocean Express funicular train. Amid all these awe-inspiring sights and expeditions, gear up for some thrill on high-speed rides and roller coasters. A must visit attraction is the Aqua City which has some amazing marine-themed attractions and is home to the largest aquarium dome and Symbio! – A water screened night show. The park stays open from 10 am till 6 pm and approx. cost is around 440 HK$ per adult and 219 HK$ per child.
A heady mix of sunny coastal towns, beaches, charming cultural settings, Spanish tapas, and fiestas –all these makes your family experience in Spain memorable. But for kids, there is more to explore. Port Aventura is an amusement resort set in Salou, Catalonia which is just an hour away from Barcelona. The resort has six theme lands, of which five are themed on countries-Mediterranean, China, Polynesia, Mexico and Far West, and one area is entirely based on Sesame Street. Apart from these attractions, there are rollercoasters, swift rides, thrilling drop rides, boat rides, live entertainment, fireworks, and parades. PortAventura also has a manmade lagoon, Ferrari Land, an aquatic park and six elegant hotels. While you are here, don't miss a thrilling experience on Europe's tallest and fastest roller coaster-Shambhala, Hurakan Condor-a freefall drop ride and heart thumping high-speed thrill rides at Ferrari Land. For kids, there are lots to enjoy at Sésamoaventura such as visits to Elmo's Farm, mild roller coaster rides, water slides and flumes, carousel rides and rides on steam trains. One day in PortAventura and FerrariLand costs about 60 Euros per adult and 52 Euros per child. The resort usually stays open from 10 am till 12 at night.
Canada's Wonderland is the largest amusement theme park in Canada hosting more than 200 attractions. Located in Vaughan, Ontario, this theme park is the second largest theme park having a maximum number of roller coasters in the world. An ideal way to take a break touring  Canadian cities and spend some  family quality time together, the theme park offers rides and roller coasters – some adrenaline rushing ones, others quite mild ones, and Splash Works  water park where you can enjoy speed slides and plunge rides or simply spend some time soaking in wave pools. For kids, there are ample choices of mild rides, play areas, and entertainment attractions and there are plentiful options inactivities for toddlers. Satiate your appetite with lip-smacking treats at food courts and restaurants and tuck into classic Canadian beaver tails, BBQ grilled meat, Mexican tacos, and international gourmet cuisine. Operational hours are usually from 10 am till 10 pm and daily entry costs about CAD 43 per adult and CAD 40 per child.
Singapore is one of the most preferred destinations among family holidaymakers due to its easy accessibility and hassles free services. In fact, a trip to Singapore from Dubai is essentially made stress-free through seamless visa servicing at Singapore visa agency in Dubai. One of Singapore's premiere attractions, Resort World Sentosa is home to world class theme parks cocooned within the sprawling acres of landscape in Sentosa. Home to the Universal Studios Singapore, Adventure Cove Water Park, and S.E.A Aquarium, Resort World Sentosa provides endless possibilities of fun, food, and entertainment for every age group. This integrated resort is jam-packed with remarkable experiences where at one moment you would find yourself enjoying exhilarating movie rides and shows, and the next moment, be mesmerized by the beautiful creatures of the sea. The excitement is never-ending in Resort World Sentosa and your taste buds would be equally treated with exciting assortments of dining retreats. Entries to all theme parks have separate prices – one day ticket to Universal Studios Singapore costs around SGD 76 per person,  S.E.A Aquarium costs around SGD 35 per person and Adventure Cove Water Park at SGD 38 per person.
The magical world of Harry Potter has captivated the entire world and there is no other way to get a real life experience of this fantasy world than in Warner Bros Studios London. The Harry Potter tours in Warner Bros Studios London lets you explore the fantastic world of wizards and witness what happens behind the scenes of Harry Potter films. Visit the Forbidden Forests, Private Drive and many such popular places where Harry Potter and his friends had embarked on a thrilling adventure. Kids would love the experience of riding a broom, visiting Dumbledore's office, wander through Diagon Alley and even taste Butterbeer and Bertie Bott's Every Flavour Beans. Ticket costs are around 40 GBP per person.
Created to capture the essence of the mythical world of Atlantis, a mystical world of underwater marvels is thrown open for you to experience a mind-blowing voyage deep into the oceans at the Aquaventure water park and the Lost Chambers Aquarium in Dubai. A segment of Atlantis the Palm Dubai, this stunning waterpark cum aquarium offers some of the most mind-boggling yet exciting water rides you will ever experience. While grownups can test their courage on some of the world's audacious water plunge rides and slides which literally have vertical drops and tunnels that let you zoom past sharks and manta rays, there is plenty of fun places for kids where they can have a wonderful time splashing around, experience exciting water slides and thrill rides and marvel at the wondrous aquatic world.  The Splasher's children area is an ideal spot for kids and toddlers that are designed keeping child safety in mind and offers large shallow pools, little slides, hanging bridges and water play areas. A full day admission to the Aquaventure Water Park and Lost Chambers Aquarium would cost around AED 260 per person.
There is no doubt that you wouldn't miss a visit to Disneyland if you are on a family holiday to Orlando, Anaheim, Paris, Hong Kong or Japan. Though all the Disney parks are based on the same Disney Theme, each one gives a unique experience in extraordinary magical settings and attractions. Unarguably, Walt Disney World Resort, Orlando is the largest and the most magnificent Disney parks among all. In fact, you don't need to look for more places to visit or plan an itinerary, you could simply spend your entire holiday here as Walt Disney World Resort is a complete family holiday destination offering you recreational leisure, accommodation and dining options all within the resort. Spread across 27,258 acres near Lake Buena Vista, kids would be absolutely awestruck at this massive fantasy park of four theme parks and two water parks filled with hoards of attractions and shows. Watch their delight as they meet their favourite Disney characters, marvel at the beauty of Disney fireworks and get excited on every attraction, ride and meals they experience. Enjoy classic Disney attractions with your kids such as It's a Small World, Pirates of the Caribbean, Dumbo the Flying Elephant, Jungle Cruise, Peter pan's Flight but make sure to spare time to visit a brand new stellar attractions Pandora –The World of Avatar. You can hardly experience anything in a day and usually, a minimum of four days is recommended to get a worthwhile experience of all the theme parks.
Vibrant cities, pristine beaches, quaint countryside, rustic monuments, cultural cuisines – all these seem like the perfect ingredients for an idyllic holiday, but if you are traveling with kids, you need something more than just nature and good food. Adding the above-listed attractions to your holiday itinerary would not only delight your kids but guarantee you wonderful memories to cherish with your kids.