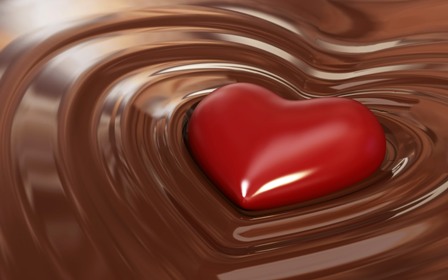 There is no one who does not love chocolate as adoring it is not limited to a specific gender or age. Eating chocolate is common among young children and more loved by adults who cannot stop eating it. Chocolate has an amazing effect on us when we eat or just see it and this is why it is considered to be one of the most impressive romantic chocolate gifts that can be presented on different occasions especially those that are celebrated by lovers. If you are one of those who adore chocolate and is crazy about it, you have to read this article as it presents to you ten of the best quality and most mouth-watering chocolate brands in the whole world.
10 Puccini Bomboni

In order to try this awesome kind of chocolate, you have to pay a visit to Amsterdam. Puccini Bomboni presents you the best chocolate in the Netherlands and one of the best kinds of chocolate in Europe and the whole world. With Puccini Bomboni, you can enjoy white, milk, dark, fruity, spicy and sweet types. The most amazing thing about Puccini Bomboni chocolate is that it is handmade in the kitchen of the shop from a combination of chocolate, spices and other fresh ingredients.
9 Richart

Richart is one of the most famous chocolate makers not just in France, but in the whole world. Richart family started making gourmet chocolates and French macarons in Lyon, France in 1925 to be one of the world's 10 best chocolate makers. With Richart, you can enjoy trying different flavors such as Balsamic to taste the original cacao, Roasted to enjoy coffee ganaches and caramel coulis, Fruity that will make you feel the summer's warmth, Citrus, Herbal, Floral and Spiced Richart chocolate in addition to other mouth-watering flavors.
8 Richard Donnelly Fine Chocolates

This kind of chocolate is one of the best kinds that you can ever taste or find in the world. It was founded by Richard Donnelly and is based in Santa Cruz, California, USA. The main secret behind the unique taste of this chocolate can be found in the ingredients that it contains. It is made through mixing French and Belgian chocolate with other tasty ingredients such as saffron, lavender, cardamom, chipotle and Earl Grey tea. Richard Donnelly received the Best Artisan award in Perugia, Italy at the prestigious Euro Chocolate Festival for the great taste of his chocolate.
7 Godiva Chocolatier

The company was founded in Brussels, Belgium in 1926 by Joseph Draps and was sold to the Turkish Yıldız Holding that is the owner of the Ülker Group. Godiva Chocolatier will please you with its premium chocolates and other related products including bonbons, truffles, flavored coffee, cocoa mixes, cookies, shakes, ice cream, wedding, and party favors and chocolate liqueur. With Godiva, you can enjoy Gold Ballotin, Dark Chocolate Valentines and Lunar New Year Chocolate.
6 Valrhona

If you want to know how fine the French taste is, you should try Valrhona chocolate. Valrhona is known for the accurate choice of cocoa beans that are directly bought from the plantations in South America, the Pacific Ocean, and the Caribbean. Valrhona chocolate has many types such as Valrhona Equinoxe Noir, dark chocolate enrobed nuts, Valrhona Equinoxe Dulcey & milk enrobed nuts, Valrhona Equinoxe Collection enrobed nuts and Valrhona Grands Crus assorted chocolate ganache.
5 Norman Love Confections

Do you want to enjoy the original taste of chocolate? You have to try Norman Love Confections that is based in Ft. Myers, Florida, USA. Norman Love Confections is regional, nationally and internationally known for the unique presentation, taste, and service of its chocolate. There are amazing types of Norman Love Confections chocolate such as dark chocolate, milk chocolate, white chocolate, and gourmet chocolate truffles. Its chocolate is known for its good taste and bright colors that are really catchy and visually stunning. Pureed raspberries, ginger, bananas, passionfruit, caramel, and hazelnuts are among the freshest ingredients that can be found in this chocolate.
4 Jacques Torres Chocolate

If you want to get the World's Best Hot Chocolate, you should add Jacques Torres Chocolate powder. This chocolate is famous for its high quality and it is known for the special ingredients that it has including allspice, cinnamon, ground ancho chili peppers and smoked ground chipotle chili peppers. In order to enjoy eating Jacques Torres Chocolate and drinking perfect hot chocolate, you can visit one of the five Jacques Torres Chocolate shops that are located in the New York City, New York, USA  (which is one of best chocolate lovers cities) or the other one that is located in Harrah's, Atlantic City.
3 Scharffen Berger Chocolate Maker, Inc.

Scharffen Berger Chocolate Maker that specializes in making dark chocolate was founded in Berkeley, California, USA in 1996 by physician and chocolate connoisseur Robert Steinberg and winemaker John Scharffenberger. With Scharffen Berger Chocolate, you can enjoy semisweet Dark Chocolate with 99% Cacao Fine chocolate and the kosher and gluten-free premium chocolate. You can also find baking chocolates, so let your tongue taste the delicious flavors of the Scharffen Berger Chocolate.
2 Vosges Haut-Chocolate

If you want to express a certain feeling, you should pick Vosges Haut-Chocolate as the most suitable way to convey certain messages such as those of love or happiness. Vosges Haut-Chocolate is based in Chicago, Illinois, USA, and its chocolate is available in many types such as dark chocolate, white chocolate, milk chocolate, gluten-free chocolate…etc. Making this fine chocolate is based on using the rarest flowers, spices and premium chocolate. You can also find Mexican vanilla bean and Argentinean dulce de leche in truffles, so enjoy the dark chocolate truffles, luxurious milk chocolate caramels and the boundless oceans of white cocoa from Vosges Haut-Chocolate.
1 Teuscher

If you want something special for a wedding or birthday party, you should know that Teuscher chocolate is your best choice and the sweetest option for many occasions. Most popular USA magazines as National Geographic Magazine ranks this sweet and mouth-watering chocolate as the Best Chocolate in the World. It is based in Zurich, Switzerland and the secret of its awesome chocolate is that it has over 65 years' experience since it started in a small town in the Swiss Alps.
Teuscher chocolate is made by mixing the most expensive natural ingredients with each other including the finest nuts, marzipan, fruits, cocoa, and other natural ingredients without adding preservatives, chemicals or additives to the chocolate. The champagne truffles that are presented by Teuscher are a mixture of chocolate, butter and cream with a champagne cream center to make you enjoy eating this delicious chocolate while forgetting anything around you.
Now, enjoy your time while trying these delicious kinds of chocolate to enjoy their irresistible taste and mouth-watering flavors.