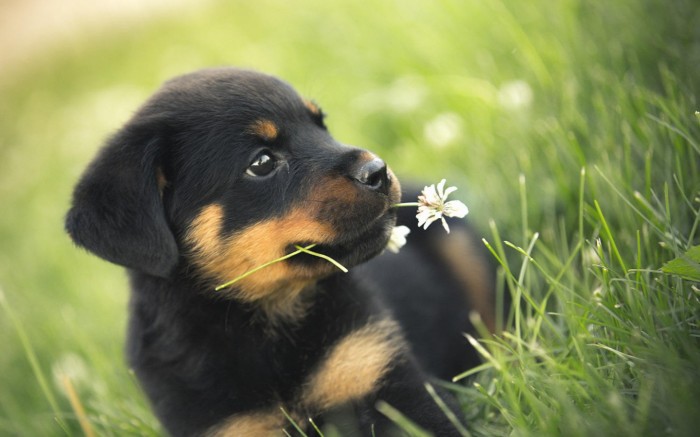 Oral disease is one of the serious diseases that infect not only man but dogs, too. This can cause tooth decay, teeth loss or lead to severe health problems. Like our children, dogs need a special attention. You should try your best to make your pet happy. Some dog owners may discount the importance of teeth brushing. However, teeth brushing has a great effect on the overall health. It protects the gum from inflammation. It would also prevent the bad odor of the mouth and the harmful bacteria that would run in the blood stream. It prevents tartar and plaque buildup. This will eventually enable your dog to eat and make him live longer.  For you, to be able to achieve all of this, you need to choose the best tooth paste that would enable you to do so. Flavor of the toothpaste is important. Some are broth flavored and other ones may be salty. Here are the top ten toothpastes that proved their effectiveness.
10 C.E.T. Enzymatic Oral Hygiene Chews for Large Dogs (26-50 Pounds)
This toothpaste is sold by ADW Diabetes. It has abrasive texture that would help you get rid of plaque and tartar easily. It has a good taste that would appeal to your dog. It allows a dual-enzyme system and have a natural antiseptic.
9 Purina Veterinary Diets Fortiflora Canine, 30 Sachets Per Box
This is one of the best toothpastes that contain high amounts of antioxidant Vitamins A, E, and C that would make your dog have a healthy life. It also helps in strengthening the immune system. It is a perfect choice for dogs that suffer from diarrhea and poor intestinal health. It contains proteins, vitamins and mineral that are necessary for your pet's health.
8 Petrodex Enzymatic Toothpaste Dog Poultry Flavor, 6.2-Ounce
This is an effective product that is available in two flavors, Beef & Poultry. It doesn't foam so rinsing is unnecessary. It contains natural enzymes that woud fresh the breath and help you get rid of the bad odor caused by bacteria. It is available in a 6.2 oz tube.
7 TropiClean Pet Clean Teeth Gel
It gives your pet a fresh minty breath. It is a special toothpaste given the fact that you do not need to brush. You would only put this gel on your dog's teeth and it will remove tarter and plaque.  It has a narrow tip that would make tooth brushing easy without the need of toothbrush or the use of fingers.
6 ARK Naturals PRODUCTS for PETS 326070 12-Ounce Breath-Less Chewable Brushless Toothpaste
One of the important ingredients that exist in this product is Glucoxidase. It is a natural enzyme that plays an important role in preventing the buildup of tarter because it fights bacteria and sodium pyrophosphate. It contains ridges that ensure effective scrubbing.
5 Tropiclean Fresh Breath Plaque Remover Pet Water Additive, 16 Ounce
This toothpaste contains Natural aloe and green tea. All you need to do is to add it to the water that your dog drinks. It would help you remove canine plaque and tartar. There is no need to brushing. It would give you a fresh breath that lasts for 12 hours.
4 DermaPet" Benzoyl Peroxide Plus Shampoo (DermaBenSS) (12oz)
This is one of the special products that contains both sulfur and salicylic in addition to herbal fragrance and moisturizers. It helps in the treatment of skin infections, lick granulomas, acne and oily seborrhea. It can flush out hair follicles that are full of infectious microbes.
3 Greenies Dog Dental Chew Treats Teenie 18oz 65ct
This toothpaste looks like bones, which would appeal to your dog. It is packed with protein that would make your dog healthy and happy. It has natural sources of antioxidants that promote the immune system. It comes in five different sizes. This product is recommended for dogs over seven years old.
2  Triple Pet EZDOG Toothpaste, 2.5 oz.
This is a product that is free from sugar. It is also sweetened with Stevia. It is produced with natural vanilla flavor that would appeal to many dogs. There is no foaming, which means that rising would be unnecessary. It is made in USA.
1 Arm and Hammer Clinical Care Max Strength Plaque Cleaning Toothpaste for Dogs
This toothpaste contains baking soda that helps you clean your dog's mouth and gives the teeth a white colour. This toothpaste has mint odor that helps you get rid of the bad odor. It is recommended that you use the toothpaste two or three times a week.
These are the ten examples that would make tooth brushing just fun. Your four-legged friend will feel amazed, happy and full of energy.