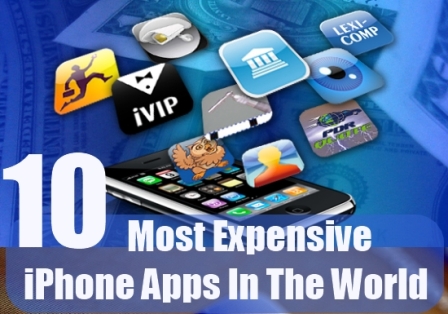 It is difficult, and may be impossible, to find a person without a mobile phone or more as using these devices is not limited to a specific age making you find them used by anyone even young children. Using mobile phones has recently increased rapidly and it spreads among all the people in different countries around the world regardless of the bad economic conditions there. Mobile phones can be found in both developing and developed countries making it necessary to always present new mobile phone applications. Using mobile phones is not limited to making and receiving calls as there are other purposes for which the mobile phones are used thanks to the wide diversity of applications that are presented every day. In the world of mobile phones, there are apps that are really useful and entertaining while there are others which are offensive or extremely expensive, so you have to decide which one of them is useful for you. Here in this list, you will find ten of the most expensive iPhone apps that may help you.
10 Nursing Constellation Plus (Skyscape) – $179.99
This app is your gate to the world of medical information and it allows you to connect relevant information across multiple sources of information at the same time which saves effort. Nursing Constellation Plus provides nurses with clinical content, a medical dictionary with full-color images and audio for more illustration. This app is perfect for practicing nurses and nursing students. The app includes drug information, lab & diagnostic tests reference, diseases & diagnosis references, dictionary, nursing & medical calculators, news & information in addition to ongoing updates and medical news and alerts.
9 ROSIE Home Automation (Savant Systems LLC) – $199.99
With this app on your iPhone, you will be able to easily control your home's electronic systems from security systems to A/V equipment, devices and lights. You can control everything with just one touch not only immediately or at the same time, but also in advance. With this app, you can also save money, create the lighting scheme that you like, coordinate window shades and thermostats at your home and it also allows you to enjoy safety since it alerts you when the door is left unlocked.
8 iDcrm (Numenes) – $199.99
iDcrm is presented to get synced with Microsoft Dynamics Customer Relationship Management (CRM). The most amazing thing about this app is that it is easy to use as you can download it, synchronize and work. This app has a lot of features such as full replication of your Microsoft Dynamics CRM environment, full replication of data, covering the main sales entities, the ability to access agenda and opportunities of others, respect of the Security structure and this app has the ability to work offline without Wifi or 3G access making it easy.
7 Lexi-Dental Complete (Lexi-Comp) – $299.99
Lexi-Dental Complete (Lexi-Comp) is one of the best and most expensive apps that are especially presented to dentists. Its database which is designed for dentists is like a library that can help them whenever they want. Lexi-Dental Complete offers full dental library, charts, color images, complementary resources and appendices from Lexi-Comp's print titles. It is a very useful app that provides information about dental problems and diseases, drugs, X-ray and diagnosis.
6 Mobile Cam Viewer (mobiDEOS, Inc.) – $349.99
This app can help you to improve safety at any place and is perfect for public and private video monitoring purposes through making use of the video surveillance system. It allows you to PTZ control your live surveillance cameras, DVR, NVR, Video Server and webcams. It offers other features or services such as remote monitoring on Hex View grid and single camera view, High ROI that saves time and money and US based tech support.
5 PDR Quote (Labra PTY LTD.) – $349.99
It is a business management software that is used for generating professional quotes for Paintless Dent Repair (PDR) or other Automobile repairs. PDR Quote (Labra PTY LTD.) app contains more than 900 automobile brands and models as a database and it can be used to allow prices to be adjusted and customized for tax codes. You have to know that this app is simple to install and easy to use. So, this app will make a big difference to your business and will allow you to be more efficient.
4 MATG (MyAccountsToGo) – $449.99
MyAccountsToGO (MATG) is one of the best business apps that are especially designed for sales reps and sales, marketing and finance executives. It allows you to directly access all the needed information about sales order transactions, accounts receivable statements, customers, item master and item warehouse. This app will also make you able to communicate with your corporate office about any of your accounts.
3 iRa Pro (Lextech Labs) – $899.99
This app is extremely useful for everyone especially security professionals. If you want to directly access and control your security cameras, you have to think about iRa Pro (Lextech Labs). With iRa Pro, you can control and manage your IP-based surveillance equipment, view several servers and you can also get multiple live videos that come directly from cameras or from video management servers as the app interfaces with a video management server for more security. This app allows you to manage your cameras and easily navigate between them through using a digital management server.
2 iVIP Black (iVIP Ltd.) – $999.99
This app is called "The Millionaire App" as you need to be a millionaire to use it, not because it is expensive, but because the services which are offered through this app are especially presented to millionaires. Once you purchase this app and before using it, you have to certify or prove that you are a high net worth individual . In addition to being a millionaire, you also need to be in the UK to make full use of the services that are presented by iVIP and are UK-centric.
This app offers access to surprise gifts, welcome packages, complimentary room upgrades, exclusive rates, priority access, unique privileges, iVIP Black iPhone, private islands, penthouses in New York and London, helicopters, racehorse ownership, VIP lounges and more exclusive goods and services. With this app, you will also receive a VIP treatment from Gordon Ramsay Restaurants, Virgin Limited Edition, Firmdale Hotels, along with many other first-class brands, venues and services located around the world. There are two alternatives to this app; one of them is called iVIP Blue and costs $449.99 while the other one is called iVIP Red and it is for free.
1 BarMax: California Edition – $999.99
BarMax LLC is the most expensive iPhone app that you can ever find in the App Store and you have to know that it is also one of the largest and most important apps in terms of how much data you can get. The app is over 1 gigabyte in size making it clear for you that it is really informative and beneficial especially to law students who study for California's bar exam. Although this app is the most expensive iPhone app in the world, it is presented to help students save money.
This app comes as an alternative to bar preparation courses which are three to four times more expensive than this app. The app has more than one version such as New York version, multistate version in addition to five other state-specific version. Company chairman Mike Ghaffary, said ,"Bar results just came out and our students passed with flying colors; from the data we can track, we estimate our passage rate to be well above the average pass rate for the jurisdictions we are in (California and New York)," .
So
What do you think of these apps?
Are they really useful and deserve to be expensive?