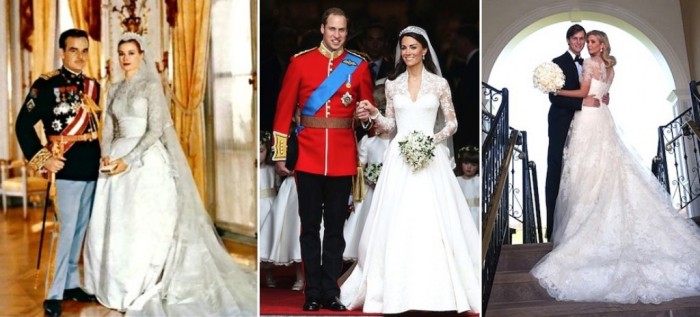 What is worn by celebrities on different occasions is considered to be very important for many people who care about what is new in the world of fashion and what is presented to them through those celebrities. Wedding dresses that are worn by celebrities catch the eyes of many girls who care about the new designs that are presented to be able to choose the dresses that they will wear on their weddings. Most of the celebrity wedding dresses, if it is not all of them, are created by renowned designers who do their best to create magnificent wedding dresses that are really catchy and inspiring. If you are one of those who like to know what celebrities wear on their weddings, take a look at the following top 10 best celebrity wedding dresses of all time.
10. Elizabeth Taylor
She got married for about eight times but her first wedding is the most remarkable. In 1950 and when she was still 18 years old, she married Conrad Nicky Hilton and wore a magnificent wedding dress in satin that cost at that time $1,500 which was considered to be very expensive.
9. Jacqueline Kennedy
She is the wife of the President John F Kennedy who is the 35th US president and this is why it was necessary for her to be stylish on her wedding. Her wedding dress was designed by Ann Lowe and was made from fifty yards of silk taffeta. This old dress is still considered as one of the best celebrity dresses.
8. Gwen Stefani
Gwen Stefani's wedding dress is considered to be one of the catchiest and newest celebrity wedding dresses. She wore it in September 2002 on her wedding to Gavin Rossdale in Convent Garden, London. Her ombré dress which was designed by John Galliano for Dior comes in two colors which are pink and white to be non-traditional and a piece of art as she thinks.
7. Kate Moss
She wore this dress on her wedding to the musician Jamie Hince. It was designed by John Galliano to present a beautiful sheer wedding dress.
6. Martha Patterson
She wore this catchy dress when she married Jared Followill. The dress was designed by Monique Lhuillier to feature a feathered skirt that makes the dress really amazing.
5. Katie Holmes
Katie Holmes wore a very fabulous wedding dress on her wedding to one of the most famous and handsome actors who is Tom Cruise in 2006 at an Italian castle. This off-shoulder dress was designed by Valentino to make Katie Holmes look like an angel on her wedding.
4. Ivanka Trump
This romantic dress was designed by one of the most famous designers who is Vera Wang and it is inspired by the magnificent wedding dress of Grace Kelly. The dress is made from lace and although it is simple in its design, it is really catchy.
3. Grace Kelly
Grace Kelly's wedding dress, that she wore when she married Prince Rainier III of Monaco, is known as one of the most famous and expensive wedding dresses in the whole world. It is also thought that Kate Middleton's wedding dress is inspired by Grace Kelly's dress which was designed by Helen Rose who is a costume designer from MGM.
2. Chelsea Clinton
She wore on her wedding to Marc Mezvinsky in 2010 a fabulous wedding dress with an embroidered waistband and a chiffon skirt. The dress was designed by Vera Wang to attract the attention of many girls although it is very simple.
1. Catherine, Duchess of Cambridge
Kate Middleton's wedding dress which is considered by some girls as the wedding dress of the century is thought to be inspired by the wedding dress of Grace Kelly. The Duchess of Cambridge wore her breathtaking dress that was designed by Alexander McQueen on her wedding to Prince William on April 29, 2011. This royal dress with its lace sleeves took months to be completed and it inspired many dresses that were designed later.
Which dress do you like the most?