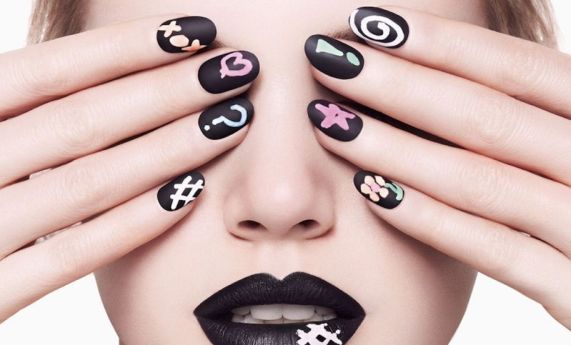 Fashion
Top 10 Hottest Nail Polish Trends
Do you want to get catchy hands without spending a lot of money? It is widely believed that wearing jewelry and different pieces of accessories is the only way to get catchy hands, but this may be unaffordable for many women and girls as well. Wearing jewelry plays a major role in making your hands look elegant and it also adds a luxurious look to your hands, but what do you think of following other ways that are more affordable and can allow you to achieve the same result of changing the look of your hands? The simplest, easiest and most affordable way to quickly change the look of your hands whenever you want is using nail polish.
Nail polish is available in a wide variety of colors to allow you to choose what matches the clothes, make-up and other accessories that you wear. There are also countless nail art designs that are always presented to women every year to allow them to change the look of their hands making them more gorgeous and elegant. You have to check out the new trends that are presented every year in order to be able to make the right choice and look stylish. We present to you the following top 10 hottest nail polish trends that can make your hands gorgeous without the need to spend a lot of money. ­­­­
1
Matchy nails
If you like the idea of wearing colors that match each other, then you can opt for this nail polish trend. You can choose the color that you like and matches other colors you wear including those of your clothes, accessories and even make-up. Matchy nails have the ability to make you look stylish and elegant, so what do you think of this nail polish trend?
2
Glitter nails
Are you looking for a simple way that allows you to add a luxurious look to your hands without wearing jewelry? Glitter nails trend is what you are looking for. You can add glitter to cover all the nails or just parts of them in order to get the luxurious look that you want. Mixing glitter with other nail polish colors can definitely make your nails catchier. Wearing glitter on your nails without being paired with other nail polish colors is also hot for the next year.
3 New French manicure
Are you bored with the classic French manicure and want to change it? Say goodbye to the classic white color and let's welcome other bright and stunning colors that are catchier and can add a youthful look to your nails. There are several bright colors that you can choose to make your nails more gorgeous and to also match other colors you wear such as those of your make-up and clothes. You can wear French manicure alone to leave a negative space or pair it with other colors that you like.
4
Striped nails
It is not a new trend as it was presented before in the past years and comes again to be present in the next year. The stripes of the next year come in different numbers, directions and colors to find metallic stripes, horizontal stripes, vertical stripes, single stripe and multiple stripes as well. This variety allows you to easily pick what you like and what suits the shape of your nails. You can create these elegant and catchy stripes through using nail polish or simply tape to be more perfect.
5
Short & rounded nails
Do you bite your nails? Do you suffer from the problem of having short nails? Do you find it difficult to get long nails because you are a working woman? If your answer is yes and you suffer from any of the problems that we have just mentioned, then this nail trend is especially presented to you. Short and rounded nails are among the hottest nail trends that you are going to find in the next year, do you believe this? Do you believe that those short nails are going to be hot and you do not need to keep them long or cry when they are broken? There are different art designs that are presented to those with short nails to make it easy for you to get catchy short nails.
6
Negative space nails
It is not necessary for you to completely cover your nails when you use the nail polish. You can cover specific parts and leave the rest of your nails with being painted to get what is called negative space nails. Negative space nails are really stylish and can also allow you to create different amazing nail art designs to make your nails more impressive and catchy for all of those who see your nails including your friends.
7
Minimal nails
This nail polish trend is one of the most noteworthy trends that you are going to find in the next year. It is perfect for those girls or women who are lazy or do not have enough time to waste for getting catchy nail art designs. You can make use of the simple and easy nail art designs and ideas that are presented to you here to get catchy nails without spending a long time or exerting a huge effort.
8
Matte nails
Matte nails may be thought to be less attractive than other nails because they are not shiny. Although matte nails are not shiny, they are really fabulous and not less impressive than other shiny nails. You can make the matte nails catchier through adding different artistic creations that increase the elegance of your nails and make your hands more gorgeous.
9
Metallic nails
If you do not like the idea of wearing matte nails thinking that they are not attractive and catchy, then you can go for the metallic nails trend. Metallic nails are among the hottest nail trends that you are going to find in the next year. They are really attractive, shiny and can add a luxurious look to your hands especially those gold nails. You can completely cover your nails with the metallic nail polish that you like, pair it with other colors or simply leave negative space for more elegance.
10
Ombre nails
The word ombre can be found in different things in the world of fashion. This trend is present in the clothes that we wear, hair colors, shadows and even lipsticks. It can also be found in the nails to be called ombre nails. Of course it is not the first time for this trend to appear as it was seen before and insists on being with us in the next year to allow you and all of those who love this trend to wear it in the next year. You can choose the colors that you like, match what you wear and suit the different seasons of the year.
Other nail polish trends that you are going to find in the next year