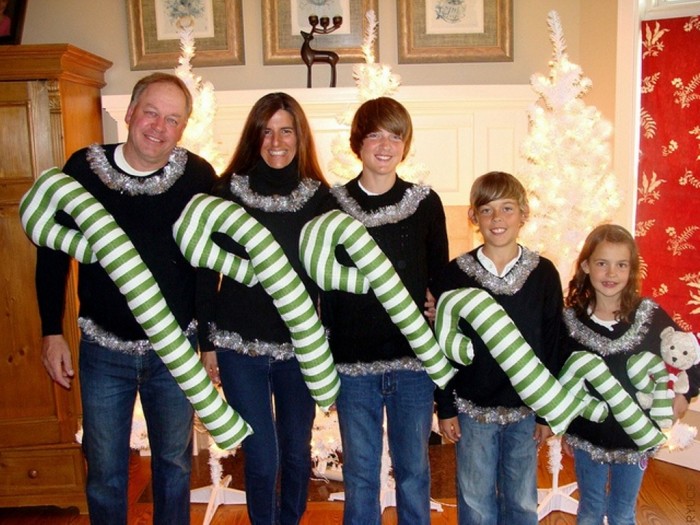 Fashion
Top 10 Ugliest Christmas Sweater Ideas to Wear
Christmas is here and there are many things that we have to do to welcome this happy occasion. Among the most important things that we prepare for Christmas are gifts. There is not a Christmas without gifts as you receive and present too many gifts that should be impressive. We always say that the Christmas gift should be catchy, suits the recipient's taste and needs and it should also be affordable for you because there is a large number of gifts that you have to purchase, but it seems that this is not completely true as there are some people who look for what is not catchy to present to others.
This is true and for this reason, you are here as you are one of them. Looking for ugly gifts may be considered to be a perfect idea if you are going to present them to friends whom you know very well. Although this type of gift is thought to be ugly, there are many people who believe that they are funny and not ugly as when you see such Christmas sweaters that are presented here, you will die from laughter. You can also wear these ugly sweaters for attending ugly sweater parties. Here is a quick glance at the top 10 ugliest Christmas sweater ideas to choose one for the person whom you hate or for yourself to wear.
10. Pregnant women
What about pregnant women? Do not they deserve to participate in such funny parties? There are ugly sweaters that are specially designed for pregnant women to suit their pregnant belly that is large in size.
9. Reindeer ugly Christmas sweaters
There are ugly Christmas sweaters that are designed in a creative way which makes the sweater that you wear look like a reindeer when you raise your hands. So, it is another funny and unique idea to make your ugly sweater different from those of your friends.
8. Ugly sweaters for grandparents
Why do not you bring ugly sweaters to your grandparents and give them the chance to share these happy moments with you and your friends? Ugly sweaters for grandparents can be decorated through adding their photos to the sweaters that they wear.
7. Leg lamp
Using a leg lamp for decorating your ugly Christmas sweater is considered to be a new idea that is going to make your ugly sweater unique at the ugly Christmas sweater parties that you are going to attend.
6. Matchy is catchy
What about wearing an ugly sweater that matches your purse to seem as if you are going to attend a formal party? It is a good idea for both young girls and old women as old women also participate in such funny parties with ugly sweaters.
5. Baby sweaters
Are you ready to wear sweaters that are short to the extent that they do not cover your belly? These short sweaters are like crop tops but in winter instead of those which are presented in summer. Wearing such sweaters will be funnier if it is done by a man since men do not wear crop tops.
4. Massive Decorative items
There are several decorative items that you can use for decorating your sweater. The decorative items that are used for embellishing clothes are usually small in size in order not to be heavy, but for the ugly Christmas sweaters, you are going to use the same decorative items that are used for ornamenting Christmas trees.
3. Trees for celebration
If there is a friend who asked you to bring a tree with you for celebrating Christmas, then why do not you wear a sweater that is decorated with a tree or designed to look like a tree when you raise your hands? Wearing such sweaters while raising your hands will make the others think that you are a Christmas tree and will not notice that you are standing at your place.
2. More lights for dark nights
Although the Christmas sweaters that are decorated with lights are not suitable at all for being worn outside home, they are practical and multifunctional since you can use them to illuminate your way while being inside your home or outside it especially in the dark nights. It is a nice idea but the problem is that it requires batteries to be able to move freely instead of using a long wire.
1. The best idea for an ugly sweater
It is the best and most fascinating idea to find here on this list since it is based on adding movement to your ugly Christmas sweater to make others think that there is something hidden in your sweater and makes it move. All what you need is to download a free app, put your mobile in the sweater pouch and play the app video to attract the attention of all of those who are at the party and make your sweater more fascinating.
Other ugly Christmas sweaters that you may like to wear at the ugly Christmas sweater parties
Warning: Wearing such sweaters is just suitable for parties, so do not try or even think to wear these sweaters anywhere outside home because you will find everyone around you laughing at what you wear.
Source for Most Images: My Ugly Christmas Sweater