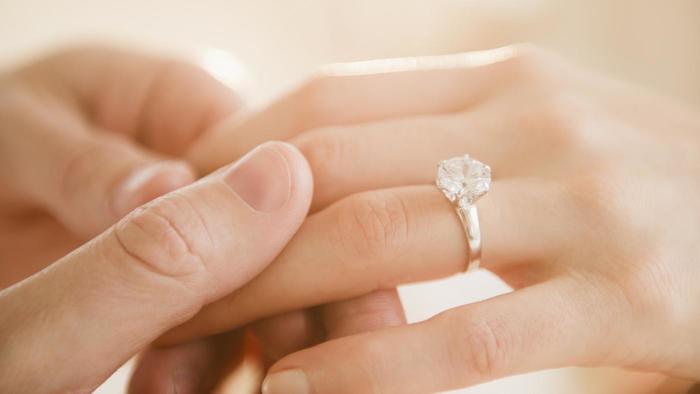 Jewelry
Top 10 Unusual Engagement Rings
In the same way that wedding dresses do, engagement rings don't follow the one-style-fit-all principle. If you try to think outside of the usual diamond solitaire box, there are actually endless options out there that you can choose from. If you life to go on the off beaten path, here are the top 10 unusual engagement rings that no woman in sane mind will surely be able to say No to.
10 Anna Sheffield Hazeline Rose Gold Solitaire Ring
Particularly designed as a great alternative ring for engagement, the creation from Anna Sheffield has diamond center that is made from sturdy rose gold. The dots of real black diamond on the bottom give off a classic look with some edge.
 9 Selim Mouzannar Large Diamond and Tanzanite Ring
If you want to go for an heirloom style, tanzanite is an ideal option. The cocktail ring will look even better if you pair it with rose gold band.
A part of Tiffany Soleste collection, it is a ring featuring two rows of pave diamonds with an aquamarine center. Whether it is your birthstone or not, the blue stone will make an ideal reminder of the love you share.
7 Karen Karch Floating Star Diamond Ring
A ring made from the combination of two rings in one, it has an 18 karat gold that is set with ten rose cut diamonds, detailed with vine motif. You don't have to worry of being lost in the crowd as this has an architectural and enchanting design.
6 KATKIM Diamond Peak Double Band Ring
A real classic with an exciting twist, this creation by KATKIM has been a favorite for many reasons. It is a style suitable for the ladies who want to go for something with an edge. Its round diamond will feel completely new in its asymmetric setting.
5 Vale Jewelry Aurora Ring with Morganite
For the past few years, morganite has caused stir within the engagement industry. With its name inspired by J.P. Morgan, it is a tough pink stone that can make as wonderful center for all types of rings.
4 Catbird Mathilde the Swan Ring
Did you ever think of yourself as a black swan? Then, you better opt for black diamond which is the perfect alternative to its white sister and still bearing the similar level of strength. It has a rose cut design on the center that is a great reminder of the vintage style.
3 Jennie Kwon Champagne Diamond Solitaire Echo Ring
The Jennie Kwon ring perfectly blends modern and traditional looks. This has a champagne diamond on the center that is offset by the deco details found on the side.
2 Yasuko Azuma Emerald Muguet Ring
Set with diamonds and an emerald, it is an 18-karat ring made from yellow gold has been designed to be worn alone or you can also choose to pair it with diamond band of curved design.
1 Suzanne Kalan 18K Rose Gold Baguette Band
Suzanne Kalan takes great pride in their best selling eternity band that has captured the eyes and the heart of many ladies. This engagement ring features stunning white diamond baguettes. But more than its centerpiece, the ring by itself already makes a strong statement all on its own.