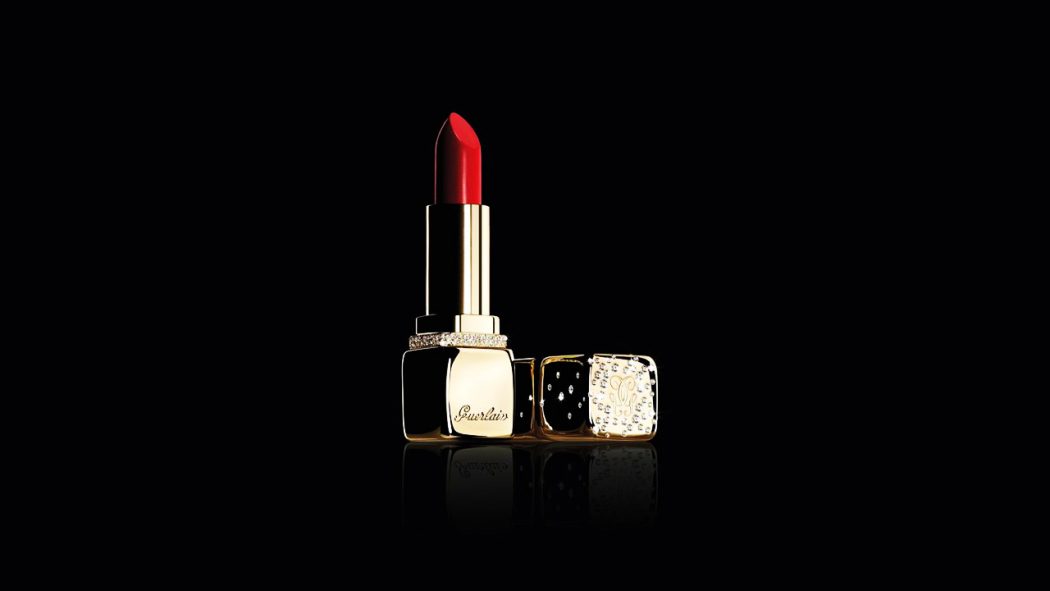 Since it is the 21st century, there is no wonder that the world keeps getting crowded with hundreds of brands and fashion lines. It is also unsurprising that these brands are getting more and more expensive as they get popular, and the thing is that people keep obsessing over them, and are, probably, ready to pay those extra bucks to wear these brands, just for their prevalent names. Despite the fact that these brands have already gotten too widespread and popular to ever worry about people stopping purchasing their products, they won't seem to stop getting more luxurious and costly with time. And the real reason behind this fact is not keeping the people's interest, but it is to keep their position among the other brands in the market, and that is another tricky way to keep the people's interest as well. Check out this list of the most unbelievably expensive makeup products in the market.
1 Gold and Diamond Lipstick
Since Guerlain is one of the most popular French brands in the world and the oldest among all the cosmetics brands, it is not astonishing to come up with one of the most extraordinary inventions of all times to keep standing out among the crowd. Guerlain has produced a lipstick called KissKiss that its tube is made out of real gold and diamonds. Imagine having this exceedingly expensive tube, how much do you think it is going to cost? Yes, a FORTUNE. For a matter of fact, Guerlain had actually priced this luxurious lipstick for $62,000. You definitely need to be either completely out of your mind to purchase a lipstick that costs that much.
2 Orchidée Impériale
This is another product by Guerlain, It is a French term that means, in English, the imperial orchid; which is a rare flower that works wonder for regenerating the skin cells. Guerlain has been famous for using this kind of flowers in its products for over 12 years. It is referred to as imperial, for this orchid used in that skincare cream is a gold one. Furthermore, this Orchidée Impériale is a Skin Cells regenerating treatment that assures you that your skin will be reinvigorated and completely restored within a month, if used regularly. It works with different skin types and correct almost every skin problem, which leaves it at a cost of $1,953.32.
3 Beauty Mascara
Apparently, Guerlain is not the only line that comes out with the most expensive makeup products, in fact, H. Couture should be put on top of this list. Valez the designer of this beauty product line wanted to take the world of makeup up for about hundreds of thousands notches. She designed a mascara with a tube made of gold, but unlike Guerlain gold and diamonds lipstick tube, she added Swarovski crystals and blue diamonds as well. Actually, the tube is made out of 2,500 blue diamonds, 1000 of the premium crystals, and 18K of gold. Yes, that is a great expense of jewelry! No wonder this mascara tube costs 14 million dollars. One more thing about that deluxe tube is that when it is over, you are allowed to refill it, and that actually makes it cool yet irrationally expensive.
4 Nano Night Recovery
Orogold might not be one of the oldest brands in the market, founded in 2008, but that has not stopped it from launching a line of luxurious products to compete with others. Orogold produced a Nano Night Recovery, that is what it is called; which is a product made up of gold that has been scientifically proven to be one of the best elements to help in the anti-aging process. This product costs about 1,500 dollars due to the great amount of gold, which 24 karat, which has been used to create its remarkable formula. Although this product has neither been sold effectively nor received any positive reviews, Orogold seemingly still believes that it is eventually going to attract those who are going to willingly spend over a thousand for its golden formula.
5 Eye products
Here, we introduce you to one of the world's most expensive makeup brands that was first launched by two brothers in 1996; Smashbox. This brand is popular among celebrities; they confirm that it is one of the best cosmetic brands since the products last for a quite long time. Smashbox is mainly known for eye products be it eyeliners, eye shadows, brow liner, or mascara. It is perfect for all those girls who are taking their ideal "Winged Eye Liner" game seriously. The products are best known for making the skin look revitalized and clear, and actually there are these fine oils that are put in these products that make them outrageously expensive.
6 Gold and Diamond Eyelashes
Yes, it is obvious that expensive and luxurious jewelry like gold and diamond have been widely used in many of the cosmetic products designed by several different brands. Moreover, these products are actually being sold for millions and, seemingly, there are those people who are willing to buy them. Another brand that was established in 2009, Kre At Beauty, firmly believe that eyelashes are magical makeup products that every woman probably needs to enhance her own beauty. Therefore, it has actually designed eyelashes that were made up of gold and other made of diamonds. Since these sophisticated eyelashes play a great role, from their own perspective, in finalizing a woman's appearance, it was priced for $1.350.
7 Platinum Nail Polish
Back in 1981, Essie Weingarten established a beauty salon, named Essie Cosmetics, specialized in nails. She started by using different and exceptional colors, but, apparently, that was not enough for her, so she went on producing a new product that now became one of the most expensive in the whole world. Essie was the first one to ever create the platinum nail polish, and since it was sold in usual and ordinary bottles, it only cost $250. Yes, I know, that was still too expensive for a nail polish, but guess what? This "supposed to be" affordable nail polish had not remained this way for long. A well-known designer, Henry Dunay, decided to actually weigh in and helped in creating a new bottle to this polish that is made of real pure platinum. Consequently, the product's price was taken up several notches to reach $55,000.
8 Gold Nail Polish
Well, Weingarten was not the only one who went wildly creative when it came to nail polish, Model Own Company went the same way too. Model Own was established only 8 years ago, in 2008, and it provides a complete line of several cosmetic products ranging from best face products, lips and eyes to the nails. It mostly famous for their high-quality nail polish that is totally affordable as well, that it only costs $8 for each bottle. But, apparently, these prices were never enough for all these world's famous brands, so Model Own designed a nail polish made of pure gold, and it was set inside a bottle that's top cover was coated with real diamonds. Hence, Model Own that was known for its $8 nail polish bottles came up with that artistic invention that costs $130,740. What a drastic difference!
9 Diamond-Immersed Eye Cream
Forever Flawless. What an attractive brand name! Actually, that is not the only gorgeous thing about this brand, it has a slogan that unravel its uniqueness and reveals how honest this brand has been from the very beginning. "Where Luxury and Skin Care Meet" is the slogan of this brand, and by luxury they mean gemstones, actual ones. This brand uses natural diamond powder in all of its products which makes them pretty expensive. Lately, an eye cream was launched that is entirely made of diamonds powder, for the amazing effect it has on the skin that guarantees complete moisturizing, fighting aging and reviving to look younger and healthier than it ever was. This cream costs $399, and for effective results, it has to be applied right after its serum that costs another $399.
10 Cellular Cream Platinum Rare
That is another platinum-infused cream that was produced by La Prairie. The platinum has recently been so popular among the cosmetics brands since it was proven to be one of the most skin-friendly ingredients ever discovered, along with gold and diamond. Platinum moisturizes the skin intensively and gives it that shimmering gleaming look, and definitely this is the reason La Prairie has priced it for $1000. We can say that this is one of the almost affordable creams in the market, if we actually take the time to compare between the current products' prices. And since there are crazily rich people, then these products are definitely going to get some shoppers.