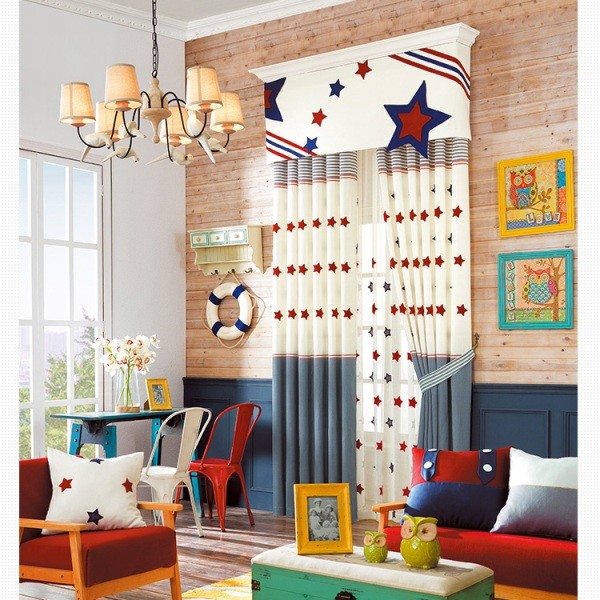 Designs
Top 10 Hottest Kids' Curtain Patterns that Are Trending Now
Do you want to decorate your kids' room, but do not know what to do or how to start to get the fascinating results you want and make your kids happy? Our kids spend most of their time at their rooms for different purposes such as studying, playing, and sleeping. For this reason, we have to care about the design of their rooms. Moreover, we need to change the decoration from time to time in order to make the rooms catchier and more impressive for our kids and their friends as well. Although decorating kids' rooms is easy and very interesting, we find ourselves confused when we start this task. Do you need a great idea to quickly change the decoration of your kids' room without spending a lot of money or exerting a huge effort? What do you think of using curtains and the various kids' curtain patterns that are specially created for young children?
There are too many fascinating ideas that can help you decorate your kids' room. Some of these ideas are really tiring since they require wasting a long time and spending a lot of money. There are other ideas that are very easy and can be quickly finished to get the new decoration you dream of for your kids' room. Using curtains is one of the simplest and easiest ideas you can try to be able to quickly change the decoration of your kids' room. Curtains are available in a wide variety of designs, types, styles, colors, materials, and sizes to make it easy for you to select what suits your budget and kids' room. You need to opt for those soft and colorful curtains brands that can insulate the room, protect your kids from direct sunlight, reduce noise, make the bedroom quiet for kids to relax, and increase the beauty of the room to be more inviting. To make the right choice, take a look at the hottest kids' curtain patterns presented here.
1

Polka dot patterned curtains
Polka dots are among the most popular patterns you can find on fabrics. They are commonly used in clothing, furniture, and even toys. They are believed to be perfect for different ages, especially young children, because of their ability to add a playful look to anything they are used in. Polka dots vary in their sizes as there are very small polka dots and you can also find large polka dots that come in different colors. They may be used alone to cover the whole curtain or paired with other patterns for a catchier look.
2

Striped curtains
Stripes are not just thin or thick lines that are used to cover curtains. They can play an important role in decorating your curtains especially when they are used in various colors for a bright and stunning look. Stripes come in two different types which are vertical stripes and horizontal stripes. Vertical striped curtains are thought to be more popular than horizontal striped curtains, but this is not true. Both of them are perfect for decorating rooms and you have to select what suits your kids' taste and matches other patterns used in the room.
3

Plaid curtains
Are you one of those who love classics and wants this to appear at your home? Why do not you try these curtains? Plaid or gingham curtains are thought to be boring for their classic look. But when you take a look at the stunning designs presented here, you will completely change your mind. It is not necessary for this kind of patterns to cover the whole curtain. Plaid and gingham patterns can be used on just a small part of the curtains to be paired with other fascinating patterns or prints that make your curtains fascinating.
4

Floral & botanical curtains
Do you want to add a natural and fresh look to your kids' room? Do you want to make your kids feel as if they are living in a garden? What do you think of using those floral and botanical curtains? Floral and botanical curtains are created in different stunning ways to suit kids and decorate their rooms in a unique way. Whether the floral patterns are printed or embroidered, you can confidently use them to make your kids happy.
5

Star patterned curtains
Star curtains are among the most perfect choices for decorating kids' rooms. With these curtains, your kids will not need to wait until it becomes dark to be able to see stars in the sky. Stars come in different colors to match other colors used in the room and suit the gender of your kids. Those stars are used alone or paired with other patterns such as stripes, clouds, flowers, and more shapes that can make the curtains more impressive.
6

Nautical curtains
Those nautical curtains that feature various catchy patterns such as lighthouses, shells, anchors, sailing boats, and more are great for boys. If your kid likes sailing and traveling around the world, it will be a good idea to use such curtains in his room. White and navy blue are among the most common colors that are used for creating nautical curtains. You can find other colors such as purple, beige, gray, and more to select what matches the colors of other fabrics at your kids' room.
7

Animal patterned curtains
Because most of the young children, if it is not all of them, love animals, it will be great to surprise your kids and use those animal patterned curtains at their room. Many cute animals such as lambs, giraffes, zebras, bears, whales, rabbits, elephants, monkeys, kittens, puppies, and more can be found on curtains. You need to know the animals that your kids love to be able to decide which curtains to purchase for their room.
8

Cartoon patterned curtains
Too many cartoon characters such as Donald Duck, Tom, Jerry, Tweety, Mickey Mouse, Bugs Bunny, SpongeBob, Winnie the Pooh, Dora, and much more are adored by young children. They want to always see them even in their dreams while sleeping. So why do not you do what your kids like and use those cartoon patterned curtains at their room? Try to know the characters they love and want to be with to be able to make the right choice and keep your kids happy. Because young children learn from everything around them, you can make use of this to purchase those curtains with letters and numbers to learn.
9

Rainbow curtains
Rainbow curtains are more than great for young children. This is because rainbows are known for their bright colors. In addition, rainbow curtains are suitable for both boys and girls. Rainbow curtains are created in two different ways to select what suits your kid's taste and age as well. Some rainbow curtains feature the curved band of bright colors we all know. There are other curtains the feature the bright colors only without any other patterns or prints to be added as they are left plain to be simple and suit those older ones like teens.
10

Butterfly patterned curtains
Butterflies are among the cutest and most adorable creatures on Earth. In spite of their small size, they are catchy and quickly attract our attention once they fly around thanks to their bright and fascinating colors. For this reason, butterflies are used for decorating different rooms at our homes. They are used on curtains for adding a lovely and romantic look to the room. Butterfly patterned curtains are ideal for girls and also suitable for boys.