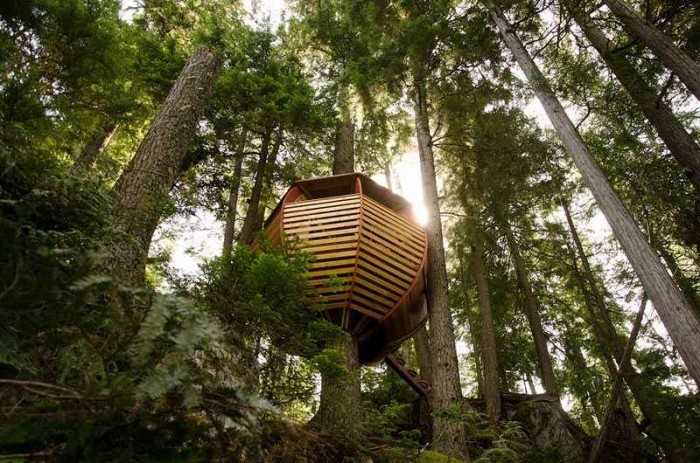 Designs
Top 10 Best Flying Tree Houses In The World
Tree houses are those structures that are built among the branches of the trees. They make use of the trunks of mature trees. Nowadays there is an increasing demand for tree houses. More and more people want to build backyard treehouses for their kids or even for themselves. Daryl McDonald, one of the prominent figures in this field, said, "A lot of people think of treehouses and children, but 9 out of 10 treehouses we build are for adults." We can find many people in New Guinea who dwell in tree houses permanently. They are perfect places for entertainment and recreation. They can be used as places for residence, too. There are many professional engineers and interior designers who can build wonderful houses of this kind. There are many services in these houses like electricity, water, etc. Here are only ten examples of these houses that fly in the air.
10 Sybarite
This is one of the wonderful tree houses in the UK. It was designed from the underside, to the interior and then outwards. It provides a spectacular view of the tops of the trees.  It is able to generate electricity by using wind power. It can be established in almost two weeks.
9 'Free Spirit Spheres'
These houses are established among that tall trees that exist in the west coast rainforest of Vancouver Island in Canada. It is suspended in a way that looks like pendant from a web of rope. They can be rented for night. Free Spirit Spheres' Tom Chudleigh said, "We're currently making a shell a week," There are also talks regarding licensing.
8 4TreeHouse
It was designed by Lukasz Kos. It is suspended with steel cables. He did not want to harm the beautiful nature around the place. This house looks like a tube. It was designed in a way that would allow light to get in and out.
7 Three Story Treehouse (British Columbia, Canada)
This is considered the tallest tree house in British Columbia. It consists of three storeys. It is made by using a Dutch elm tree. Tereasa turned the elm tree into a wonderful house to commemorate her father who hanged a swing on this tree before he dies.
6 Mirror Tree House (Sweden)
It was built in Sweden by Tham & Videgard. It is an invisible house. Kent Lindvall, co-owner of the tree house, says: "Everything will reflect in this – the trees, the birds, the clouds, the sun, everything." You can access this house by using a ladder. It is made of light-weight aluminium. The interior is made of plywood.
5 The HemLoft Treehouse
It was built by Joel Allen. It looks like an egg. It was built on a land that is owned by the government in Canada. It was built on a slippery slope. Joel Allen abandoned his job as software developer and continued his interest in carpentry. He was interested in "building something cool".
4 Minister's Treehouse
This tree house, constructed in 1993, is considered the tallest one all over the world. It is a tree house and a church. It is a 100-foot-tall structure. It was built by Horace Burgess in Crossville, Tennessee. God told him, "If you build a tree house, I'll see that you never run out of material." Reclaimed wood was used to build this house.
3 Yellow Treehouse Restaurant
It is located in the north part of Auckland, New Zealand. It space is enough for 18 guests at a time. It is designed by Peter Eising & Lucy Gauntlett. It takes the shape of a cocoon around the tree. It was built in a way that allows natural light and fresh air to get in.
2 O2 Treehouse (USA)
 This is one of the most attractive tree houses by Dustin Feider. O2 Treehouse is a company that is based in California. This tree house looks like a bubble that is about to go up in the air. Translucent 1/16th-inch triangulated polypropylene panels were used to build this house.
1 Plane Treehouse (Costa Rica)
This plane which is a 1965 model was part of the South African Airways. The plane was bought and moved to Costa Verde Hotel. There are wooden decks on the wings of the plane in addition to some furniture. This hotel costs $300/night. This design allows you to watch the sunsets over the ocean.
Why do we want to live on the ground when we can live or even fly in the sky? Let us have one of these tree houses and live among birds and trees.