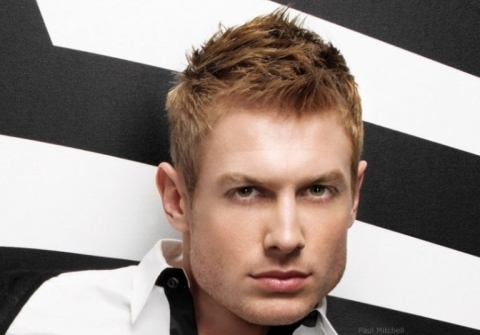 Fashion
Top 10 Hottest Haircuts & Hairstyles for Men
If you want to look catchy and handsome, you have to care about your appearance and it will be a perfect idea to change your look from time to time in order to be catchier and more impressive instead of looking boring. Getting a new look can be achieved through wearing stylish clothes, purchasing catchy accessories that complement what you wear and of course getting a new haircut or hairstyle. If you do not want to spend a lot of money on getting a new look, then you have to opt for changing your hairstyle or haircut. There are countless haircuts and styles that are specially presented every year to men to allow them to easily and quickly change their look without the need to waste their money and time. Choosing the most appropriate haircut and hairstyle differs from one person to another as it is chiefly decided by the shape of the face, the length of the hair and the age which is sometimes responsible for deciding the most suitable haircuts that don't go out of style. Take a look at the top 10 hottest haircuts and hairstyles that are presented to you here to quickly change your look and become more handsome.
1
Pompadour hairstyle
Pompadour is one of the hottest hairstyles that are presented to men for the next year. It is a classic hairstyle that suits all men regardless of their age. It is worn by many celebrities like David Beckham which increases the popularity of this hairstyle and makes it more common among men. In order to get this hairstyle, you have to comb your hair up from the forehead without creating a part.
2
Short curly haircut
Those men who have natural waves or curls are really lucky as the short curls are going to be a hot haircut in the next year. This means that you do not need to get a new haircut that suits your face shape or if you have natural curls. If your curls are long and look like those of women, then you can change them to be shorter and enjoy your new haircut.
3
Messy hairstyle
This hairstyle is a perfect choice for those men who are lazy or busy and do not have enough time to get another hairstyle or haircut. Messy hair is also a casual hairstyle that suits all men especially those young men. It suits you if you have medium, short or even long hair. You can pair the messy hairstyle with another hairstyle such as the Mohawk hairstyle and other elegant hairstyles to look more handsome and catchier.
4
Fade haircut
One of the biggest and most noteworthy haircuts that you are going to find in the next year is the fade haircut. This haircut suits men of all ages especially those young men. It can be paired with different hairstyles to increase your elegance and become catchier and you can also connect it with your facial hair for getting a catchy look. In order to get this haircut, you have to start with long hair in the middle and cut it down gradually until it finally fades on the sides and back of your head.
5
Man bun hairstyle 
Who says that wearing the bun hairstyle is limited to women? Women are not the only ones to have long hair and this is why this hairstyle is also worn by men. It is only suitable for those men who have long hair and want to wear a catchy hairstyle. Man bun hairstyle can be easily done through pulling all the hair back and tying it up to the center of the head. It will be better for you to wear this hairstyle with long beard in order to add a masculine look. You can leave some hair without being tied to create what is called the messy bun.
6
Top knot hairstyle 
If you do not like the idea of wearing the man bun hairstyle because it is feminine and looks like that one which is worn by women, then you can opt for the top knot hairstyle. Top knot is more masculine and looks like the man bun, but they are not the same. The top knot can also be called the undercut bun as it is a mixture of two hairstyles which are the man bun and the undercut. You may find it difficult to pull your hair back for being short, but getting this hairstyle can definitely allow you to look catchy and handsome.
7
Half ponytail hairstyle 
It is not the first time for this hairstyle to appear. It is common among women and can also be found among men. It is perfect for those men with medium and long hair. It requires pulling some of your hair back and tying it with leaving the rest of the hair without being tied. To make this hairstyle more masculine, you have to pair it with a stylish beard.
8
Fauxhawk hairstyle
The fauxhawk hairstyle is one of the biggest hairstyles to be presented for the next year. This hairstyle is based on keeping the hair in the middle longer than the sides with adding a spiky look to make the hairstyle more impressive and catchier. You can shave the sides but keep the hair in the middle short for getting the catchy hairstyle that you like. This hairstyle differs from the Mohawk hairstyle that requires shaving the sides and leaving the hair in the middle to be very long.
9
Crew cut hairstyle
The crew cut is one of the simplest and easiest haircuts that you are going to find in the next year. This haircut suits all men of different ages and is a perfect choice for those men or boys who need a short, cool and low-maintenance hairstyle. To get this haircut, you have to keep the hair on the sides and back very short and that hair in the middle of your head should be longer. So, what do you think of this easy haircut?
10
Other haircuts and styles
There are other haircuts and styles that you may like to wear in the next year. These catchy haircuts and styles include the slicked back hairstyle, wet-look hairstyle, shaggy hairstyle, spiky hairstyle, side parted hairstyle and more haircuts and styles that can definitely make you more handsome in different seasons and on different occasions throughout the year.