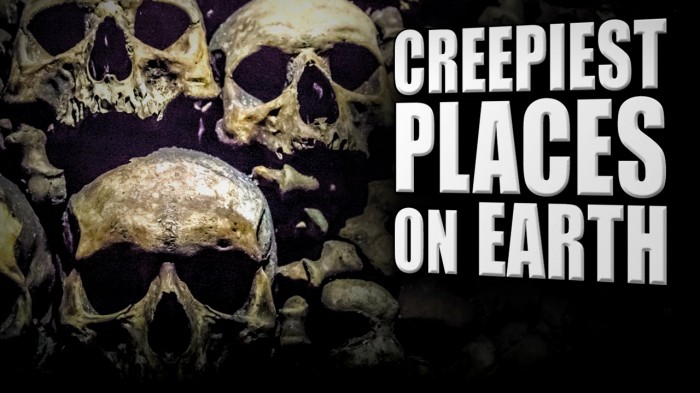 Are you a brave person? If your answer will be yes, try to make an adventure to the following places; as they are ten of the most terrifying places on earth.
10 Riddle House
This house is a private residence and it served as a home for the overseers of the Woodlawn cemetery across the street. The owner of this house said that the most terrifying about this house is the stairs that made a creaking sound; you can say that it is like somebody dragging a chain up the steps. Also, you will be scared by knowing that this creepy house has ghostly occurrences.
9 Helltown
You can call this place as the "Dead End Road"; because of the violence, animal attacks, murder and satanic worships that are revealed in this place. The creepiest thing about this place is the satanic worshippers who perform vague rituals, stalk and kill unwary trespassers. If you think that you can pass this road safely, you are a naive one.
8 Stull Cemetery
This place is one of the seven gateways to hell, and you can say it is the place of evil. The main focus of this evil is a crumbling church; and the most amazing about this church is that the rain would never fall inside it, although it has no ceiling! Also this town is known for the cursed events such as the boy who was burned to death by his father.
7 The Ridges
This place will tell you the story of an ill woman in a hospital, whose body was founded lying in an abandoned room in a hospital that had been closed for several years. This woman died by a heart failure, and one thinks that she is a deaf; as she did not call for help. The most amazing about this story is her body that is left a stain. You can see it till today.
6 Humberstone and La Noria
These are two mining places that were abandoned for years. People who lived in these places suffered from severe conditions and they faced a horrible death because of slavery and the bad treatment. In these places you will feel the energy of the painful treatment, which will make you never return again to these places. The most terrifying about these places is that witnesses have reported hearing disembodied voices and footsteps where no one else is around.
5 Byberry Mental Asylum
It is a place where evil was allowed to exist and thrive. This is a Philadelphia state hospital, which was to be closed for more than a decade; because of several events such as the death of many patients and patient abuse. "There are all kinds of patients who never heard about again, buried on the grounds of the state hospital and did things like froze to death and ran away. Or were brutally beaten and buried there. It was a real nightmare place, and most state institutions were similar." says a retired activist Mary Hertig.
4 Leap Castle
This castle had witnessed several acts of violence. The most terrifying murder act is known as "The Bloody Chapel"; which was about the one-eyed Teige O'Carroll who drove a sword into the back of the priest who was also his brother. It is said that the soul of the priest had haunted the Chapel.
3 Shades of Death Road
You can call this place the legendary road where murder was mundane and the ghosts of the dead still roam. This place had three brutal murders such as: a man has his head caved with a tire iron over a few gold coins, a woman who killed her husband and buried both parts of his body in different places in the road and a man who was shot to death.
2 Tuol Sleng Genocide Museum
It was a secret prison, which was one of the largest places of detention and torture. This place showed the ugliest sides of barbarism; the strangest about prison is that the prisoner was captured after and before torture as if the leaders enjoy seeing the prisoners suffering.
1 The Mines of Paris
In this place, you will see thousands of human bones because of the overcrowded Paris' cemeteries. This is one of the most terrifying places that you can see in your life. If you enter in this, you will get lost. So, do not think to enter; as you have one precious soul.
In a nutshell, if you do not experience fear, you will not taste the sweetness of being safe.