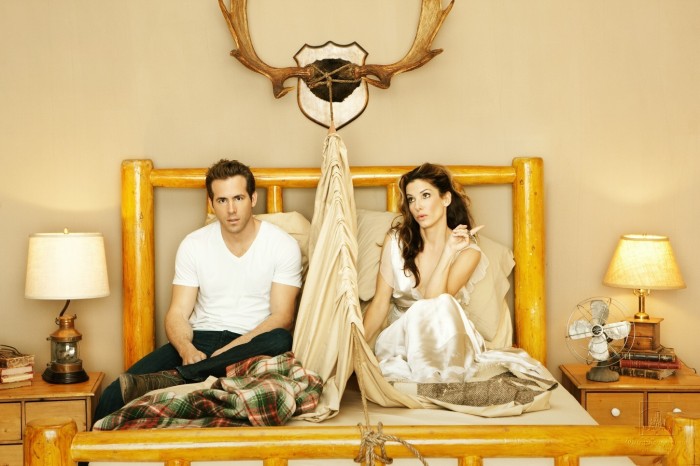 TV and movies are parts of our life. They imitate us, describing the surrounding themes and motifs in very pleasant and telling stories. In particular, romantic comedies are those movies which you can entertain a romantic story expressed in a comic way. So, do you love romantic comedies? Do you look for gathering two preferred genres together? Have a look at this list of top 10 must-watch romantic comedies.
10 Celeste and Jesse Forever:
It is an American romantic comedy film directed by Lee Toland Krieger, in 2012. It was written by Jones and Will McCormack, who also plays a role in the movie. The movie was positively received by critics. Rotten Tomatoes gives the film 70% according to about 130 reviews. It is a movie that has a pleasant cast and announces the appearance of Rashida Jones a promising talent.
9 The Proposal:
The Proposal is an American romantic comedy film set in Sitka, Alaska. It is directed by Anne Fletcher in 2009 and written by Peter Chiarelli.  The plot deals with a Canadian woman, Margaret Tate, who may meet deportation charges because of her expired visa. Tate persuades her assistant, Andrew Paxton, for the time being act as her fiancé, in order to get back her position as executive chief. On the opening day, the film achieved $12.7 million in 3,056 theaters. It scored the main opening weekend out of any film in Bullock's line of business. In October 2011, the movie had achieved more than $164 million in the United States and Canada.
8 (500) Days Of Summer:
500 Days of Summer is an American rom-com movie, written by Scott Neustadter and Michael H. Weber and directed by Marc Webb in 2009. The film deals with a story based on its protagonist and his reminiscences of an abortive relationship. It was rewarded for screenplay, in 2009 Hollywood Film Festival, it was awarded Hollywood Breakthrough Screenwriter Award, and the Las Vegas Film Critics Society Award for Best Screenplay, etc.
7 Amelie:
It is a movie that deals with the romantic dreamer Amelie who discovers a box of secret treasures in her own apartment and decides to get them to their owner to live a mission to help others become conscious to their dreams. The film has been well-received. Rotten Tomatoes stated that 88% of critics positively commented on the film, giving it an average score of 8.1/10, Alan Morrison from Empire Online granted Amélie five stars saying of it "one of the year's best".
6 Kissing Jessica Stein:
Kissing Jessica Stein is a romantic comedy film, written by the film's stars, Jennifer Westfeldt and Heather Juergensen who are also the producers. In 2001, it was directed by Charles Herman-Wurmfeld. It deals with an overflow of catastrophic blind dates, then New York copyeditor Jessica Stein take actions to a confidential ad quoting her favorite author, Rilke, ending with arranging a date with Helen.
5 13 Going On 30:
13 Going on 30 is a 2004 American romantic comedy, written by Josh Goldsmith and Cathy Yuspa.  It was directed by Gary Winick. It tells a story of a 13-year-old girl that dreams of being admired. During her birthday party, she joins in the party game Seven Minutes in Heaven that becomes a humiliating incident for her, then she finds herself "five days shy of her 30th birthday", in doubt to how she got there. The initial box office stated achieving $ 22 million in its first weekend, in its second week, it gained US$ 10 million.
4  Waitress:
Waitress is an American movie written and directed by Adrienne Shelly in 2007. It tells the story of a pregnant waitress Jenna that promises to join a local pie contest to escape her optimistic husband Earl, when she boards on a secret affair with the town's charming new physician.
3 Love Actually:
Love Actually is a British romantic comedy film written and directed by Richard Curtis in 2003. Love Actually optimistically received in Britain. In US, Rotten Tomatoes stated that 63% of critics granted the film an encouraging rating, according to 191 reviews. The movie theme is Christmas, which makes it unprecedented.
2 Adventureland:
Adventureland is an American film written and directed by Greg Mottola in 2009, its staring cast includes Jesse Eisenberg and Kristen Stewart. The film takes place in the summer of 1987 as the fresh-graduates James Brennan is arranging to tour in Europe and attend graduate school seeking a career in journalism. Yet, he faces financial problems that cause him to look for a summer job. That places him at Adventureland in western Pennsylvania, to meet Emily Lewin with whom he develops a quick rapport. In its first week at the box office, it achieved $5.7 million ranking 6 at the box office.
1 Forgetting Sarah Marshall:
Forgetting Sarah Marshall is an American rom-com film directed by Nicholas Stoller in 2009. The film was written by Segel and, was released by Universal Studios. It revolves around a TV composer Peter Bretter trips to Hawaii to forget his love with Sarah Marshal. In its first weekend, the film revenues reached $17.7 million in 2,798 theaters existing in the United States and Canada.