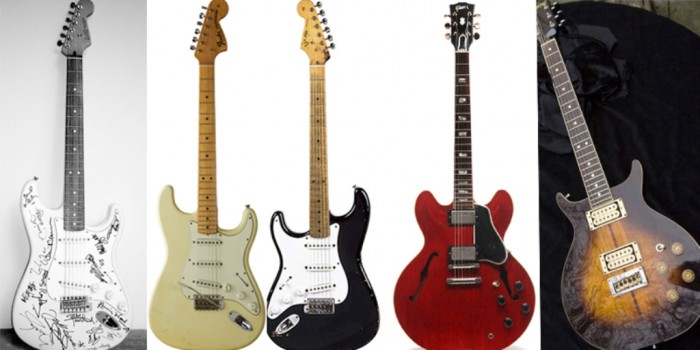 The guitar is one of the most popular musical instruments especially among kids who usually want to get one when they grow up. It can be found in different genres of music whether this genre is classic, rock or any other genre of music that we usually listen. When you decide to purchase a guitar and find that it costs thousands of dollars, you will consider it very expensive but what will you do when you hear that there are guitars which cost millions of dollars? Some of the guitars that are sold for thousands or millions of dollars whether it is at an auction or are privately sold are unique and can be rarely found which increases they prices even if they are traditional. You can discover more about these guitars through reading the following top 10 most expensive guitars ever sold.
10. Brownie Stratocaster, Eric Clapton – $450,000
The classic "Layla" was recorded through using this guitar. It was used by Eric Patrick Clapton, who is one of the most important and renowned guitarists in the whole world and the second best guitarist, during completing the album of Layla and other love songs by Derek and the Dominoes. The guitar can be found now at the Experience Music Project Museum that was founded by Paul Allen who is the Microsoft co-founder.
9. Eric Clapton's Gold Leaf Stratocaster – $455,550
It was especially made in 1996 for Eric Clapton who wanted to get a unique guitar. The guitar is plated with 23 carat gold. It was used by Clapton in 1997 for the Legends tour and in 2001 for the One More Rider world tour. The guitar was finally purchased by the Christie's Auction House.
8. George Harrison and John Lennon's 1964 Gibson SG – $570,000
The guitar was used by George Harrison for the Revolver album and was also used two years later by John Lennon for different songs. It was used in 1966 for Revolver album and in 1968 for White album by The Beatles.
7. "Lenny" – Stevie Ray Vaughan's 1965 Fender Composite Stratocaster – $623,500
The Fender Composite Stratocaster which was from circa 1965 belongs to Stevie Ray Vaughan who is commonly known as SRV and was an American guitarist. The guitar is named after SRV's wife who presented it to him in 1980. SRV died in 1990 in a helicopter accident and his Stratocaster was donated by Jimmie Vaughan who is SRV's brother to be auctioned in 2004.
6. Eric Clapton's CF Martin & Co, circa 1939 – $791,500
Eric Clapton used it in his performance in MTV Unplugged after the success that he achieved in 1992. The original price of this guitar is $80,000 but it was sold for $791,500.
5. Eric Clapton's 1964 Gibson ES0335 TDC – $847,500
Eric Clapton used this guitar with different bands such as Blind Faith, The Yardbirds and Cream. The original price of this guitar is estimated to be approximately $80,000 but it was sold for $847,500.
4. "Blackie" – Eric Clapton's Stratocaster hybrid – $959,500
Eric Patrick Clapton is the owner of this unique and hybrid guitar. The guitar was built through using the parts of three vintage Stratocasters that were brought by Clapton from a guitar shop in Texas. Clapton used his customized guitar for just 15 years from 1970 to 1985 and was finally sold for $959,500 to be the fourth expensive guitar in the world.
3. Bob Marley's Custom made Washburn 22 series Hawk – $1.2 Million
Nesta Robert Marley who is commonly known as Bob Marley is the owner of this guitar which is custom made for him. He gave this guitar to a technician whose name is Gary Carlsen. The cost of this Washburn guitar ranges from $1.2 million to $2 million.
2. Jimi Hendrix's 1968 Stratocaster – $2 Million
James Marshall Hendrix who is commonly known as Jimi Hendrix is an American songwriter and a renowned musician. He is considered to be the best guitarist in the world and one of the greatest musicians in the history of music. His fame and success started from Europe and then moved to the United States. He performed in the Woodstock Festival that took place in 1969 and the Stratocaster that he used in this festival was sold for Paul Allen for just $2 million to be the 2nd most expensive guitar in the world.
1. Reach out to Asia Fender Stratocaster – $2.7 Million
Here is the most expensive guitar in the world that costs $2.7 million to be placed at the top of our list. It is a Fender Stratocaster that was auctioned as an attempt to raise money for the victims of the tsunami. This Stratocaster does not belong to a famous guitarist or is very old and rare but it has the signatures of a number of the best guitarists in the world such as Eric Clapton, Paul McCartney, Jimmy Page, Mick Jagger, Sting and other famous string players which increase the price of the Stratocaster.