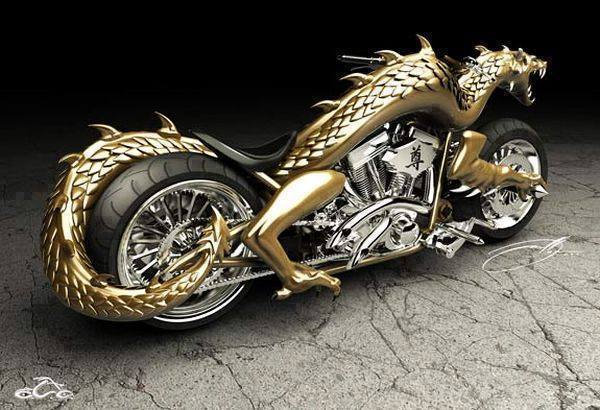 There are some people who enjoy moving on the road through using a small engine and just two wheels feeling that they are completely free and may be flying on the road. These are motorbikes that are completely different from other vehicles that are found on the road. If you are one of those who are interested in motorbikes and riding them on the road, then you will surely like this topic. Motorbikes vary in their designs, materials, brands, speed and their prices of course. But do you believe that there are motorbikes which are very expensive to the extent that they cost millions of dollars? It may sound impossible for you but when you read this article, you will find that this is true and not just a claim. Here is a quick glance at the top 10 most expensive bikes in the world.
10. Suzuki AEM Carbon Fiber Hayabusa – $200,000
This magnificent bike is completely made from carbon fiber which makes it light in its weight. The bike is fast to the extent that its speed can reach over 186 miles per hour. The bike's price ranges from $160,000 to $200,000 which makes it ranked as the 10th most expensive motorbike on our list.
9. Ducati Testa Stretta NCR Macchia Nera Concept – $225,000
It was designed by Aldo Drudi and was manufactured by NCR. It officially appeared for the first time in 2003 and features titanium parts, 180 hp and weighs 135 Kg which increases its speed.
8. Ducati Desmosedici D16RR NCR M16 – $232,500
It features carbon fiber for the fenders and there are also other materials that were used for making the different parts of the bike such as titanium, avionic and aluminum. Although you can find all of these materials, the bike is not as heavy as it weighs 319 pounds.
7. Ecosse FE Ti XX Titanium Series – $300,000
It was manufactured by Ecosse motor and has an aluminum engine, 225 hp and the highest speed that it can reach is about 250 miles per hour to be ranked among the most expensive and the fastest motorbikes in the world.
6. Legendary British Vintage Black – $400,000
It was manufactured in Britain and features two cylindrical engines that are capable of producing up to 250 ccs of power.
5. Yamaha Roadstar BMS Chopper – $500,000
It is also referred to as the Gold Plated Custom Chopper. It features a unique body that is completely plated with gold and this is the main reason that makes this bike ranked as one of the most expensive motorbikes in the world.
4. Dodge Tomahawk V10 Superbike – $555,000
It features a V10 engine, 500 hp, 8.3 liters, and the highest speed that it can reach is approximately 420 miles per hour. This motorbike does not just have two wheels like other motorbikes, but it has four wheels.
3. Ultra rare Porcupine – $750,000
It was manufactured during the Second World War and was kept for 20 years in the National Motorcycle Museum in Coventry.
2. Harley Davidson Cosmic Starship – $1 Million
It is the 2nd most expensive bike on our list and was designed by Jack Armstrong. This bike with its magnificent and breathtaking design features a six-cylinder engine which is really powerful.
1. Ecosse ES1 Superbike – $3.6 Million
It is a superbike which is completely different from other motorbikes that you can find at any place and this is why it costs $3.6 million to be the most expensive motorbike in the world. It was created by Richard Glover, Andy le Fleming and Richard Tyrrell who are top engineers. Ecosse ES1 Superbike is not just the most expensive bike in the world, but it is also the fastest and the lightest bike that you can ever find. It features a powerful engine, frameless chassis, carbon fiber, leather seat, unique suspension system and provides the driver with complete comfort. This bike weighs 265 lbs and the highest speed that it can reach is approximately 230 miles per hour.