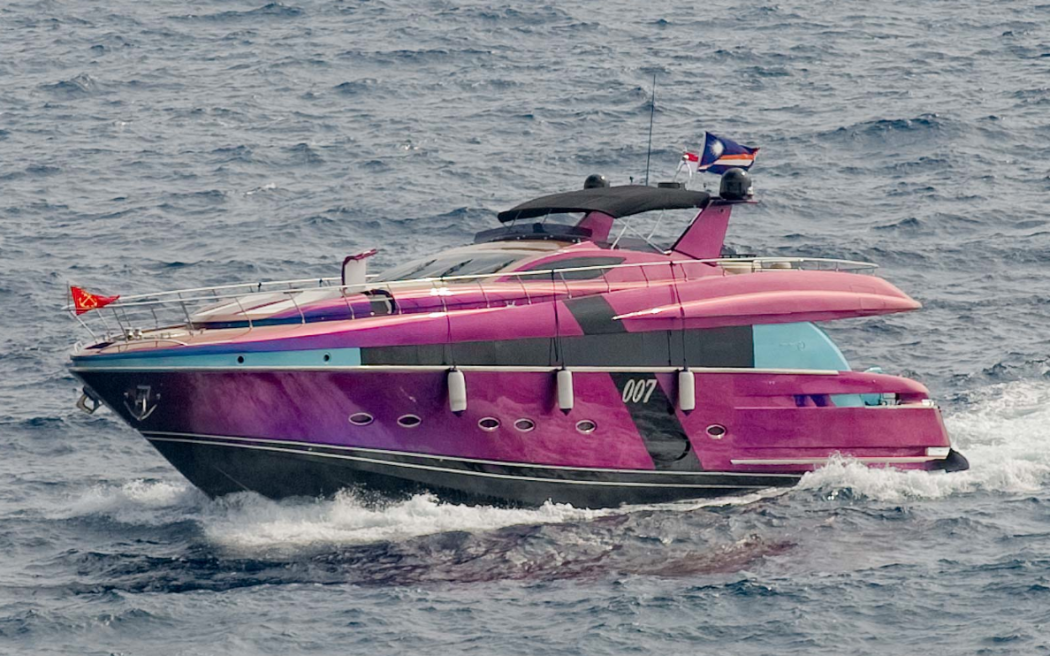 Yachts are such exclusively expensive properties that are not really affordable by almost everyone. And let us honestly face this ugly truth; the luxurious life is not meant for everyone. It is definitely meant for those famous designers, celebrities, billionaires, and anyone who actually earns a fortune. These people's lifestyle is what introduce them to this kind of lives, but, unfortunately, not everyone is capable of maintaining such a lifestyle. How many times have you seen a beautiful yacht featured in a movie or on TV, and you wished you owned one, or even just to be on board of it? If you are a sea lover, and someone who is too much into sailing and a MILLIONAIRE, you can go ahead and buy, or even build, your very own yacht. Check out this list of the most beautiful yachts owned by famous celebrities, they might inspire you on how to design your own.
1 Baglietto – Roberto Cavalli
This is the name of the yacht owned by the famous Italian fashion designer, Roberto Cavalli. If you are not aware of this fashion designer, and there is a less chance for such possibility, he is well-known for the designing the most glamorous, and extraordinary attires, literally, and he was the first one to ever come up with the idea of the sand-blasted look for jeans. His yacht has a mixture of unique colors that start from gold and end in green all the way through the other side, leaving between them more different colors which are red, orange, purple, and blue.
2 Privacy – Tiger Woods
Since the most famous American skilled golfer has been one of the highest-salaried athletes for a handful of years, it is not surprising that he owns a 20 million dollars yacht. The yacht's vessel is name Privacy, and probably this symbolizes Woods' life after he got a divorce. However, supplies that are present inside the yachts have remained neither private nor mysterious anymore. Woods exposed that the yachts are actually too big that it can take over 20 persons, which is pretty obvious. He also revealed that it contains a gym, Jacuzzi, and a theater too. Oh! And he has got numerous jet skis as well.
3 Vajoliroja – Johnny Depp
Jack Sparrow owns a yacht. Well, no wonder he does, he, definitely, loves the sea since he spent a great time among pirates in the Caribbean Sea. We are sure that you guys are totally aware who we are talking about, of course, he is the superstar and the most brilliant, talented, and gifted actor, Johnny Depp. It, definitely, was not a big deal for him to buy such an incredibly great yacht, for he has been the most irresistible and shiniest star since the 80's until now. Besides, he was listed as one of the highest-paid celebrities of all time.
4 Venus – Steve Jobs
Jobs is probably the reason you own the device you are currently reading the article from, whether it is your iPhone, iPad, or any other Apple product. Steve jobs is the chief executive of Apple Incorporations as well as the CEO of the studios of Pixar Animations. Knowingly, Steve Jobs built a fortune out of his most famous companies all over the world, hence, he requested Phillip Starck to build his yacht that was made entirely of glass, encouraged by his Apple store designs. But, unfortunately, Jobs kicked the bucket before he got the chance to see and enjoy his own yacht, but sure it is still owned by his wife.
5 Hokulani – Nicole Kidman
The beautifully stunning Australian star Nicole Kidman is probably the only woman on this list to own a yacht. She is one of the most famous actresses and producers, and well-known for her roles in different movies as Eyes Wide Shut, The Others, Rabbit Hole, and The Stepford Wives. Kidman's yacht looks incredibly amazing and reveals her personality, as a stylish, elegant, strong independent woman. The host is big enough to welcome up to 10 guests on board, and it is obviously luxurious on the outside, and definitely, on the inside as well.
6 Topaz – Mansour Bin Sultan Zayed Al Nahyan
Mansour bin Sultan Zayed Al Nahyan is actually best known as Sheikh Mansour. He is the assistant of the prime minister of the United Arab Emirates, and also one of the members of the ruling families in Abu Dhabi. As Arab are known for their insane richness, Sheikh Mansour actually paid about $527 million for owning this splendid yacht. He is also an effective stakeholder in several companies as AD United Group, Virgin Galactic, as well as Sky News Arabia. Sheikh Mansour's Yacht is precisely bigger that most of the world's sailing ships. The vessel's name is Topaz, and there is, on board, a swimming pool, a theater, a gym, and helicopter docks.
7 Regina D'Italia – Dolce & Gabbana
The owners of the well-recognized fashion brand, Dolce & Gabbana, who are Domenico Dolce and Stefano Gabbana, own this wonderfully splendid yacht. These two have entered the world of celebrities sooner than they ever knew, and they became one of the best designers for lots of Hollywood celebrities, as well as the whole world. There are less chances that you might not be aware of the fashion brand, but, just in case you are not, it has a complete line of fashion that includes bags, footwear, attires and accessories, such as handbags, watches and sunglasses. This yacht is usually used for welcoming celebrities aboard.
8 Main – Giorgio Armani
Armani is another well recognized Italian fashion designer. His clothing line is mainly male-oriented; he designs different styles for men. It's no wonder he found this dazzling boat affordable, since he has been titled as one of the most successful designers, and also he earns over $1.6 billion on yearly basis. Just as his classy fashion designs, his yacht is elegant, luxurious, and sophisticated, and its black color is an evidence for such an elegance. Actually, Main is not the only sailing ship that Giorgio Armani owns, he also owns another one, as elegant as luxurious, named Maria, after his mother's name.
9 Vantage – Calvin Klein
Calvin Klein is one of the biggest American fashion designers in the whole world. He is one of the world's wealthiest men, and, definitely, that made him capable of living his life in that totally obvious luxury. Calvin Klein has always been one of the best advertising campaigns as well, and that was obvious when almost everyone has bought into his latest underwear campaign. Klein's yacht is super big and known to be specially designed for throwing parties where almost all celebrities are invited and welcomed on board. Calvin Klein's sailing boat reveals how wealthy, sophisticated, and elegant this man is; it is like a reflection of his own personality.
10 Seven Seas – Steven Spielberg
Steven Spielberg is one of the most talented directors of all time as well as the co-founder of DreamWorks Studios. His thrilling movies have captured the hearts and mind of millions of people, and chances are, he is the director of one of your favorite movies, for he won a limitless number of rewards for most of his works. Spielberg directed great movies as Tom Cruise's War of The Worlds, Indiana Jones, Jurassic Park and a lot more. It's no wonder that he own a splendid yacht that is called Seven Seas, and of course, it features a big-screened theater that displays all of your Spielberg favorite movies.