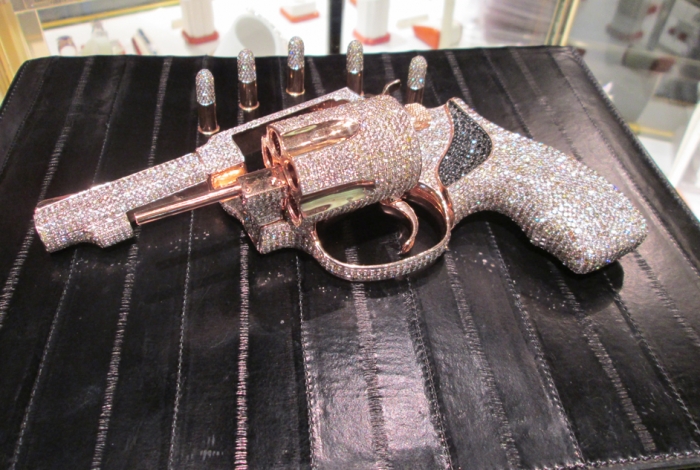 Weapons such as knives, pistols, guns and other types of weapons are not only used for fighting and attacking others to defend ourselves, but they are also used by some people as decorative pieces for decorating their homes and mansions. There are many weapons that cost thousands of dollars while there are others that cost millions and not just thousands. Some of the weapons that are very costly for most of the people are offered at high prices because they are rare, very old and sold as antiques or because they are made through using specific materials that are really precious and differ from the other materials that are used for making traditional weapons especially those which can be easily held. Take a look at the following top 10 most expensive guns and other weapons to know why they are very expensive.
10. Fabbri Over-Under – $82,500 – $200,000
It was manufactured by Fabbri which is based in Italy and is one of the most famous gun makers in the world. Fabbri manufactures a small amount of handguns per year to be booked in advance and quickly sold to celebrities and other famous people who belong to royal families. Fabbri Over-Under features high performance and catchy shape to provide you with a unique shotgun and its steel is blue in its color because it is case hardened.
9. Holland & Holland – 28-bore "Royal Deluxe" Over-and-Under Shotgun – $145,000 – $157,000
It was made by Holland & Holland Company which was founded by Harris Holland in 1835 and has its offices in England and New York. The stock of the gun is made of deluxe grade Walnut and the engravings that can be found on it are plated with gold. This gun allows you to use a sidelock ejector mechanism and has a hand detachable lever.
8. J Purdey & Sons – 20-bore Sidelock Ejector' Over-and-Under Shotgun – $200,000
It was manufactured by James Purdey & Sons Limited which is headquartered in London and specializes in designing, manufacturing and selling guns in different countries around the world. This gun is handmade like other guns which are manufactured y this company and it is perfect for different activities that require using a shotgun such as sporting and hunting.
7. Perazzi – SCO Set of 4 Shotguns – $200,000 – $420,000
Perazzi is a famous gun manufacturer that is headquartered in Italy and manufactures perfect guns that are sought after by many athletes in different countries all over the world. The Perazzi – Sco Set of 4 Shotguns presents to you four unique shot guns which are excellent for sporting events as they have automatic ejectors, single selective triggers and their stock is made of Circassian Turkish walnut.
6. VO Vapen – Falcon Edition – $820,000
Vo Vapen is a Swedish company that was founded in 1977 by Mr Master Gunsmith Viggo Olsson. It specializes in manufacturing the most exclusive handmade hunting rifles in the world. The company's production is limited as it manufactures a small number of rifles per year and they are highly demanded by celebrities and members of royal families. Vo rifles provide you with the ability to use various calibers that can be found on the same rifle. The falcon edition has engravings of Peregrine and Saker falcons to give it a royal and luxurious look, the barrel is made of Damascus steel and the stock is crafted of walnut root. This rifle is ranked as the most expensive one in the world and it is also one of the most luxurious rifles that you can find.
5. Pair of Nicolas-Noel Boutet pistols owned by Simon Bolivar – $1.8 Million
It is a pair of flintlock pistols that was made by Nicolas-Noel Boutet and was owned by Simon Bolivar who is the first President of Venezuela. The pistols were sold in 2004 at Christie's auction house in New York for $1.8 million.
4. Pair of steel-mounted "saddle" pistols owned by George Washington – $2 Million
It is a unique pair of pistols that was formerly owned by the President George Washington who had it during America's war of independence. The pair of pistols was sold to Richard King Mellon Foundation for $2 million in 2002 at Christie's auction house in New York. The pistols are now displayed at Fort Ligonier in Pennsylvania.
3. Mughal emperor, Shah Jahan's gold dagger – $3.3 Million
This gold dagger was owned by Shah Jahan who is a Mughal emperor and is also the one who built the Taj Mahal. The gold dagger was sold in April 2008 by Bonhams in London for $3.3 million.
2. 18th century Chinese jade-hilted sword – $5.9 Million
This sword was made in the 18th century during the reign of Qianlong emperor. It was sold in 2006 at Sotheby's Hong Kong for $5.9 million to be the second most expensive antique weapon on our list.
1. Gold encrusted sword used by Napoleon Bonaparte – $6.5 Million
It comes as the most expensive antique weapon on our list. It was used 200 years ago by Napoleon Bonaparte in one of the battles before becoming an emperor. This gold encrusted sword was sold for $6.5 million in 2007 at an Osenat auction in Fontainebleau, France.