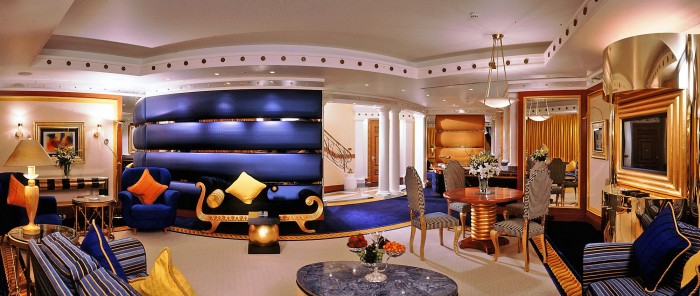 Imagine that you have a lot of money and you do not know how can you spend it. Will you spend it in meals, clothes, furniture or you prefer to spend a marvelous holiday in a very expensive hotel? If you choose the last one, this list will help you to pick your favorite hotel. Here, are top ten of the most high-priced hotel suites around the world.
10 The Penthouse Suite, the Martinez Hotel Cannes, Nightly Rate $ 18,000
In this expensive suite you will enjoy the Jacuzzi, plasma TV and DVD player. This suite is one of the most expensive suites; because of the design which appears in the Art Deco style, with the simplicity of the furniture, silk soft curtains and teak parquet flooring. So, you will not forget the luxury of this awesome suite.
9 Ritz-Carlton Moscow Suite, Nightly Rate $ 18,200
In this suite you will enjoy the views of the Kremlin, Red Square and St. Basil's Cathedral. This room consists of a spacious living room, dining area, library, office room, boardroom and heated floor. You must have a lot of money, if you want to spend your holiday in Russia; as staying there will cost you too much.
8 The Royal Suite, Burj Al Arab, Dubai, Nightly Rate $ 19,000
In this suite, you will feel as if you are a king. This is because of the marvelous facilities of this suite. These facilities are various like: the personal suite elevator, private dining room and 12.two large dressing rooms. The bathroom is also an awesome one; as it contains two master bathrooms, each with full-size Jacuzzis and separate five-head rain showers. The technology of this room has 24 carat Gold iPad, complimentary Wi-Fi and two 21-inch iMacs.
 7 The Imperial Suite, Park Hyatt, Vendome, Paris, Nightly Rate $ 20,000
From this suite, you will watch the lush olive trees of the interior courtyard. This suite has a dining room, bar, a kitchenette and a mansard roof. Also, you will enjoy a massage at the spa with custom oils created by the in-house perfumer. So, your holiday will be a catch, but it will cost you too much.
6 The Bridge Suite, the Atlantis, Bahamas, Nightly Rate $ 22,000
From this suite, you will enjoy the views of the Palm and the Arabian Sea. If you want to choose the ultimate extent in privacy and luxury, you must pick this luxurious hotel. This suite consists of 3 sumptuous bedrooms, a grand living room and a dining room.
5 Presidential Suite, Ritz-Carlton, Tokyo, Nightly Rate $ 25,000
You will enjoy the view of the panoramic, partial Mountain. It has TV with CD/DVD player, Safety box with charger for laptop and Mini Bar. This suite includes: a stunning four poster bed in the maser bed room. There are also personal concierge, living room, dining room and a huge bathroom.
4 Villa La Capula Suite, Westin Excelsior, Rome, Nightly Rate, $29,000
This suite is located on the fifth and sixth floors of the hotel. It has a private Dolby-Surround cinema and a high quality TV/DVD entertainment. This room consists of a private elevator and you will enjoy the private fitness room, sauna, steam bath and a magnificent Pompeian style Jacuzzi pool. So, you must have a lot of money to enjoy staying in this room.
3 Ty Warner Penthouse, Four Seasons Hotel, New York, Nightly Rate, $ 34,000
It has a grand piano, a library and a tub overlooking the Central Park. You will enjoy the spa, and you will have a personal trainer. It has also cantilevered glass balconies and floor-to-ceiling windows providing a 360-degree view of all Manhattan.
2 Hugh Hefner Sky Villa, Palms Casino Resort, Las Vegas, Nightly Rate, $40,000
In this hotel, you will enjoy the amazing views of the Strip. Also you will enjoy massage and spa room, gym and poker table. This suite was built to model the playboy mansion. It cost about $ 10 to build. It has a glass elevator, a rotating bed set and a glass wall Jacuzzi.
1 The Royal Penthouse Suite, President Wilson Hotel, Geneva, Nightly Rate $ 53,000
It is the most expensive room; as it has a private elevator, four bed rooms and six bathrooms with mosaic marble floor. It has also a cocktail lounge and a terrace with a beautiful view. This room has hosted heads of state from Bill Clinton to Mikhail Gorbachev.
Hence, you can enjoy with the correct way that you want.