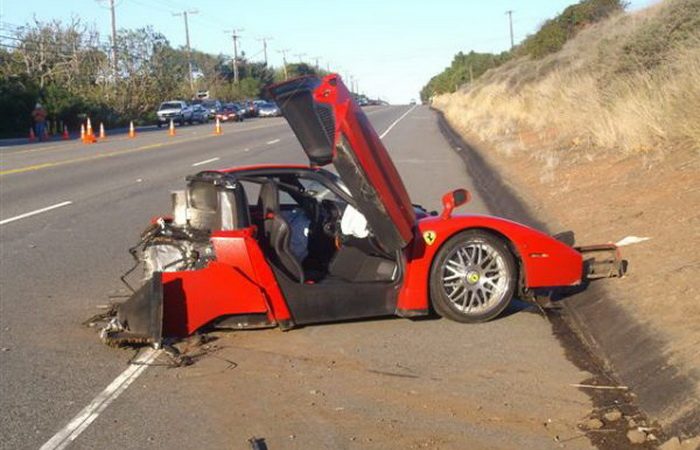 Car accidents are never pleasant, especially if you end up with injuries, hurting someone or having your car completely wrecked. There are always damages going hand in hand with car crashes, but what about those who have insurance and their damaged cars cost millions? This can cause these insurance companies a real fortune. Some car accidents are thus more expensive than others. What is even sadder in these situations is that the cars involved in this kind of accidents in US are rare and of great value; they are a dream of any car enthusiast, but affordable only by billionaires. Here is a list of the 10 most expensive car accidents that took place on the US soil.
10 Bugatti EB110 [500.000$ Damages]
This Bugatti's owner, Emile Ratelband, is the well known and famous guru. He probably had hard times and faced difficulty in keeping himself calm and positive when he found out that his Buggati was crashed causing 500.000$ damages. The Bugatti was being driven by the mechanic for a regular check up. The driver lost control, and claimed that there was a slip on the road.
And this is how a Bugatti EB110, fortunate enough not to be involved in an accident, looks like.
9 Mercedes Benz SL 300 [750.000$ Damages]
This owner would never choose to park his Mercedes this way if he knew that a landscaping truck, a property of the city of Seattle, would crash into his beloved car, destroying the entire front part and leaving a damage worth 750.000$. If he could get back in time, he probably would go for another parking spot.
This is how normal Mercedes Benz SL 300 looks like.
8 Jaguar XJ220 [$1 Million Damages]
With the owner standing beside his beloved Jaguar, probably wondering about what happened and what he is going to do, the insurance company went on paying up 1 million dollars for the damages resulting from the Jaguar crash into a streetlight. The situation wasn't pleasant for anyone observing or being involved in the accidents.
7 Another Jaguar XJ220 [1$ million Damages]
The billionaire driving this Jaguar XJ220 probably didn't care about what may happen as he kept speeding up until ended up completely crushing his pricey car. The damages left after the car accident reached nearly 1$ million.
6 And a third Jaguar XJ220 causes 1$ million Damages
It seems that cunning billionaires and multi millionaires should skip buying Jaguars or at least try limit their speed while driving. The driver lost control over the vehicle while driving at a great speed and fell into a ditch. It probably feels great to drive at a high speed on the road while you are at the wheel of a 1$ million worth Jaguar XJ220, but if your driving adventure ended up with a 1$ million worth damages, no one ends up happy, especially your insurance company.
5 Ferrari Enzo [1.3$ million Damages]
This Ferrari Enzo crashed in Malibu in 2005 causing damages that coast the unfortunate insurance company  1.3$ million. With its entire back completely diminished, this car accident was one of the most talked about car crashes for the next couple of years. In 28 estimated car crashes to be the most expensive, more than one involve a Ferrari Enzo which might make the millionaires think twice about speeding up when driving a Ferrari.
4 Eddie Griffin's Ferrari Enzo [1.5$ million Damages]
It seems that although Ferrari Enzo has been tested and proven to be a perfectly safe car, drivers just can't keep this sweet ride out of trouble. Here is another 1.5$ dollar car accident damage. The driver who crashed the Ferrari was the actor Eddie Griffin. After the crash that was caught on the camera, Eddie took a couple of photos standing on and beside his unfortunate Enzo, which made many think that it was an expensive and dangerous trick from Griffin to gain some publicity. For others, it was sad seeing this magnificent car being demolished. And for Eddie's publicity, he was surely in the spotlight until people started realizing the motif behind this very expensive crash.
3 Bugatti Veyron [$1.6 million]
In this accident the Bugatti front part crushed, which resulted in damages worthy of 1.6$ million. There were only three cars of this Bugatti series produced in the whole world. Two of three cars this limited series comprise are already crashed, which leaves us with a single Bugatti Veyron alive.
2 Ferrari 250 GT Spyder [$10 million Damages]
This 10$ million worth Ferrari got demolished when its owner left it on the beach in 2008. If he knew that there was a hurricane getting ready to strike demolishing the entire beach, including his car, he would probably think twice before leaving it there. The damage was equal to the value of the car; 10 million dollars.
1 A Destroyed Classic – Ferrari 250 GTO [$28.5 million Damages]
The driver of this beautiful classic got into a car accident with another car having a damage estimated as $28.5 million. The driver was driving really fast and couldn't stop at the right time before hitting the car in front of him. Another car crashed into the back of Ferrari 250 GTO, damaging the back of the car which increased the overall cost of damage. By far this is the priciest car accident. Imagine what the damage cost would have been if there was more damage occurred; the smartest choice for the owner would have probably been keeping his beloved car as a trophy in his garage.
And here is…