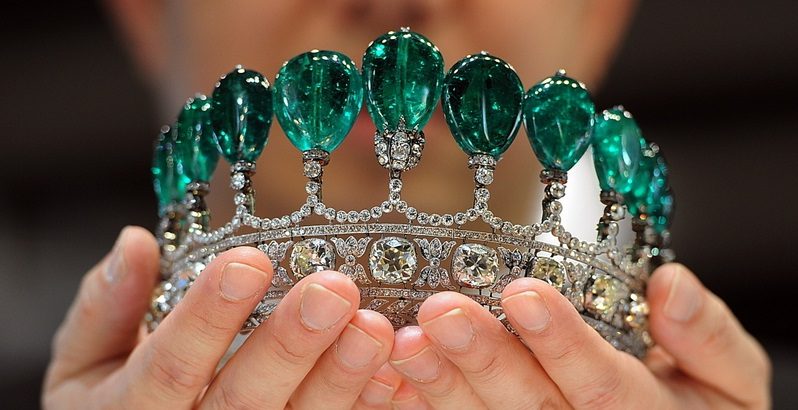 Pass by any gallery and ponder about the antiques and valuable items there. You will get amazed at the prices, but you will see that they are null compared to the items on this list. If you are antique enthusiast, then this is the perfect list for you since it encompasses the most expensive antiques around the world!
10 Napoleon's Sword [$6.4 million]
The French king's sword is embellished with Gold. Napoleon had it with him till 1880s, fighting in battles with it, next he gave it to his brother as a wedding gift. In 1978, it was declared as the National Treasure of France and stood for Power, Victory and discipline in the world. Also, it was auctioned in France for $6.4 million.
9 Germain Royal Soup Tureen [$9.7 million]
Have you ever seen a $10-million Soup Tureen! Its objective was exactly what you think which is to hold soup. Made by Thomas Germain, a French silversmith of the Rococo, the royal soup tureen was a gift for Louis XV. It was made in 1733 and it weighs 30 pounds. What makes it special and unique is that it actually belonged to a king of France. The Royal Soup Tureen is produced using the Gold and of course handled by the King Louis XV. It is retained in Germany.
8 The Antique Secretary Desk by Goddard & Townsend [$11.4 million]
The Mahogany shelf desk and bookcase were designed and created in 1760. It is 112 inches in length. It stands at $11.4 Million for its substantial beauty and incredible sturdiness. This antique masterpiece is a mahogany 6-shell desk-book case. It was designed and created for Nicholas Brown. In order to get it you should show $11.4 million.
7 Princess Katharina Henckel Tiara [$12.1 Million]
The beautiful emerald and diamond tiara was once owned by Princess Katharina Henckel von Donnersmarck, and was held at her coronation. The peerless jewel's value stands at $12.1 Million and features Columbian Emerald Gems. This tiara is embellished with 11 rare Colombian emerald gems, weighing over 500 karat. It was sold at auction for $12.1 million in Geneva, at Sotheby's Magnificent and Noble Jewels Sale.
6 Ming Dynasty Gold Tripod Vessel [$14.2 million]
It is one of the most exorbitant and alluring antiques in the world. The Chinese vessel is made from 18 karat gold and it was created throughout the Ming Dynasty, specifically during the Xuande period. The time in China was famous for pricey and worthy vessels and antiques. It's value is estimated at $14.2 Million. The vessel is embellished with precious cabochon gems, rubies, natural pearls, sapphires and cat's eye chrysoberyl.
5 Pink, blue and white enamelled moon flask [$15.1 million]
Such an ancient flask that dates back to the 18th century, however carries the 15th-century peerless essence and nature. Enamelled in pink, blue and white, the flask is so delicate. Interestingly, it features the Qianlong 6-character mark. On a side note, the mark dates the moon flask to 1736 – 1795. The moon flask has 2 phoenixes and a flaming pearl, all in pink enamel. A look-alike antique can be found at the Matsuoka Art Museum in Tokyo. Anyway, such an identical item does not violate the scarcity of the authentic one. Finally, the moon flask was sold at Sotheby's in Hong Kong, in 1987.
4 The oliphant [$16.1 million]
The antique dates back to the 11th century. Believe it or not, The horn was actually used in battles. However, it never lost its beauty and authenticity. As an antique enthusiast, contemplate how it is designed and appreciate the effort of the handmade nature that marked and put it into such a peerless place. The luxurious horn's value is estimated at $16.1 million.
3 Badminton Cabinet [$28.8 million]
The Badminton Cabinet took six years to be made. Further, it was created by 30 craftsmen. The Badminton Cabinet was once sold at an auction to the Prince of Liechtenstein, and now it is on display in the Liechtenstein Museum. The 12-feet-tall Badminton Cabinet was made in the 18th century. It is embellished with polished and colored stones, including semi-precious gems. The clock at the top of the badminton cabinet is explicitly marked with fleurs-de-lis.
2 Leonardo da Vinci's Codex Leicester [$30.8 million]
The Codex Leicester is a collection of scientific writings by Leonardo da Vinci. It is about the art of scientific drawing. They are about 30 journals and one of them is named after Earl of Leicester, who owned the codex in 1719. Actually, the Codex is considered to be the most famous. No wonder that the da Vinci's Codex Leicester are owned by Bill Gates as he bought it at an auction for $30.8 million. Further, Gates had it digitally scanned and available on CD.
1 Pinner Qing Dynasty Vase [$80.2 million]
Here we are! Pinner Qing Dynasty Vase is one of the world's most exorbitant antique item ever to be auctioned! Let's go back to the story of the masterpiece. Qing Dynasty began to rule in 1740. There were 18 of this vase, but this one, along with
few others, is what remained. Qing Dynasty vase is decorated with gold, pastel yellow and sky-blue, and has 4 motifs including fishs and flowers. It's an alluring example of purity, beauty, history and rareness. So you can see what makes it worthy of $80 million, can't you?