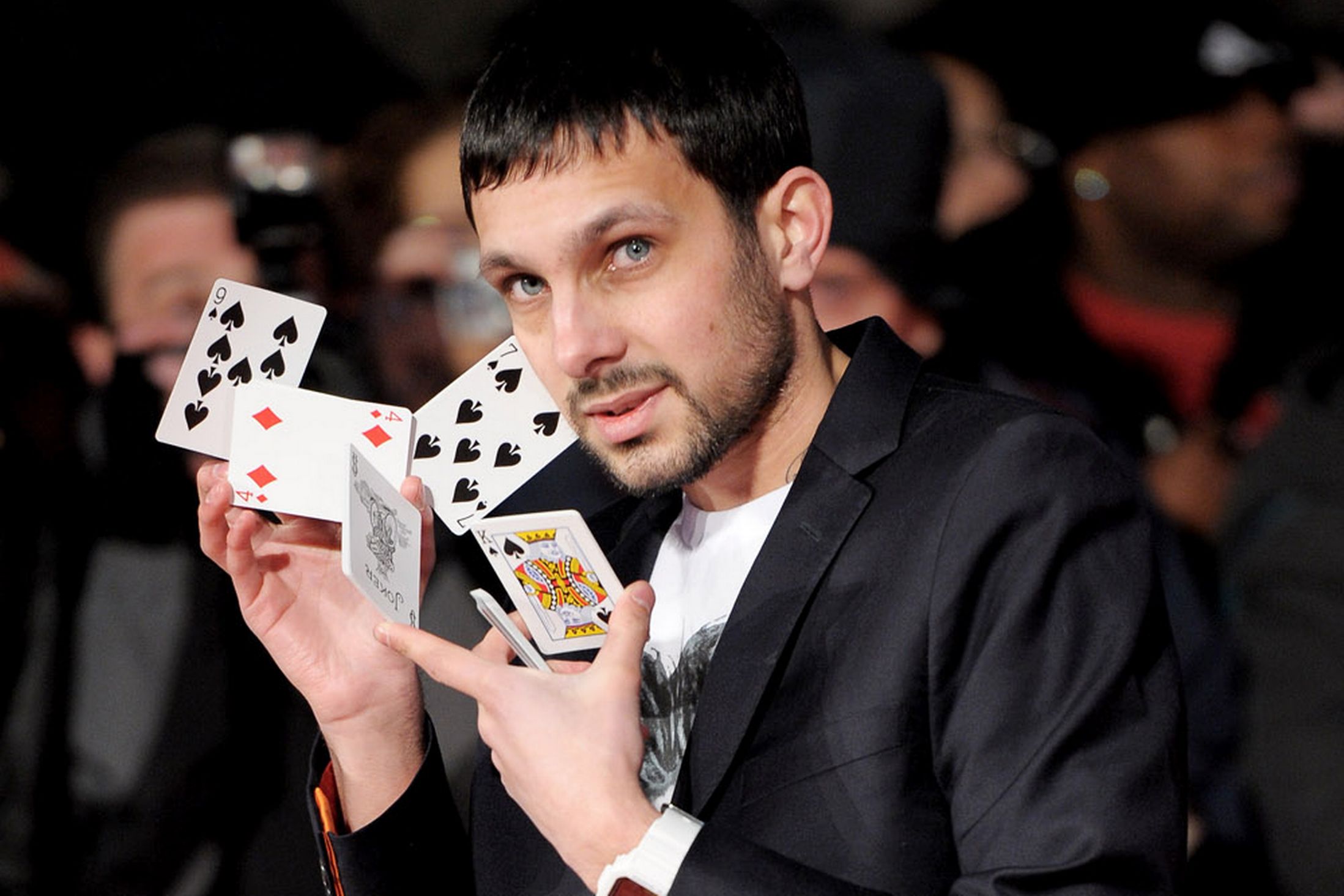 Art
Top 10 Best Street Magicians
Magic will always be a mysterious aura beyond our comprehension. Despite the opinion about magicians, we have to admit that they have some exceptional abilities that we cannot easily earn. Magicians have spent a long while to learn sleight hand tricks and the least they can receive is applause and a standing ovation.
Here, TopTeny lists 10 of the best street magicians who performed unprepared, authentic magic tricks and left the audience in a stairway of astonishment, according to Alive network, the UK's most authentic live entertainment booking agency. 
10 Double Take Magic
Double Take Magic
has risen up to fame since his debut on "The Restaurant", a hit show produced by the BBC. He took part in marketing campaigns for Nivea products. He has been performing numerous mind-reading shows and close-up shows. Lots of events have asked Double Take Magic to perform magic shows and they were thrilled by his ability to capture the audience's mind and make their jaw drop. Sarah Percy has written on Alive Network that she has booked Double Take Magic for their Exhibition / Trade Fair at Novotel London West Hotel in London and said, "We used Double Take Magic as part of our exhibition at a corporate event and it worked extremely well in driving traffic to our booth and made us stand out at the event from the other exhibitors." She continued, "The tricks worked as a great conversation starter and meant we could immediately engage with attendees."
9 Adam Keisner
Adam Keisner
has a reputation for being an award-winning street magician who has always tickled his audience pink. We can clearly say that close-up magic is his specialty. Keisner always dazzles his audience when uses finger rings, pens, watches, rubber bands, silverware, banknotes, napkins, bottles, and glasses that the audience can check before he uses them. Sharika Parbin who had her wedding two years ago in London said, "Adam is a highly talented magician who kept my guests entertained throughout my wedding reception. His magic tricks left guests shocked and amazed." "Adam's magic tricks are very sophisticated and guests were talking about his tricks for days after the wedding reception and it's something that will not be forgotten!" she resumed.
8 RB Magic
RB Magic
has been performing sleight hand magic tricks for years. RB Magic adopts an approach that is personal and professional. With such an approach, the guests are tickled pink. His magic tricks are simply outstanding icebreakers.
He mainly uses coins, notes, cards, and Rubik's cubes. Most of the reviews on the Alive network mainly say that RB Magic's sleight tricks are "well-paced and thoughtful". Moreover, his interaction with the guests is genuine and friendly.
7 Martin Reed
Not only did
Martin Reed
perform on BBC 1's 'The Apprentice' and on Channel 4's 'The Last Leg, but he performed more than 100 Cruise Line contracts with luxury lines. Martin Reed is mainly an experienced close-up magician who took comedy stage by storm. Reed's kicked off after he had traveled to Spain to work as a magician performing Close-Up magic at bars for tips. He has proven to be determined and a man of strong will. Consequently, Martin has improved and broadened his list of skills to add that he capable of holding entertaining Comedy Cabaret Stage Show and after dinner entertainment events.
6 Keven Starl
If we are talking about a one-of-a-kind magician then we have mention
Keven Starl
. It is not that of a big deal to hire a magician for your party, wedding or event. However, we have to take the reputation and the potential of the magician in consideration, since a magician has the ability to transform your night. Thus, Keven Star is one of those trustworthy magicians as he has performed before A-listers as world-famous football player David Beckham and The Queen of England. Dmitry Krivtsov, who booked Kevin Starl for their Exhibition / Trade Fair, has written on Alive network, "It's been almost a year now that we've worked with Keven. There's no other way to describe things he does seem so effortlessly as just amazing. The combination of his skills, professional attitude, immaculate attire, and a great sense of humor make him the best magician the I've ever seen." He continues, "To put it simply – if you are looking for a true magician, you'll struggle to find anyone better."
5 Luca Valentino
Luca Valentino
has managed to grab all four judges of Britain's Got Talent to cote 'Yes'. Luca Valentino's outstanding performance and magic tricks will leave the audience's jaws dropped. On Alive network, Charlotte Harper, who booked Luca Valentino for her wedding on December 21, 2017, wrote, "Thank you for being absolutely amazing for our wedding!! Everyone mentioned how good you were the following morning, even those who were initially not interested in magic thought you were unreal!!" She continued, "You were so good with the
kids being around
and we were extremely pleased with how easy going and friendly you were to all our guests! We cannot thank you enough or fault you in any way!! Everything you did was truly amazing!!"
4 Sam De Vere
What makes
Sam De Vere
unique is that he takes hold of modern street and conventional styles of magic altogether. He is a magician and a mind reader as well; his exceptional abilities and close up magic tricks has rendered him unrivaled as he has partnered up with Olivia Henry Associates, Cheshire Life, Begbies Traynor, and Beechwood Cancer Care, Sam is now ready to work the UK and make your events unforgettable!
3 Jake Monroe
Who said a magician has only to handle sleight hand tricks and close up magic?
Jake Monroe
is capable of doing the sleight hand trick alongside dazzling the audience with his wit, humor, and charm. Moreover, He is a member of the prominent Magic Circle! He also cooperated with BBC, The Ritz Club, and HSBC. "Jake's magic is a truly unique and fun way to entertain at an event. We have used his services on numerous occasions to the great delight of our guests and I can recommend his talent and professionalism unreservedly." Gary Rolfe, Director of The Ritz Club said.
2 Mathew Knight
Brace yourselves because his name will echo within the next couple of years.
Mathew Knight
is a reputable professional magician and performer. His talent was witnessed by an audience of various ages at several events from small parties to big celebrity weddings. Knight never leaves his audience unsatisfied, which is apparent in the almost 99% positive reviews. He even managed to exceed Rebecca McNamara's, a client who booked him for her Wedding at The Carriage Hall in Nottinghamshire, expectations as she was dazzled when she found out that her audience stayed in a stairway thought, wondering about his tricks days after the wedding.
1 Dynamo
With his TV show Dynamo: Magician Impossible that was aired from July 2011 to September 2014, world-famous magician
Dynamo
managed to take the world by storm; his show and exceptional abilities have made him a part of The magicians' society The Magic Circle in July 2012. Apart from being a successful professional magician, Dynamo earned the Best Entertainment Programme award at the Broadcast Awards for his show. According to his audience, Dynamo's tricks are well-performed and authentic. He leaves his audience with a dropping jaw. He also comes off as a humble and likable man.
Do you believe in magic? Do you wish you learn sleight magic tricks? Tell us in the comment section below.