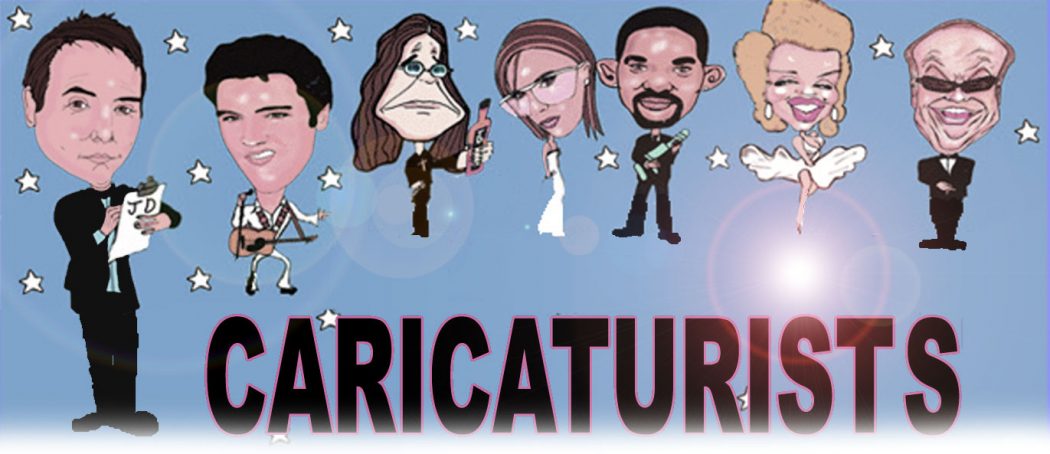 Cartoons have been for a long time away to express feelings and have also been used as a political protest. They are also famous by having personal portraits on both famous and ordinary people, where no matter who they are, they get caught and ridiculed by the artist to present them in a funny and unusual way. On the next pages, we are going to take a look at today's top 10 caricaturist's artist from around the world. Their jobs are a mixture of humour, irony and a twisted picture of reality. From America to Europe, we have gathered together the most talented cartoon artist.
10 Steve Bell
To have a worthy representative of the British kingdom we've chosen Steve Bell. He has some classic cartoons, but we chose this rather unusual representation of a famous work of art by Edvard Munch which is considered among abstract art one of the most prominent representatives of Impressionism. This picture was also the book cover of a book in 1982 and is a perfect example of Bell's unique style. He turns the original's paint loneliness and anguish into a rather comic figure with a smiling face that at the same time acts creepy, frightening people.
9 Achille Superbi
Archille Superbi is a caricaturist from Italy. He has a long collection of cartoons on arts, sports and politics. He pictures his characters on a unique style. As you can see on this sample, he prints Pixar-like finishes on his characters and has great care on details as you can see on his prickles, hair, moustache and eyes. He has done several numbers of jobs for TV shows, books and magazines. No doubt his style comes from this background.
An artist from Deutschland, Paddy Boehm tends to exaggerate the head size, slightly above the average cartoons. He likes to represent parodies on his work, and this is a perfect example. Boehm has pictured an old man who has been working all his life selling cars. After a lifetime devoted to work, he retires and celebrates jumping on some of the cars he used to sell. The smile on his face shows how people get tired and end up hating their jobs and would happily move on.
Cindy Vega has an interesting cartoon collection in a wide format which has been exposed in several galleries. A young Latin artist from Costa Rica she has a colourful style. Despite most caricaturists, she doesn't look to exaggerate people's details, but to show them in a more realistic manner. Therefore, you can see how he faces are much clearer and neat, with the right proportions, which is a new tendency on caricaturist's style.
Tom Richmond takes the best and the worse physical attributes and projects a unique vision of a character on his cartoons. On this example, we can see how Tom pictures Katie Couric with an exaggerated teeth and mouth. This is just one of many of his pictures of famous characters. His journey began back in 2011 when he was a caricaturist for Six Flags. This was just the beginning of a prominent career, and you can see how this style perfectly matches the style of caricaturist drawing on theme parks and fairs.
A Mexican cartoonist is Alarcón. He recurrently draws about politics. A perfect sample of this is this cartoon, where he refers to the disappearance of 43 Mexican students who disappeared in Ayotzinapa and that have been taken as a political flag for the Mexican conflict around the education reform. This cartoon pictures a team of investigators who are looking for prove of "Coyolzauhqui", a well-known Aztec goddess' statue being one of the disappeared students since the Mexican government has not been able to establish what happened to them.
4 Caricatures & Cartoons by Caricaturist.SG
This studio has some talented artists. They pick themes from TV shows and movies to social critics. Chef without hat is the perfect example of social criticism, where a middle age man is preparing a soup of credit cards while working for the Everything Payment Company. He also smiles while making this unusual soup, thinking about the countless people whose debts he is cooking on his caldron. A talented team that currently is sharing their abilities online.
Drew Struzan is famous for his work for some of the most iconic Hollywood movies. Luke Skywalker, Indiana Jones, Harry Potter and the Muppets all had his seal. For this top 10 list, we've chosen a picture that perfectly describes how relationships in the family tend to degrade over time. He portrays a traditional American family presumably watching television. Each character's expression devotes an attitude towards family life. The plastic bag covering the teenager kid gives a title to this masterpiece.
2 Gildhardho Escritor y Caricaturista
Weddings also inspired Gildhardho, a Latin cartoonist that has made his name his on brand. He has used his artistic labour also to promote his subconscious programs, which include: programming, child development, self-discipline and self-esteem. This cartoon is a perfect example. It resembles how a new step in life such as a wedding can bring out our worse fears. Entitled "Forever?" makes fun of that everlasting word that accompanies weddings.
Quino was a cartoonist from Argentina who is famous for creating Mafalda. He has inspired many younger artists, like the ones working for "Soy Fan de Quino" (I am Quino Fan), a cartoonists firm that also call themselves "Oficina do Caricaturista" (Cartoonists Office). They offer cartoons for events like anniversaries, company events, opening events, birthdays or weddings, like on this example. These creative artists have lots of designs for any occasion.