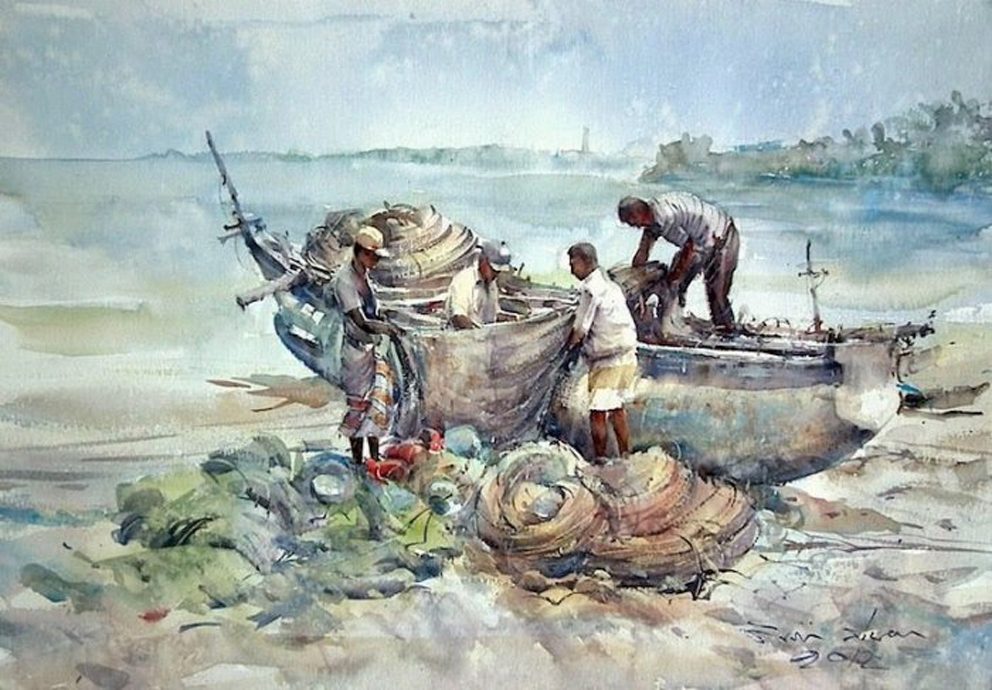 Watercolor painting is an ancient art goes back to at least the ancient Egyptian civilization where it was used for manuscript illustration, and can perhaps be traced back to the cave paintings of paleolithic Europe. Nevertheless, the Renaissance is when its continuous history as an art medium begins, and some specifically dates the start to 1502 when watercolor painting was initiated by the German artist Albrecht Durer. Today watercolor art is widely appreciated, and its artworks are known to be among the most beautiful creation of art around the world; they are sensitive, can easily and deeply touches you, and provide good food for an imagination hungry for beauty. Here in this topic, we brought you 10 of the greatest watercolor artists along with some of their creative artworks.
Sikander
joined the National College of Arts in Lahore, then got MFA from the Rhode Island School of Design in 1995. She uses her traditional style in painting which is highly disciplined, and is specialized in Persian and Indian miniature which is appeared in her artworks.
Sikander
 has got many awards on her artworks such as the Honorary Artist Award that was given to her by the Pakistani Ministry Of Culture.
Artworks of Sikander
David J Rogers is a professional watercolor artist from California who is working in this field for over 25 years.  He is a hard-working artist as he used to present almost 40 festivals and shows in everywhere in California per year. He has two personal websites which are DJRogersArt.com and DogPrintsGallery.com. Currently, he is selling his fine artworks online in many websites such as Amazon.com, Etsy.com and Ebay.com.
Artworks of Rogers
Truong Van Ngoc is a painter and a watercolor artist from vietnam.
Artworks of Truong Van Ngoc
Ahsan Habib 
is specialized in painting using Pastel, Pencil, Ink, Acrylic, Watercolor and Charcoal. In 2010, he participated in "Violence against woman & HIV" exhibition, and in 2011 in the exhibition of "Saannosara" creative destination. He also took part in the international exhibition "Shenzhen Watercolor Biennial", China in the Shenzhen Art Museum from 10 December 2013 to 10 January 2014. From 2011:2014, he participated in jury board of "The International Watercolor Society" as a master watercolor artist. He worked as an art teacher in Bangladesh Academy Of Fine Art, National Academy Of Royal Arts and A M School and College.
Artworks of Ahsan Habib
Doris Joa;
 her artworks are full of natural and magical scenes together.
Artworks of Doris Joa
Bui Duy Khanh
is a member of The Union Of Haiphong Culture and Art, and Vietnam Fine Arts Association. He is an active painter who has had many exhibitions such as the National Fine Art Exhibition-Hanoi 2010, Art Exhibition "No Time" at Vietnam National Museum Of Fine Arts-Hanoi 2011, Art Exhibition "Today and Forever" Haiphong 2012, Art Exhibition "Hong Bang" Haiphong 2013, Art Exhibition "Meet" at the museum of Haiphong 2014, Art Exhibition "City and River North-tam" Haiphong 2015, Watercolor Painting Exhibition First International in Vietnam-Hanoi 2015, and the Art Exhibition "Today" Hanoi 2016.
Artworks of Bui Duy Khanh
He is a watercolor artist from Singapore. In the field of watercolor art, Kee Woon is famous by his unique technique of the acrylic environment that makes colors look very deep in his paintings. We can say that his art is influenced by the Chinese and Japanese culture. He has a great talent in using both the traditional watercolor with vibrancy acrylic medium in his unique artworks. His vision is to reinvent Singapore landscapes in his artworks; he could show Singapore's river, streets and heritage buildings in a fresh new look.
Artworks of Jack Tia Kee Woon
Sergey Temerev is a Russian watercolor artist who could make seascapes and beautiful clouds with a unique technique. He is so skilled in painting water and crashing waves, "the pristine depths and the reflections for me is testing of my strength, passion and recreation", this is what he stated on his personal website. Beside his great success in the field of watercolor art, he is also a docent of the Architecture and Art Metal Department at the Art Industrial Academy.
Artworks of Sergey
2 Direk Kingnok
Direk Kingnok viewed watercolor art as a creative tool to move the beauty of everything surround him into beautiful paintings. Beautiful sites and natural views are regarded as elements from which he always got the inspiration to draw. Watercolor paintings of Direk Kingnok show the natural life of every one of us, or "Common people in common places" as he put it, which is why his work of art conveys simplicity as well as creativity.
Samples of Direk artworks
artists in the whole world
. In the field of watercolor art,
Thomas W Schaller
won almost all major awards for his paintings. He got the Hugh Ferriss Memorial Prize twice. Thomas authored two best-selling books and was awarded the AIA of Merit; the two books are The Art Of Architectural Drawing, Architecture In Watercolor.
Some of Schaller artworks