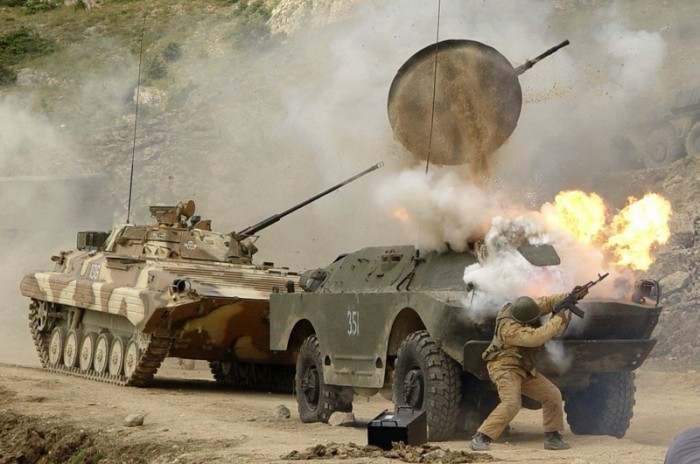 TV & Movies
Top 10 Best Military Movies In The History Of The Cinema
Cinema continues to informs our consciousness and enrich our culture. However, this time cinema will make use of a different field. This area is full of blood, terror, horror, suffering and torture. Military movies is a great way to represent the heroism and courage of brave people who were able to defend their nations and values at any cost.  These films expose the bitter reality of human conflict. They depict the bloody acts of deadly events that took place during wars in different spots of the globe such as Somalia, Vietnam, Algeria and Afghanistan. They display the effects of wars on the most vulnerable populations like women and children. Here are the top ten military movies that represent this human suffering and misery.
10 Behind Enemy Lines
This is an action film that was directed by John Moore. It revolves around Lieutenant Chris Burnett who was shot down and his commander who was trying to rescue him. His commander defies all the rules in his journey to save Chris Burnett.
9 The Big Red One
This is a wonderful film about World War II. It tells the horrific scenes and the suffering of a sergeant who was trying to survive World War II. It tells the story of members of a rifle squad of the US 1st Infantry Division. This team consisted of four members who were called "Four Horsemen". The director was famous for war films such as The Steel Helmet. He also served  in the US 1st Infantry Division.
8 Courage Under Fire
This film was directed by  Edward Zwick in 1996. It revolves around the role of America during the Gulf War and the position of women in combat. Lt. Col. Nathaniel Serling suffers from great distress after he mistakenly destroyed a tank  that held U.S. soldiers.
7 Letters from Iwo Jima
This film tells about the Battle of Iwo Jima that erupted between the United States and Imperial Japan during World War II. According to the Japanese soldiers' point of view. It tells the story of a general who stood against the invading American forces to hold onto the island of Iwo Jima. It is full of bloody acts including beheading, burning and bloody injuries.
6 The Thin Red Line
This movie tells the story of one of the deadly battles of World War II, which is called Guadalcanal. A group of men called C-for-Charlie go through some horrible events. This film represents Malick's return to film making after an absence that lasted for 20 years.
5 A Few Good Men
This is an American film that was directed by Rob Reiner. This revolves around the trial of two U.S. Marines who were accused of murder. Their lawyers claim that they were acting according to the orders. It managed to win four Oscar nominations.
4 The Battle of Algiers
This is one of the most impressive films in the history of Algerian people. It tells more about the struggle of Algerian men, women and children to achieve independence from the French during the 19950th. Women seduced the French soldiers in order to plant explosives. It also proved the failure of the French counterinsurgency tactics.
3 Apocalypse Now
It tells about the violence and confusion of the Vietnam War. U.S. Army special operations officer Captain Benjamin L. Willard is assigned the task of killing Colonel Walter E. Kurtz who considered himself a god in a local tribe. It was inspired by a novel by Joseph Conrad called Heart of Darkness.
2 Zero Dark Thirty
This film is described as "the story of history's greatest manhunt for the world's most dangerous man". Maya is a CIA operative who tried to know where Al Qaeda's leader, Osama Bin Laden, hides. A unit of professional American Special Forces called U.S. Navy SEAL is sent to assassinate him.
1 Black Hawk Down
Two of the best U.S. soldiers were sent on a mission to Somalia to hunt two top lieutenants to find themselves trapped in a fierce battle with the Somalis. American Rangers and Delta Force soldiers were sent to rid Somalia from a tyrant who made Somali people live in starvation and famine.
These are the top ten pearls of cinema that seek to wake the whole world up and make countries realize the great loss that results from these bloody actions.