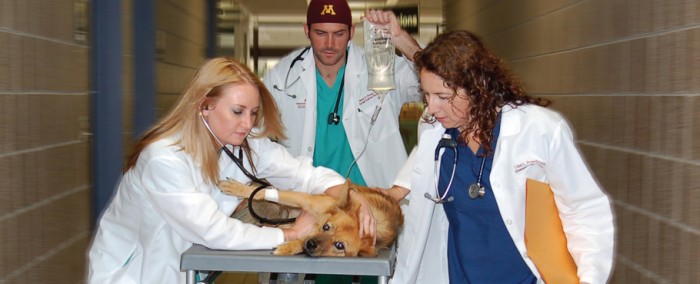 Animals are considered as valuable creatures that deserve care and attention. Like human beings, they eat, drink, feel and get sick. Therefore, many veterinarian hospitals have been established to provide many services for our animal companions. These hospitals use the latest technologies and techniques to provide the best health care for patients. These hospitals get money from donations that support them.  They are able to prepare efficient Veterinarians who would serve not only animals but also human beings. These schools teach students award winning curriculum. They do a lot of research that helps them cure complex conditions. Students are able to receive degrees in parasitology, physiology, pharmacology and pathology. Here are the leading Colleges For Veterinarians who are doing their best to provide animals with a happy life.
10 Cornell University in Ithaca, New York
This is one of the leading colleges in USA. It is a 4-year private school. It was established in 1865. Doctor of Veterinary Medicine (D.V.M) is a program that specializes in cell biology and genetics and the function and dysfunction of the animal body. Students are allowed to seek a Master of Science (M.S.) degree and Ph.D. in pharmacology and zoology.
9 University of California, Davis
In 2011, this college was placed in the second place among other colleges in the country. It provides students with valuable experience about livestock, poultry, pets, aquatic mammals, and fish. It is home to 524 students. It allows students a Doctor of Veterinary Medicine degree that lasts for four years.
8 North Carolina State University
Students are able to pursue graduate degrees and a professional DVM degree. Its program consists of four years. During the first three years, students will get comprehensive curriculum. In the fourth year, they will focus on clinical training. One of its prominent programs is Teaching Animal Unit.
7 Colorado State University The College of Veterinary Medicine and Biomedical Sciences
In 2012, it was ranked #3 by US News. 138 students are allowed to admit the Doctor of Veterinary Medicine program every year. It allows students clinical rotations that would give students valuable experience. It allows students to learn how to use advanced equipment such as PET/CT scanners or a Varian Trilogy Linear Accelerator.
6 Texas A & M – College of Veterinary Medicine
This is one of 31 colleges of veterinary medicine in the United States and Canada. It has more than 70 years experience in this field. There are teaching animals available to teach students how to do physical examinations and take radiographs among other things. It hosts more than 58,000 student.
5 Washington State – College of Veterinary Medicine
It owns one of veterinary teaching hospitals in the country that has sophisticated equipment. It is using its best endeavors to "improve animal health and well-being today for our safety and well-being tomorrow". It was established in1899. Catherine Elizabeth Roberts is the first woman to get veterinary degree at Washington State College.
4 Wisconsin University – College of Veterinary Medicine
It was founded in 1848. It is located in Madison, Wisconsin, United States. It is considered the oldest public university in the state. It follows a way that is characterized by diversity. This has a huge impact on the educational process. 2,000 veterinarians have graduated since 1987.  It offers more than 60 board-certified veterinary specialists.
3 University of Minnesota – College of Veterinary Medicine
It was established in 1950. It is located in  the 540-acre St. Paul campus. It is home to many leading facilities like the Veterinary Medical Center, Leatherdale Equine Center, and the Rap­tor Center. It has nearly 3,000 students. It has over 80 rotation offerings for the students to choose from.
2 Pennsylvania (UPenn) – College of Veterinary Medicine
It was established in 1884. It is also called Penn Vet. It hosts the Matthew J. Ryan Veterinary Hospital and the George D. Widener Hospital for Large Animals. It is one of only four leading private veterinary schools in the nation. More than 6,000 veterinarians have graduated. It allows students efficient programs like VMD-PhD and VMD-MBA.
1 NC State – College of Veterinary Medicine
North Carolina State University at Raleigh is a public university in Raleigh, North Carolina, United States. It was founded in 1887. This is the largest university in the Carolinas with more than 34,000 students. It has two divisions, the Small Animal Hospital and the Large Animal Hospital.
These are the top ten colleges that continue its mission of preparing professional Veterinarians to serve our four-legged friends.