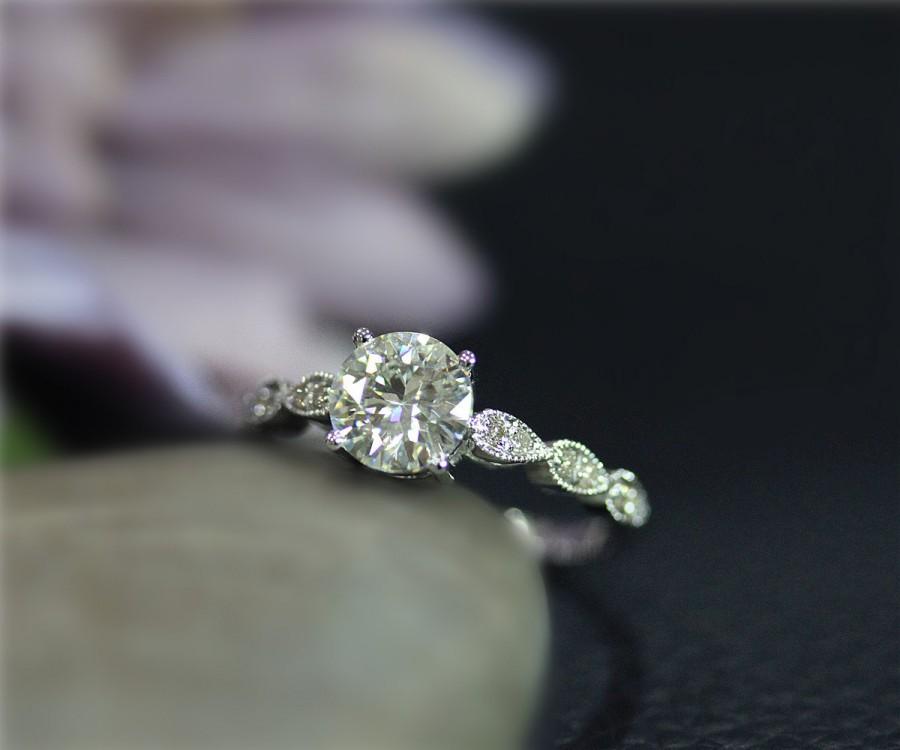 Jewelry
Top 10 Best Engagement Ring Brands
"Love is like the wind; you can't see it, but you can feel it"
This quotation may sound cliché for some of you, but we have to face it; it is plainly true. Love is a strong emotion that you can hardly deny when you feel it and that is exactly what makes it powerful; that feeling that you can easily describe, besides; it is capable of making you get out of your way and experience how it feels like to get out of your comfort zone to make someone happy. The way you define love may totally differ from someone else's definition, but that does not make it any less true because everyone may experience love in their own way and that is the beauty of it; it is never the same with everyone, but it is equally magical. What could be shared among lovers is the fact that everyone is ready to put their significant other's happiness before their own and not expecting anything in return; that is called unconditional love. Once you experience that feeling, you will find yourself ready to spend the rest of your life with your beloved one.
Since you are already keeping on reading this article, we assume that you have been lucky to find your one and only and ready to show them how much you want to spend the rest of your life by their side, making them happy in every second of your life together. Well, since this seems to be true; you surely do love her, so what is next? Yes, that is right, you need to propose, but a proposal requires that little wonderful piece that represents your commitment to keep your promise for ever; to love and cherish your significant other for as long as you live. Engagement rings are out there to help you achieve this dream; making the memory of your love lives for eternity and reminding both of you of all the special moments you spent in love with one another. Above and beyond, you need a ring that is going to be equally classy and well-appointed, so you have definitely come to the right place. In the article, you will get introduced to the best ten brands that produce engagement rings around the world, check them out.
10

Harry Winston
Harry Winston is a businessman and a talented gemologist. He established a brand of jewelry in 1932 that holds his name back, in New York City. Harry Winston is still one of the best brands create fine jewelry; above and beyond, it is also one of the very few jewelry brands who has had a memorable history.
Harry Winston is a brand that designs jewelry of elegance and sophistication. He produced engagement rings that are known to be very luxurious; they always include diamonds that aids in enhancing the appearance of the pieces.
This brand started to take place after the death of Arabella Huntington; she was the wife of the railroad magnate's, Henry Huntington and she had a great jewelry collection which was taken by Harry after her death and these collections have undergone some modifications in order to cope with trendy and modern designs.
9

Tacori
Not only that Tacori is one of the most popular brands in the industry of jewelry designing, but it was also listed among the best five brands of jewelry in the world by INDESIGN magazine in 2013. Tacori was established by Haig Tacorian and it is based in California, the United States.
When Tacori first started taking place in the market, it was originally established for selling pearls, but, then, the company as expanded to allow the manufacture of diamonds included. The focus of this brand was shifted to bridal wear accessories and engagement rings, so Tacori became widely popular for creating exceptional designs of engagement rings that combine between trendy and old-style designs. Tacori is also known for offering a brand new collection of engagement rings that include beautiful and colorful designs.
8

Charles and Colvard
Charles and Colvard are another outstanding jewelry brand that creates the best designs for engagement rings. It was founded in 1995 and it was known to be the only supplier of Moissanite around the globe at that time. Moissanite is actually one of the most alluring gemstones. This gemstone is used in creating rings that are specialized for engagements and weddings, giving the jewelry piece a nice delightful appearance. That was not the only reason that moissanite was used in making rings, but also because it was much cheaper than diamonds and most commonly affordable by young couples.
7

Verragio
Graduating from the Fashion Institute of Technology in New York City has allowed Barry Verragio to master the skills of designing rings and jewelry. Barry Verragio has been in the industry for about twenty years, so you can easily predict how luxurious his designs can be. This brand has been known for being very captivating for couples; besides, he produces exceptional pieces that are usually made by combining both gold and diamonds.
6

Michael B
Michael B was the miracle kid; he started his career at a very young age; when he was only ten years old. His enthusiasm for making fine jewelry was stemmed from his own father's passion, so Michael decided to take a full-time internship at one of the largest jewelry houses in Turkey when he was still a kid.
Michael has easily mastered the facets of this industry when he was just a teenager and he started using metals and diamonds on his own, creating the finest pieces of jewelry. Then, he got introduced to the platinum and started using it in his designs, creating even more well-appointed designs including engagement and wedding rings. Michael's timing of choosing a career may sound very early for almost everyone, but it turned out to be of a great benefit for himself as well as to the world because he easily became one of the most brilliant designers in the world.
5

Tiffany & Co.
Its headquarters is located in New York City, United States and it is usually known as Tiffany & Company, Tiffany's or just Tiffany, but people are more familiar with Tiffany & Co and the brand is widely known as Tiffany. What is more; this brand sells luxury goods that include diamond jewelry, personal accessories, and sterling silver. Tiffany and Co have succeeded in making itself one of the best designers for engagement rings, for they have attractively delicate designs.
It is also one of the oldest jewelry designers since it was founded in 1837 and it is still as popular nowadays as much as it was back then. This brand was established by both John B. Young and Charles Lewis Tiffany as a stationary store for selling fancy goods and stationary stuff. It was initially named "Tiffany, Young, and Ellis" until Charles Tiffany got in control. Once he did, he changed the activity of the store, shifting it to a fine jewelry store and the name was changed to Tiffany & Company.
4

David Yurman
David Yurman is one of the well-known brands in the market that create exceptional jewelry. His brand was established in 1980, holding his own name by teaming up with another Yurman member, called Sybil. It is an American company that is located in New York City and it is specialized in manufacturing jewelry. One makes David Yurman stands out from the crowd is the fact that he has been in the industry for almost four decades, so his designs are deemed to be some of the best and the most luxurious ones and, of course, engagement rings are not excluded; they are made up of flawless gems and diamonds.
3

Bvlgari
Bvlgari is a well-known Italian company that produces and creates the finest jewelry in the world. It was established by Sotirios Voulgaris in 1884 in Rome, Italy and it currently has become one of the most successful brands in the whole world. Bvlgari makes subtle and delicate engagement rings, using platinum.
2

Monique Pean
Monique Péan is an American designer who launched her own brand labeled under her name in 2006, creating a line of fine jewelry that is made in remarkable designs. Pean is a talented designer who received a prestigious CFDA/Vogue Fashion Fund Award in addition to another award of being one of the best jewelry designers. Her passion for jewelry making started at a reasonably young age and she was taught by the former CEO of Tiffany & Co.'s, who is called Michael Kowalski.
1

Leigh Plessner & Rony Vardi of Catbird
Catbird is a well-appointed brand that started from zero. It was established by Leigh Plessner and Rony Vardi. Catbird was originally a normal store where clothes, ribbons, and random stuff were sold, but Rony was talented in making and creating different designs of jewelry and that is what she used to do while sitting in her little store, waiting for customers to pass by. She had friends who were deemed to be talented jewelers and they helped her with her designs; they still help her now as well.
Receiving praise on her designs have encouraged her to display them for people and offer them for sale and, as luck would have it, she found that her customers were highly satisfied with her jewelry pieces. As a consequence, Catbird was turned into a jewelry store and, in 2014, the first line of engagement rings was out under the name of "The Swans."
Such an inspiring story of a store that started from nothing and turned out to be one of the most successful jewelry brands in the world can give you a hint about the exceptional designs of this specific brand.