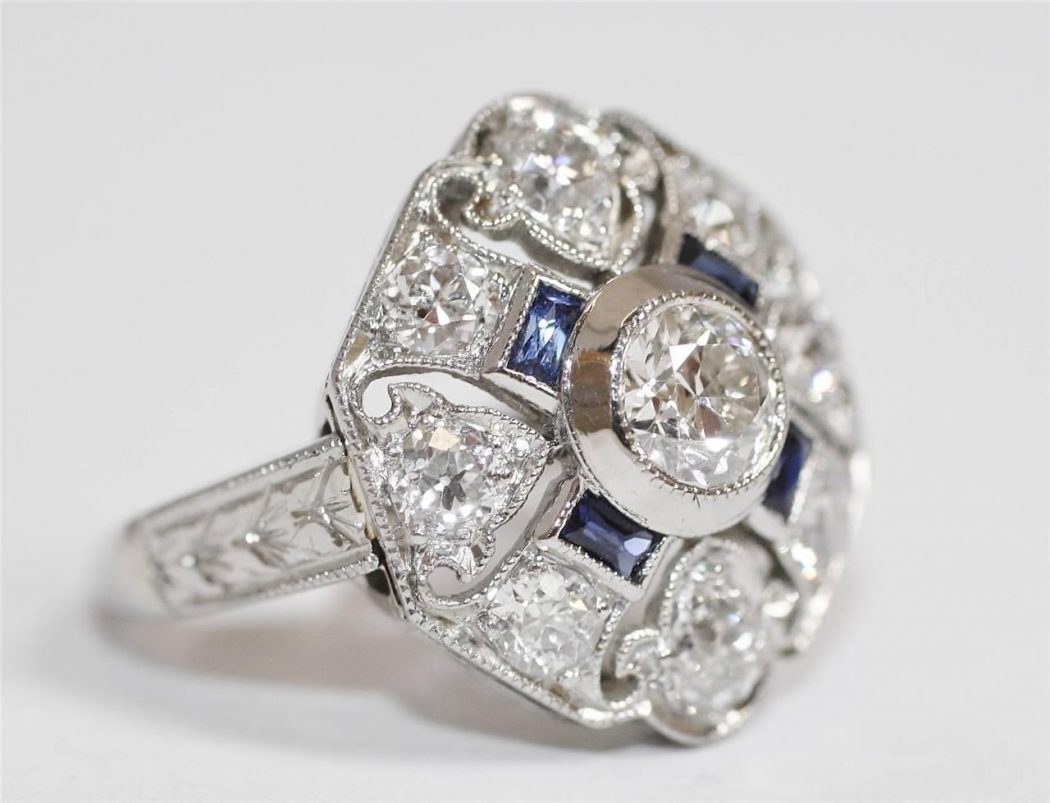 Fashion
Top 10 Most Valuable Pieces of Estate Diamond Jewelry
Everybody knows what diamond jewelry is, besides; it is pretty known how valuable they are. They say that Diamonds are women's best friends, for they heartedly cherish them, but if you have ever come across a diamond buyer, you will recognize how much they value them as much as women do, especially the estate diamond jewelry.
Well, the estate diamond jewelry are not the regular ones we are used to, in fact; they are ones that were previously owned by other people, and that is quite obvious from the name, but that is not all actually. Estate Jewelries are not only the ones that were used by people before, although this is true, but they are much more than that; they are jewelry that includes some of the finest, rarest, and most valuable stones; the ones that can never be abundant or owned by everyone and can be sold only through well reputable jewelry stores as WP Diamonds. For those reasons, if you are lucky enough to come across one of them, you might not actually be that lucky to afford, for they require a quite high price, either for selling or buying.
Scrutinizing one of this estate diamond jewelry is always number one advice for those who are looking for one, for you have to take there are no hollows or scrapes; they have to be extremely perfect. Besides, you also need to watch out for if there are any missing stones, if the joints have been formerly repaired. It is also recommended that you ask for the history of this valuable piece and you totally have the right to know if it has ever been certified from a specialized laboratory. You definitely have the right to know all the details of the piece you are buying and you should, certainly, provide them if you are selling, for this jewelry can live for as long as the earth still exists.
Whether you have ever come across some of these valuable diamonds or not, you will unquestionably enjoy this article that introduces to you ten of the most valuable estate diamond jewelry ever. Check them out:
10

Sapphire Ring of Princess Diana

The Sapphire Ring is one that has a great history. It actually belonged to Princess Diana, there is definitely no need to mention who she was, and certainly it is highly expected to cost a fortune that only those from the royal world can be able to afford, and, without a doubt, that is true. Here is the story of this ring; When the Prince of Wales, Charles, was getting engaged to Lady Diana, he gifted her one of the valuable engagement rings in all history. The ring is made up of a 12-carat oval sapphire along with a set of 18k white gold around which there are about 14 solitaire diamonds.

Later, the ring has been passed to Kate Middleton. It is one of the most valuable diamonds ever that also has been historically noteworthy.
9

Bulgari Blue Diamond Ring

The Bulgari Blue Diamond Ring goes back to the 70's when it was first brought into being. This ring is made up of several valuable diamonds; it features a triangular diamond that is nearly white, or is ought to be colorless, that is almost about 9.87 carat. Against this triangular diamond, there is another one that is made of blue diamond and it is made up of 10.95 carat. This fancy ring has been noticeable that it actually broke record in being one of the most popular rings that have been auctioned for a very long years. The ring was originally possessed by the wife an extremely wealthy diamond collector; he gave her that ring as a gift after they were blessed with their very first baby boy.
8

Elizabeth Taylor's Natural Pearl, Diamond, Ruby and Cultured Pearl Necklace, by Cartier

Elizabeth Taylor was a British-American actress who was famous for being so obsessed with collecting jewels over the course of her life and they were not just jewels; they were one of the rarest and most expensive ones. After she died, her fabled collection was actually sold at Christie's New York in December 2011, costing a total of over $137.2 million. One of these Elizabeth Taylor's fancy collection was the pearl necklace that goes back to the 16th century. It is hard to imagine how this necklace has managed to live longer than anyone has ever lived and it is still as flawless as ever; this necklace actually contains a pearl piece that costs $2.5 million on its own, so imagine how much the whole necklace costs, but apparently, it is worth it.
7

 Wallis Simpson Panther Bracelet

Wallis Simpson was an American Socialite that became famous for her relationship with Edward VIII who showed an amazing gesture of love by walking out on his throne for marrying that woman during the 30's. Seemingly, forsaking his throne was not the only love gesture that Edward had been doing for Wallis Simpson; he also gave her a lot of expensive and fancy gifts throughout their lives together. Recently, these items had been introduced in an auction back in 2010 and one of Simpson's items that had made a great propaganda was her panther bracelet. It is deemed to be one of the most eccentric pieces of jewelries ever. The bracelet forms a panther that's body is made up of a collection of onyx and diamonds along with two emeralds green that form its eyes.
6

The Heart of the Kingdom Ruby Necklace

The Heart of the Kingdom ruby necklace is one of the most famous pieces that were created by Garrard. The House of Garrard has been around since the beginning of time; it is the oldest house in the world that contained the fanciest and most valuable jewels around the world and until 2007, it was known to be the Crown Jeweler who was responsible for maintaining the British Crown Jewels. One of the most popular jewels that were made by Garrard was The Heart of the Kingdom Ruby Necklace; it is made up or nearly the highest quality and, probably, the highest price. The center piece of this fancy necklace is made up of 40.63 carat Burmese ruby, besides; it also has a red gemstone with 155 carats of diamonds.
5

The Graff Vivid Yellow

The Graff Vivid Yellow is a 100 carat yellow diamond that is fixed in gold along with some of the fanciest diamonds that are featuring on the band. This massively amazing stone has broken a world record for being one of the swankiest yellow diamonds that was ever created. It is made up of almost 190 carat diamond by the English jeweler Laurence Graff who was the owner of the company, Graff Diamonds which is known to be one of the most prominent companies in the world of jewelry.
4

The Heart of the Ocean

You are probably familiar with this necklace that was featured in the popular movie Titanic, but what you might not be familiar with is the fact that it is one of the most expensive jewelry out there that is made up of the fanciest and the rarest diamonds. It might not be a real estate diamond jewel because it was originally made for Kate Winslet's fictional character, Rose, in the movie that came from a royal family and certainly owned some of those rare jewels. The necklace became very popular after the movies, so some of the most leading jewelers in the world, Asprey & Garrard, were requested to create a necklace that's design bears a resemblance to that necklace from Titanic. The necklace is exactly a heart-shaped Ceylon blue sapphire that is almost 171 carat and it is also surrounded by almost 103 diamonds. It was said that the necklace was sold to a mysterious bargain hunter for an astounding price as high as a $17 million.
3

Queen Marie Jose's Emerald and Diamond Necklace

Queen Marie Jose was the queen of Belgium and the last royalty of Italy as well. She might not be very famous to a lot of people of today's world, but she certainly owned a comprehensive and a wide-ranging collection of jewels that cost a fortune in these days. One of these fancy jewels of hers was the Emerald and Diamond Necklace; a necklace that has about 50 bright green emeralds along with a set of colorless diamonds. This extravagant necklace was created by Van Cleef and Arpels.
2

Angelina Jolie's Emerald Earrings and Ring

It seems like the fanciest jewels and diamonds did not only belong to the old royal and queenly figures, but some of our modern world's celebrities have also had the financial ability to own some of these rare and valuable diamonds ever. One of these celebrities is the Hollywood hot star, Angelina Jolie. We are not trying to be any resentful here, but Angelina Jolie actually seems to fall in every perfect category that the world has to offer; she is beautiful, talented, rich, and has a great sense in fashion as well. Angelina Jolie actually owns a pair of earrings that are made up of beautiful green emeralds as well as an emerald ring. The star made an appearance wearing these extravagant diamonds of her in the Oscars of 2009 and she definitely grabbed the attention of every single person who had either been there or watched her on TV.
1

Anita Delgado's Emerald Elephant Diamond

Anita Delgado was a Spanish flamenco dancer who later became the Princess of Kapurthala. She owned a necklace that is made in an art deco style that was composed of diamonds, rock crystals, along with bright emeralds. The necklace was originally made to beautify Maharaja's favorite elephant and that is why it called the Elephant Diamond.

It seems like a lot of people out there had possessed some of the most valuable jewels in the world ever, however, that does not mean that these possessions are only limited to the royal figures and their modern versions; the celebrities. But actually some infamous rich people also get to own these expensive diamonds too.