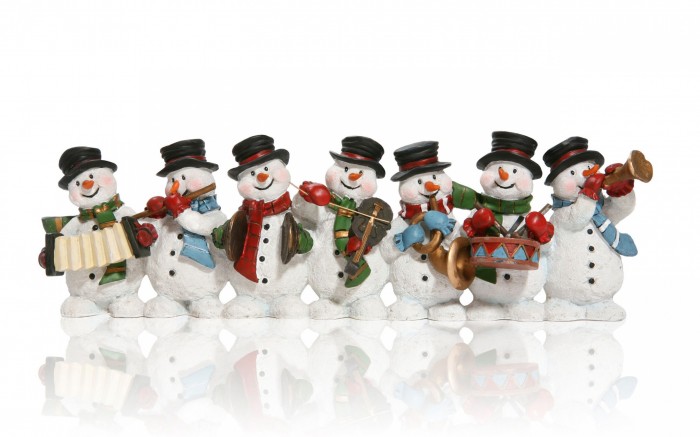 December and the beginning of Christmas, when preparations take place are the most celebrating month when a year's farewells and another is welcomed. Traditionally, when a word of "Christmas" is said, unintentionally our mind links it to a group of Christmas songs, which we cannot forget. At the end of each year, we recall these songs with our friends and family. Welcoming Christmas, we offer you a list of the top 10 most famous Christmas songs.
10 Run-DMC – 'Christmas in Hollis':

It is a single song by Run–D.M.C., which was produced by the group along with Rick Rubin in 1987, and has become well-liked during the holiday season. It is ranked the 78th on the Billboard Hot R&B/Hip-Hop Songs chart in 2000.
"It's Christmas time in Hollis, Queens
Mom's cooking chicken and collard greens
Rice and stuffing, macaroni and cheese
And Santa puttin' gifts under Christmas trees
Decorate the house with lights at night
Snow's on the ground, snow-white so bright
In the fireplace is the yule log
Beneath the mistletoe, as we drink egg nog"
9 Jackson 5 – 'Santa Claus is Coming to Town':
Despite being in an album including some other songs, this song remains the most popular in the holiday season.
"Santa Claus is comin' to town
Santa Claus is comin' to town
You d better watch out
You d better not cry
You'd better not pout
I m telling you why
Santa Claus is comin' to town
Santa Claus is comin' to town"
8 Chris Rea – Driving Home for Christmas:
It is a single by Chris Rea, in 1986. The song was ranked the 53rd in the UK Single Chart in 1988, and then in 2007, it reached #33.
"I'm driving home for Christmas
Oh, I can't wait to see those faces
I'm driving home for Christmas, yeah
Well, I'm moving down that line
And it's been so long
But I will be there
I sing this song
To pass the time away"
7 Do They Know It's Christmas?:
It is a song written by Bob Geldof and Midge Ure in 1984, in order to raise money for aid of the 1983–85 famine in Ethiopia. Indeed, the original version was the biggest selling in UK Singles Chart history, to sell a million one in the first week.
"It's Christmas time, there's no need to be afraid
(Ed Sheeran)
At Christmas time, we let in light and we banish shade
[Dido:] And in our world of plenty we can spread a smile of joy
(Sam Smith)
Throw your arms around the world at Christmas time"
6 Kurtis Blow – 'Christmas Rappin'':
Kurtis Blow turned to be the first rapper to have done a remarkable Christmas album, which released "Christmas Rappin'", about 400,000 copies were sold.
"Now I'm the guy named Kurtis Blow and Christmas is one thing I know
So every year just about this time, I celebrate it with a rhyme
Gonna shake it, gonna bake it, gonna make it good
Gonna rock shock clock it through your neighbourhood
Gonna read, gonna sing it till it's understood"
5 John Lennon & Yoko Ono – 'Happy Xmas (War Is Over)':
It is a song by John Lennon and Yoko Ono, which was released in 1971 with the Harlem Community Choir.
"So, this is Christmas
And what have you done?
Another year over
And a new one just begun
And so this is Christmas
I hope you have fun
The near and the dear one
The old and the young"
4 Bing Crosby – 'White Christmas':
It is a song revolving around the old-fashioned Christmas atmosphere. Actually, the version by Bing Crosby is the best-selling of all time.
"I'm dreaming of a white Christmas
Just like the ones I used to know
Where the tree tops glisten
And children listen
To hear sleigh bells in the snow
I'm dreaming of a white Christmas
With every Christmas card I write
May your days be merry and bright
And may all
Your Christmases be white"
3 The Pogues and Kirsty MacColl – 'Fairytale of New York':
It is a Christmas song that was first released on November 23rd 1987. Many programs in TV and radio stated that it is a fantastic song for Christmas.
"t was Christmas eve, babe
In the drunk tank
An old man said to me
Won't see another one
Then he sang a song
The rare 'Old Mountain Dew'
I turned my face away
And dreamed about you"
2 We wish a merry Christmas:
It is an admired sixteenth-century song. It lies in the English tradition when well-off people of the community granted Christmas treats to the carolers.
"We wish you a merry Christmas
We wish you a merry Christmas
We wish you a merry Christmas
And a Happy New Year
REFRAIN
Good tidings we bring to you and your kin,
We wish you a merry Christmas and a Happy New Yea"
1 Jingle Bells:
It is one of the most famous Christmas songs in the world, which was written by James Lord Pierpont. This song is directly linked to the Christmas Eve.
"Jingle bells, jingle bells,
Jingle all the way.
Oh! what fun it is to ride
In a one-horse open sleigh."
Celebrate the Christmas with your family, enjoying these songs.