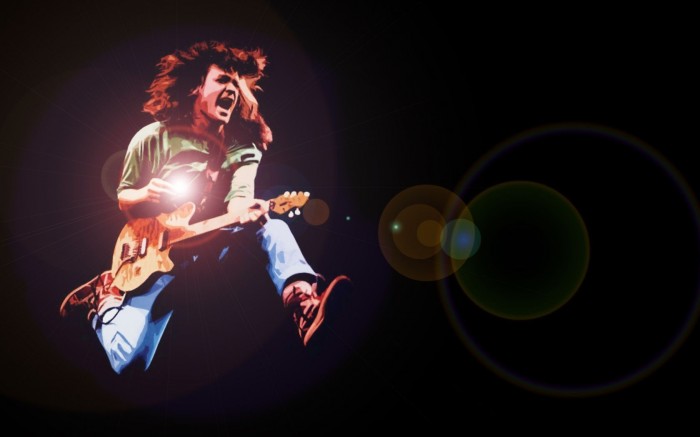 The musical instruments are channels thorough which words can be said. Through a flute you can express meaning of calmness, through violas shiver can be felt. Yet guitar is different. You can deliver words of calmness, angry, happiness and so on through pressing a chord. Guitarists proved to be indispensible in many bands. They can push the band forward. You will find a list of the top 10 guitarists of all time in this article, enjoy it.
10 James Burton:
James Burton is one of the most famous guitarists, whose trademark is "chicken pickin", which is one of the most exceptional sounds in country music, and a vast influence on rock guitar. Burton began his career when he was 14, during writing "Susie Q," for Dale Hawkins, and turned to be a teenage star in 1957when joined Ricky Nelson's band. From his featured tracks: "Hello Mary Lou," and "Susie Q,".
9 Les Paul:
He is famous for being the brilliance who invented the solid-body guitar that holds his name. He was just a creative player. He made the greatest guitar sounds of the 1950s. His style is elegant and clean-toned with improvisations on modern pop levels. Paul generated a revolutionary series of technical advances, such as  full-of-meaning studio overdubs, to attain sounds nobody had ever produce.
8 Derek Trucks:
He was raised in the Allman Brothers family, he started playing slide guitar when 9. As soon as he paced into the late Duane Allman's slide-guitar mark in the Allman Brothers Band at age of 20, when Derek's solo playing burst out. His most famous tracks include "Joyful Noise" and "Whipping Post".
7 David Gilmour:
He is an English musician and multi-instrumentalist. He is famous for his work as the guitarist. He works with Pink Floyd, and he has produced for many artists, for example The Dream Academy and has had his own solo career. In 2005, Gilmour received a Commander of the Order of the British Empire (CBE) for his services to music.
6 Stephen Ray Vaughan:
He was an American singer, songwriter, and record producer, who was widely deemed to be one of the most central electric guitarists in the history of blues music. He was born in Dallas, Texas, he started playing guitar at the age 7. In February 1970, Vaughan worked in a band named Liberation that was a nine-piece collection with a horn segment.
5 Pete Townshend:
He is an English musician and multi-instrumentalist, famous chiefly as the guitarist for the rock band the Who. All the way through his singly career and his career with the Who, Townshend has played on many guitars. For the duration of the Who's 1989 Tour Pete played a Rickenbacker guitar that was sarcastically damaged unintentionally when he tripped over it.
4 Eddie Van Halen:
He is an American musician, songwriter and producer. He is famous as the leading guitarist, of the hard rock band Van Halen. Van Halen's moving toward to the guitar engages several characteristic elements. His usage of two-handed beating, usual and synthetic harmonics, vibrato, and tremolo selection, mixed with his musical sensibility and melodic style, has inspired a whole generation of guitarists.
3 B.B. King:
He is an American musician, singer, and guitarist. King was introduced in the Rock and Roll Hall of Fame in 1987. King was also introduced in the 2014 class of the R&B Music Hall of Fame. He is deemed to be one of the most powerful blues musicians of all time, gaining the nickname "The King of Blues". King persists on appearing at 100 shows a year.
2 Jimi Hendrix:
He was an American musician and guitarist. Even though his ordinary career lasted only 4 years, he is extensively deemed as one of the most powerful electric guitarists in the history of well-liked music. Hendrix was stimulated musically by the American rock and roll and electric blues.
1 Eric Patrick Clapton:
He is an English singer and guitarist. Clapton received about 18 Grammy Awards, and the Brit Award for exceptional Contribution to Music. He was awarded a CBE at Buckingham Palace for services to music in 2014.
Listen to tracks of these greatest guitarists.