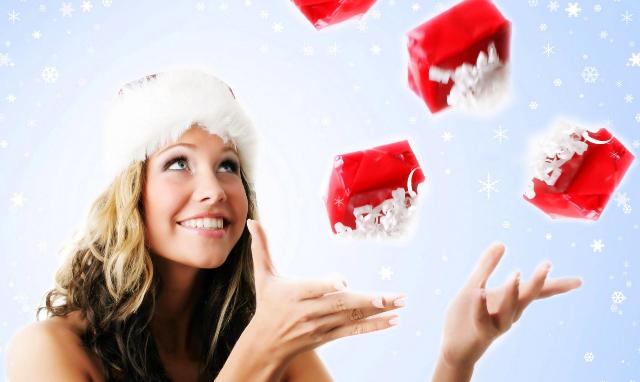 Are you looking for a gift for a woman whom you know? Do you feel that you are completely confused and do not know what to purchase for her? Is it really true that choosing a gift for a woman is completely tiring? Because we know that women are difficult to be satisfied, we are here to allow you to make the right decision and to choose the most fascinating gift that can impress your woman on this happy occasion. There is a wide diversity of gifts that can be presented to women on Christmas. These gifts vary in their prices and this is what you have to care about while purchasing a gift for this occasion.
You will find that you have a list that is full of names that you need to purchase gifts for and they are enough for swallowing the money that you have. The only solution for this problem is to set a budget and you have to stick to it in order not to find that you spent all the money that you have in your wallet. Are you are still curious about the gift ideas that you can present to your woman? The gift ideas that are presented to you here are not numerous, however, they can inspire you to make the right choice and to impress the woman whom you know. Some of the following gift ideas may seem to be traditional to you, while the others are presented for the first time to make them catchy for you and the recipient who will get them. To discover more about the best gifts that any woman wishes to get on this happy occasion, let's take a look at the following top 10 Christmas gift ideas for women.
10. Hats and mittens: They are among the most important accessories that any woman is going to need in winter to keep her warm whether it is inside or outside her home. Hats and mittens are available in different materials and designs to choose what suits her needs and taste.
9. Cosmetics: It is almost impossible to say that there is a woman who does not wear make-up. What you have to care about while purchasing make-up products is that you have to opt for high-quality products that give good results and do not harm the skin.
8. Perfume: It is a necessity for all women who always want to smell good. It comes in different breathtaking scents that catch anyone, but you have to know the type of perfume that your woman likes to wear.
7. Shoes & boots: You will find them in various designs, colors, materials, shapes, and styles that allow you to choose what makes your woman completely comfortable. It will be a perfect idea to choose a pair of shoes that matches one of the dresses that she has.
6. Handbags & evening purses: They are important accessories for all women whether it is for an everyday look or for special evening occasions. You can choose the color and design that catch the eyes of your woman and it will be better to choose the bags and purses which are adorned with jewels and crystals if they are for evening occasions as they are catchier than plain ones.
5. Sunglasses: They are needed in different seasons and not just in summer as they can complement what any woman wears and can play a great role in forming a catchy and elegant look.
4. Watches: They come in a variety of designs and catchy looks that are really dazzling. You can choose those which are encrusted with jewels or diamonds if you want to present a luxurious gift.
3. Fur coat & jackets: They do not just keep women warm while attending different occasions, but they are also capable of creating a luxurious look and making women appear to be more feminine.
2. Evening dresses: They can be found in different designs, styles, lengths, and colors. All you need to do is to choose a catchy dress that makes your woman catches the eyes of those who see her especially her friends.
1. Jewelry: There is not a woman who does not like wearing jewelry. It is considered to be the most expensive gift that can be presented to a woman and this is why you can bring just a piece of jewelry instead of purchasing a set of jewelry pieces that will cost you a lot of money.
"Other gift ideas that you may like"
Don't miss
► Top 10 Must Have Christmas Toys for 2015