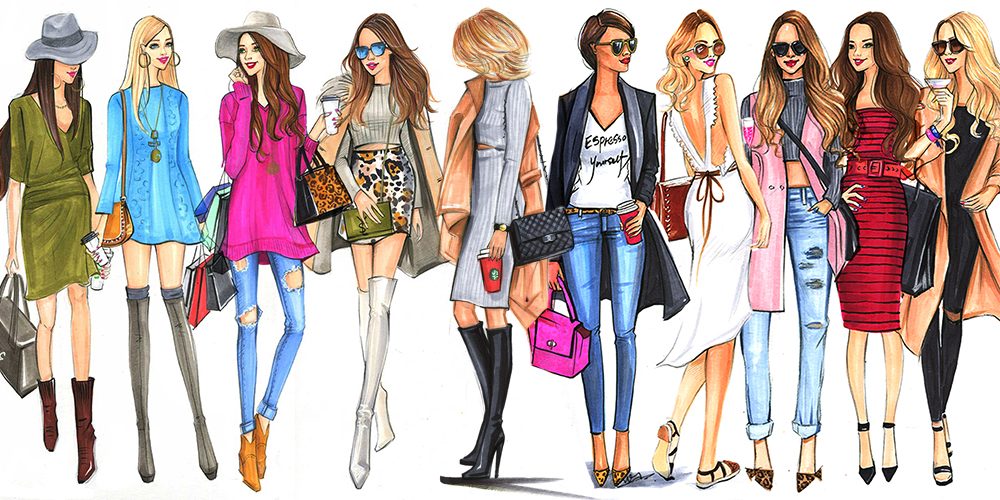 Fashion Illustration has established itself as a full-fledged industry in the past few decades. Fashion illustrators are creative people who come up with new designs in fashion. It is these illustrators that keep on pouring new trends in the fashion industry. Fashion illustrators are highly paid and their work is respected and appreciated. Without their innovations, the fashion industry would remain stuck in old designs and nothing new will come up. The top 10 illustrators of the fashion industry are listed below.
Anna Halarewicz is the topmost famous fashion illustrator and designer who is a very humble personality and is concerned all the time about artwork and painting. In many of her interviews, she has expressed her passion and love for painting and designing. In fact, she has been recognized as among the trendsetters in the industry of fashion illustration.
Examples of Anna's Illustrations:
Inslee Farris is a very famous and extraordinarily famous and talented designer and fashion illustrator. Besides running her own business, she also works for a studio space and is accredited for designing a lot of designs and products which are mainly favorite of girls.
Examples of Inslee's Illustrations:
is a well-known author as well as the owner of Fashion ART Ventures. It's a blog that is concerned about the news and views related to art, creativity and fashion designing. Michaela is an architect but is very much passionate about art and fashion design. Michaela Koleva is famous for making fashion illustration videos on YouTube. She has expressed her passion many times about sharing the spark of fashion designing and painting with the general audience and various techniques regarding fashion illustrations. Michaela Koleva
Examples of Michaela's Illustrations:
Guillermo Meraz is a well-known fashion illustrator and he is famous for the making and designing of illustrations for the fantasy princesses of Disney.  A lot of designs and figures have been accredited to Meraz and he has given some of the most creative and unique illustrations for princess figures of the world of Disney. He is not only accredited for the creation of illustrations of princesses and fancy figures but he is also famous for making illustrations of witches for the movies. That has also become a unique feature of Meraz which does not exist in every other illustrator.
Examples of Guillermo's Illustrations:
Grace Ciao is a fashion designer, artist, and illustrator who based in Singapore. He is very famous as he has also worked for some of the leading fashion brands of the world like Christian Dior, Chanel, Elie Saab, Saks Fifth Avenue, Jaeger Le-Coultre and many other famous fashion brands. The most important reason for Grace which has helped her in earning global recognition is the sophisticated and alluring designs and fashion illustrations. Most of the designs given by Grace have received global attention among the fashion communities and social media gatherings as well. As she also has a background in marketing and business, she has been wise enough to combine the creative sense with her business sense and has helped in merchandising and marketing fashion all around.
Examples of Grace's Illustrations:
It is rightly said about McManus that she is such a beautiful illustrator and such a beautiful human being. In short, she is beautiful from inside as well as outside. She is a very talented illustrator and designer and over the time her talent also has polished and got mature. Major critics of art are also of the view that her art is improving and getting better day by day. The major characteristic of her pieces of art and illustrations is that these are so vibrant unique. Her art pieces are so much like all over the world that people also love to hang them in their homes.
Examples of Pippa's Illustrations:
Laura Laine is a Helsinki-based fashion illustrator. Her career as a fashion illustrator started after she completed her studies in the field of fashion designing. Along with working as a fashion illustrator, she is also teaching the subject of fashion illustration in different fashion schools. She has also exhibited her illustrations and other artwork in different cities of the world and has earned a lot of fame. Her major exhibitions were carried out in Helsinki, Los Angeles, Rugby, New York, London, and San Francisco. Owing to her fame and uniqueness in the field of fashion illustrations, she has been hired by many clients to work for them as a fashion illustrator from time to time. Some of her major clients are The New York Times, Elle Sephora, Zara, the Guardian, and many others.
Examples of Laura's Illustrations:
Shamekh Bluwi is a fashion illustrator and designer who comes from Jordan, his leading cause of popularity became the publishing of sketches of the women whose dresses were cut off. The significance of such an illustration was that the viewer was also able to see the background of the drawings and illustrations. Most of the artwork of Shamekh is used in the hometown in Amman as a background. Shamekh is a dynamic Arab artist; every page of his sketchbook is filled with masterpieces and unique illustrative designs. According to him, his basic inspiration has been art and sketching since a very young age which has helped hi pursue the ambitions and become what he is today.
Examples of Shamekh's Illustrations:
Jennifer Lilya is a very senior fashion illustrator; she has been in this work for the early decade of the 90s. She is a graduate from FIT and right after graduation, she has been into fashion illustration. It was her love and passion for making drawings that led her to get work in magazines, PR firms and because of the same reason she also got the advantage of working with different fashion designers and ad agencies. Her unique feature is the creation and expertise in the conventional fashion illustration; she has amalgamated it with a modern edge and hand lettering as well.
Examples of Jennifer's Illustrations:
Hayden Williams is a famous fashion illustrator, he always designs the conceptual designs and all these illustrations are the depiction of his future vision for a fashion label. His work has also been recognized and praised by different celebrities like Oprah, Beyonce, Naomi, Kim Kardashian, and many others. As a child, he used to sketch the characters of Disney but with age, his style of drawing also got mature, he naturally progressed to get involved in the fashion designing and illustrations. In 2014 he partnered with Kate Moss and Rimmel London, they came up with the collection named Idol Eyes.
Examples of Hayden's Illustrations: