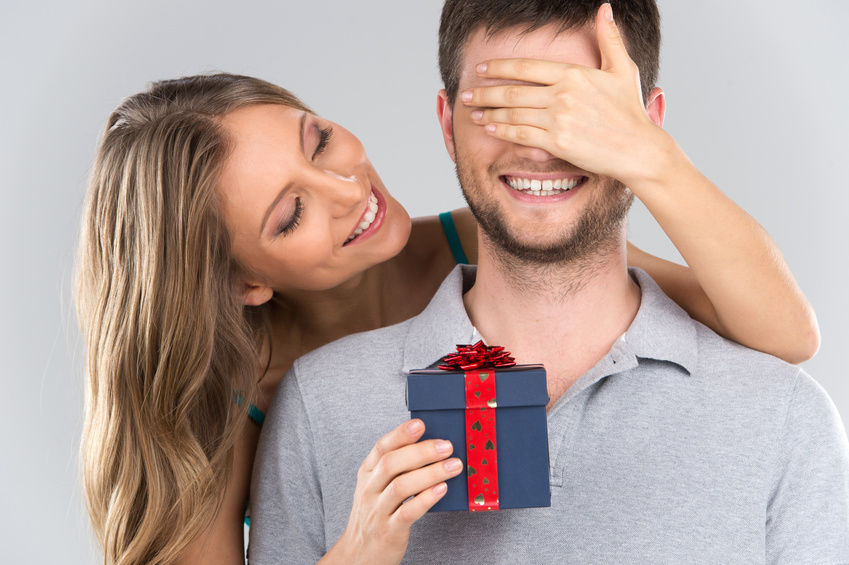 Whether you have an upcoming anniversary, birthday or simply want to surprise your main squeeze with something "just-because," we've got a gift round up that is sure to tickle a few fancies.
1
Custom Camera Strap
If you've got a photographer on your hands but they seem to already have all the gear, or if you're one that blacks out a little when you start thinking about where to even start when it comes to camera equipment, opt for a personalized or custom camera strap. There are lots of specialty stores online that design beautiful leather and textile straps made-to-order with either engraved initials or anything else you can dream up. Are you a teeny bit artsy? Consider having a design of your own printed on a camera strap so your sweetheart can bring a little bit of you along whenever he's out shooting.
2
Mavic Pro
From photography to drone racing, the appeal for drones has become increasingly widespread over the past few years. The DJI Mavic Pro is one the keeps popping up on all the top lists for racing drone recommendations. Don't let its size fool you. It may be small, but its 24 high-performance computational cores make it incredibly powerful. The Mavic Pro also features a newly designed transmission, 5 vision sensors, supports 4k video and a 12-megapixel camera.
3
HP Sprocket Portable Photo Printer
This compact, on-the-printer, which is about the size of your typical cell phone allows the photographer in your life to print photos whenever and wherever. It's easy to load the 10-sheet pack of photo paper to instantly print the 2×3-inch photos or stickers. Meanwhile, you can customize photos using the HP Sprocket App and use its Bluetooth technology to select the photos on your phone or computer you'd like to print.
4
Bose SoundLink Revolve
The Bose SoundLink Revolve portable speaker is an all-around top pick for summer gifting. Offering 360 sound wherever it goes, and boasting a 12-hour battery life, the party can just keep on going. It's also Siri and Google Now voice accessible and the Bose Connect app makes it easy to connect and switch devices, so all the DJs in the room can have their turn, and the multi-function button allows you to make calls and send text messages… pretty impressive, don't you think?
5
Emporio Armani Renato
Classic Italian design meets the latest in technology to create a timepiece that not only looks good but is feature-packed as well. The Bluetooth enabled design not only tracks steps, calories and distance, but it also allows you to control your music and receive discreet notifications. It also features the Smartwatch movement and is water-resistant up to 50 meters, which makes this pretty perfect for the style-conscious man on the go.
6
Spire
If Fitbit had a cousin, then it would be Spire… the really super Zen cousin. Designed to track breathing and tension levels, Spire is a pro at finding stress patterns and sending you notifications when it's time to take a breather. The lightweight devices (weighing just 0.8 ounces) is easy to clip to your clothes and was designed to be waterproof in the case it accidentally finds its way into the washing machine. Spire also comes with a Breathe Guide to help teach more effective ways to eliminate stress, making it ideal for the guy who needs a reminder to slow down every once in awhile.
7
Bocce Ball set 
Nothing says summer like a lazy afternoon and a good match of Bocce ball. The classic Italian game is a staple for any barbecue or gathering. What's great is it doesn't require a huge amount of athleticism or finely tuned skilled and the game can either be played with teams or single payers. The game set features just 8 balls, so its minimal design is easy to pack up and store when not in use.
8
Cross Peerless TrackR pen
This beautifully designed pen will not only let your guy write in style, he can also be sure he never misplaces the pen again. The TrackR comes with an integrated tracking device which can be monitored using the Cross Peerless TrackR pen smartphone app. It also comes with features that allow you to locate your misplaced phone, even when it's on silent, and can connect up to 100 feet via Bluetooth. Oh, and it also has a lifetime mechanical guarantee.
9
Amazon Echo Dot
Not only can you access your favorite playlist from anywhere in your home with the Amazon Echo Dot voice-controlled device, you can also remotely control most other electric devices through voice activation. It also has the ability to schedule a Lyft ride or order from your favorite takeout spot. The Amazon Echo Dot voice-controlled device uses the Alexa app on a smartphone or tablet to turn any space into a smart-activated control center.
10
Folding bike
For the guy in your life who's an urban commuter, this will most likely win you best Best Present of the Year award. The Brompton bike is handmade in London and can be customized to suit any need. Designed to fold up into a small, portable package, exactly 23″ x 22.2″ x 10.6″, your guy never has to worry about someone cutting a lock or making off with it. Better yet, it can easily be stored under a desk, on the bus or in a closet at home.