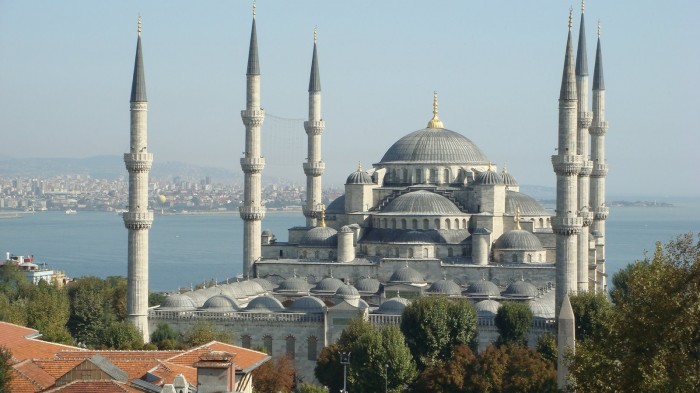 Travel
Top 10 Famous Places You Can Visit In Turkey
The Republic of Turkey has an important standing worldwide. A smaller part of this country  exists in Southeastern Europe while the larger one exists in Western Asia. There are four different seas around its border. Its capital is Ankara. Antalya is one of the famous cities that attracts many people.It is one of the secular states. It has a wonderful ecosystem that allowed a fascinating diversity. There are many kinds of plants there. You can also find 60,000 species of animals. Tourism plays an important role in the economy. It is home to 13 UNESCO World Heritage Sites. 99.8% of the population there are Muslims. Healthcare is allowed to a big number of the population. The culture there represents a mixture between Oğuz Turkic, Anatolian, Ottoman and Western culture. There are many TV channels and radio stations.  Here are the top ten tourist destinations that inspire people all over the world and attract them.
10 Hagia Sophia
At the beginning, this was a church. Later on it was turned into a mosque then a museum that exists in Istanbul. There was a large number of holy relics in the church. It was built in six years. It is considered as an element in a UNESCO World Heritage site in Istanbul.
9Ephesus
This place represents a number of Greek and Roman ruins. Among the most attractive things there are Library of Celsus, the ancient theatre and the Temple of Hadrian. There were a group of excavations that were carried out there. They revealed settlements that were established in the early Bronze Age.
8ANZAC Cove
This small cove that is located in turkey exists on the Gallipoli peninsula. During the World War I this beach was used by the Australian and New Zealand troops as a safe place place that would protect them from the enemy for a period that lasted 8 months.
7 Cappadocia Underground Cities
This area is 98 square kilometres. This place combines a group of caves that are connected under the ground. The temperature there is 13C which makes it a suitable place to store large amounts of fruit and vegetables. Nikolai Bobylev, an environmental scientist at Saint Petersburg State University says "We can use underground space for all the urban services that do not require daylight – transport, waste management, retail."
6Topkapı Palace
This is the place where the Ottoman Sultans lived in the 15th century. This palace helped in shaping the social and political life in Istanbul. This place attracts millions of tourists who come from different areas to see how creative Ottoman architecture was. This is regarded as a UNESCO World Heritage site.
5Basilica Cistern
This is one of the most famous destinations in turkey that attracts millions of visitors. It is an underground chamber that was used to store water. It includes a magnificent number of columns that provide a spectacular view. This site was used for the 1963 James Bond film From Russia with Love.
4Troy
This is a city that existed 4000 years ago. However, no one knew this until the 19th century. They thought it is mentioned in tales only without a real existence. The story of this city was mentioned by Homer in Iliad and Odyssey. It has a strategic value because it is located between Asia and Europe.
3Blue Mosque
Sultan Ahmed Mosque is one of the most famous mosques in turkey. It is known worldwide as Blue Mosque because of the blue tiles used in its interior. It was built by Sultan Ahmet I from 1609 to 1616. It is a special mosque that has six minarets.
 2Bodrum Castle
It was built by Christian knights in the 15th century. The stone walls represent a fascinating mixture between ancient and modern creation. It represents the unity of Europe in the face of Ottoman Empire. It is home to one of the most famous museums that contains underwater monuments.
1 Aspendos Roman Theatre
Aspendos is one of the ancient cities that is situated on Turkey's southern Mediterranean coast. This place can accommodate 15,000 people. The theatre that exist there is one of the best roman theatres. Its architect is Zeno who was given a garden  in return for his hard-working.
Let us explore this magnificent part of the Islamic civilization with its architecture, hotels, landscape and nightlife.