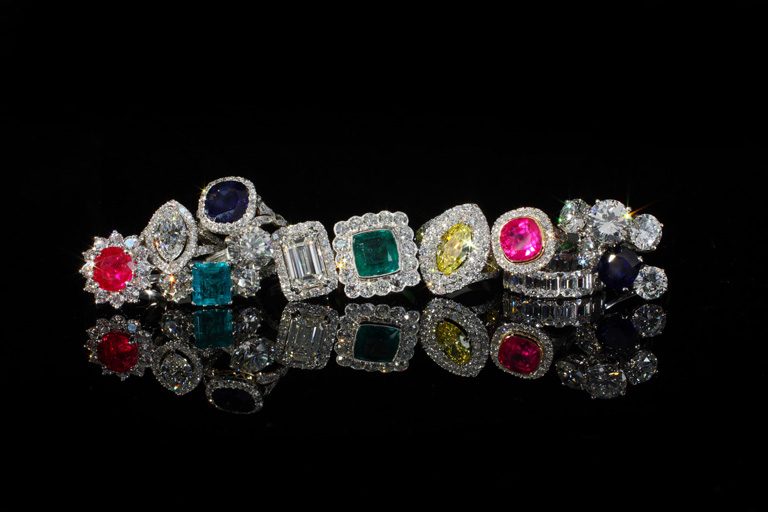 Elizabeth Taylor once said, "I adore wearing gems, but not because they are mine. You can't possess radiance, you can only admire it." Who does not fix their eyes on gemstones and their sparkling material and the lights which they emit, whenever he/she passes by. Sometimes, I get the feeling that gemstones are only there for one reason: human's pleasure. Here, we offer you the most expensive pleasure-causing stones in the worth, the amazingly high prices included.
10 Jeremejevite [$2000 per carat]
Discovered by Pavel Vladimirovich Eremeev in Siberia, which is one of the best sources for such a gemstone. Apparently, aluminum borate mineral with fluoride and hydroxide ions are effectively present in the stone. Concerning the colors, Jeremejevite can mostly be seen in blue or yellow. Moreover, some can be found in pure yellow; however, they are scarce. Jeremejevite has since been found in different regions, in Namibia, the Eifel District in Germany and the Pamir Mountain area in Tajikistan. Jeremejevite is deemed one of the most expensive gemstones in the world with the worth of $2000 per carat.
9 Black Opal [$2,350 per carat]
Have you ever heard about a national gemstone for a certain country? If you did not, then you know that opal is the nation gemstone in Australia. Actually, Australia produces 97 percent of the world's supply of opal. Opal is no mineral since it is actually an amorphous form of silica which is related to quartz. Furthermore, more than 20 percent of the weight of black opal is made up of water. The internal structure of black opal helps it emit a pool of various colours, ranging from blue, brown, gray, green, magenta, olive, orange, pink, red, rose, slate, white and yellow. But, of course, the name implies that black is the rarest and most expensive one of all.The stone has also been found in Brazil, Mexico, the United States, Mali and Ethiopia.
8 Bixbite [$10,000 per carat]
This gemstone is also known as the red beryl emerald. Bixbite is marked with rarity and is found in Sierra County in New Mexico. and in Utah, in a couple of places called Juab County and Beaver County by a Utah mineral prospector Lamar Hodges. Hodges actually discovered bixbite by accident as he was actually looking for uranium at the time. However, he stumbled upon the red beryl and voila bixbite is introduced to the world! Moreover, bixbite is unearthed from Sierra County in New Mexico. The high quality of such gemstone can be found in Violet Claim. A carat of bixbite costs $10,000.
7 Musgravite [$35,000 per carat]
Named after its primary source where it is first discovered, Musgrave Ranges, Australia. Later on, musgravite was found in Greenland, Sri Lanka, and Madagascar.However, the quality unearthed from such mines are not up to the quality extracted from Musgrave Ranges, Australia. In Sri Lanka, in 1993, two pieces of faceted gem-quality musgravite were found. It is also composed of traces of magnesium, beryllium, and aluminium in various proportions. However, it draws its worth from its rarity. Anyways, musgravite was also found somewhere in Johannesburg South Africa. It stands at $35,000 per carat.
6 Painite [$50,000 to 60,000 per carat]
In the 1950s, Arthur C. Pain discovered painite. It is regarded as a scarce borate hexagon-shaped stone as It also dazzles its viewers by the mix of colours as orange, red or brownish-red colour. Painite is composed of traces of iron, vanadium, and chromium. Apparently, painite is thin on the ground and all that, yet some have been discovered and unearthed in Burma. Painite's worth is held somewhat between $50,000 and 60,000 per carat.
5 Grandidierite [$100,000 per carat]
Well! enough with the millions right not and let's talk about simpler yet high numbers. The credit goes to Grandidier as he discovered the skeletons and remains of a half-a-ton elephant bird that has been extinct for thousands of years. The whole story begins in Sri Lanka where Alfred Grandidier discovered a gemstone that emits blue, green and white light; thus, it has been thought of as serendibite. However, it proved wrong – not serendibite. It was then called Grandidierite after its rockhound Alfred Grandidier. This genuine gemstone's worth stands at $100,000 per carat.
4 Blue Garnet [$1.5 million per carat]
The worthy gemstone is available in various colours: black, brown, green, orange, pink, purple, red and yellow. However, the title says "blue" garment so I guess you know which colours among those is the rarest and the most expensive. In the 1990s in Magdascar, the blue garnet was introduced to the world.However, since then, Turkey, Russia, and the United States have garnet mines and they have already
taken the action
to extract and take the benefit of it. If held against incandescent lighting, it radiates purple hue, owing to the significant amount of vanadium in the stone.
3 Serendibite [$1.8 to $2 million per carat]
For almost a century, Serendibite was thought to be extracted from Gangapitiya, near Ambakotte, Sri Lanka. However, then in 2005, another source of serendibite is discovered, Mogok region of Myanmar, in addition to other deposits. The splendid gemstone serendibite is named after the Arabic name of the region from which it is extracted, Serendib, in other words, Sri Lanka. Most serendibites can be discovered in a blue-green, greyish, or pale yellow colour, yet the dark ones are, believe it or not, the jewel in the crown.
2 Red Diamonds [$2 million to 2.5 million per carat]
It is not imperative for a gemstone to be pure coloured. However, the mix of colours, sometimes, renders the gemstone value and divinity. Red diamonds are thin on the ground that less than 20 of them exist, and they weigh less than a carat.However, there are nearly three weighing over 5 carats, including Moussaieff Red. They are also extracted and processed by a well known Australian mining company, yet the company declares that they extract a few red diamonds annually. At Christie's in Geneva in 2007, a rare 2.26 carat red diamond was auctioned and sold for $2.6 million, in other words, $1.15 million per carat.
1 Jadeite [more than $3 million per carat]
Jadeite is the jewel in the crown as it is marked as the most expensive and the rarest gemstone. Thus, we are pretty sure that whoever showed the $3 million for the jadeite gemstone, has not paid over-the-odds; it is worth the millions! You can define jadeite with numerous shades. However, the pure green one is the rarest and the one that we are actually talking about right now. Wait a second, where can this precious be found? At first, they were discovered in Myanmar (Upper Burma); these for the most valuable ones, of course. However, for lesser quality, they are found in Guatemala, Russia, Kazakhstan, Japan and California. At Christie's in 1997, the "Doubly Fortunate", a jadeite necklace, was auctioned and was sold for $9.3 million.