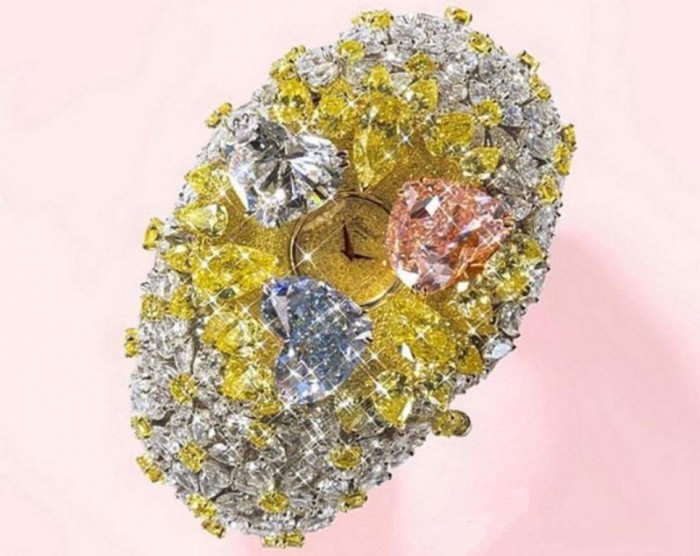 When you decide to buy a watch and ask about its price to find that it costs thousands of dollars, you will not buy it thinking that it is very expensive and unaffordable for you. But what will you do when you know that there are watches which cost millions of dollars and not just thousands to be more expensive than other items such as cars and even homes? You will be shocked and start to ask yourself Who can purchase such expensive watches? And why are they expensive to the extent that they cost millions of dollars? To know the answer to this question and more, you will need to read about the following top 10 world's most expensive watches that you did not see before. Some of the watches which are presented to you here may look normal and cheap, but what can be found in them is the main reason that makes them very expensive. So let's see and know more about our watches here.
10. Cartier Secret Watch with Phoenix Décor – $2,755,000
The watch is designed to look like a phoenix. It is made of 18-carat white gold that is plated with rhodium and encrusted with a 3.53-carat pear-shaped diamond and 3.010 brilliant-cut diamonds. This magnificent and luxurious watch costs $2,755,000 to be the cheapest on the list.
9. Patek Philippe 1953 Model 2523 Heures Universelles Watch – $2,899,373
What makes this watch expensive is that it is made of 18-karat yellow gold and a North American diagram can be seen on its dial. The watch was sold in 2002 at the watch auction house Antiquorum for just $2,899,373.
8. Piaget Emperador Temple Watch – $3.3 million
Once you see this watch, you will immediately know why it is very expensive. The watch is designed to look like a pyramid and it opens up to find that it has two faces. The first one is small and its face is made of Polynesian mother-of-pearl while the other face which can be found under the first one is bigger and features one minute tourbillon and power reserve indicator. The whole watch is completely encrusted with fabulous diamonds and gemstones as there are 643 brilliant-cut diamonds, 218 baguette-cut diamonds and one emerald-cut diamond on the top of the case. The bracelet of the watch is encrusted with 350 baguette-cut diamonds.
7. Patek Philippe 1928 Single-Button Chronograph Watch – $3,637,408
It is a 34mm single-button chronograph watch that is designed to look like a cushion. The watch is made of 18k white gold and it ha Breguet numerals on its dial. The watch was sold at an auction in 2011 for $3,637,408.
6. Patek Philippe 1939 Platinum World Time Watch – $4,026,524
It is a world time watch that allows you to know the time at any place around the world. The watch was sold at an auction in 2002 for $4,026,524.
5. Louis Moinet Meteoris Watch – $4,599,487
It is a set of four-tourbillon watches and they are designed to depict the solar system as each one of them features a rare meteorite. There is Tourbillon Mars, Tourbillon Asteroid, Tourbillon Moon and Tourbillon Rosetta Stone.
4. Patek Philippe Reference 1527 Wristwatch – $5.63 million
The watch dates back to the World War time which makes it a large-sized watch at that time but now it is considered to be a medium-sized watch. It features a 37mm dial, gold Arab numerals, an 18K yellow gold chassis, silvered matte dial, 23 gemstones and chronograph with moon phases.
3. Patek Philippe Calibre 89 – $6,000,000
It is a 1.1 kg pocket watch that was manufactured in 1989 to celebrate the 150th anniversary of the company. This watch was the most complicated one in the world at its time when it was created as it includes 1,728 components and was manufactured in 4 years. This watch unbelievably weighs 1.1 kg thanks to the large number of its components including a star chart and a thermometer.
2. Patek Philippe Henry Graves Super Complication Pocket Watch – $11,000,000
This gold pocket watch is a result of a competition between two persons who are the banker Henry Graves and the automobile manufacturer James Packard. They competed to own the most complicated watch in the world and this is why Henry Graves resorted to Patek Philippe to get his watch manufactured. He succeeded to own the most complicated watch in the world that is made of 18 karat yellow gold.
Now
It is time for the world's most expensive watch to be revealed
It costs
$25,000,000
1. Chopard 201-Carat Watch – $25,000,000
This watch is manufactured by Chopard and is completely encrusted with diamonds to the extent that it is difficult for you to see the face of the watch to read it clearly. It is ranked as the most expensive watch in the world thanks to the number of diamonds that are used for decorating it as it is encrusted with 11-carat white diamond, 12-carat blue diamond, 15-carat pink diamond and 163-carat small diamonds to make the total weight 201-carat and this is the main source of the name of the watch. The diamonds can be found in different shapes, sizes and colors as there are 3 heart-shaped diamonds, 139 round diamonds, 289 pear shaped diamonds an 443 yellow diamonds to make the total number of diamonds which are used for covering this watch is 874 diamonds.