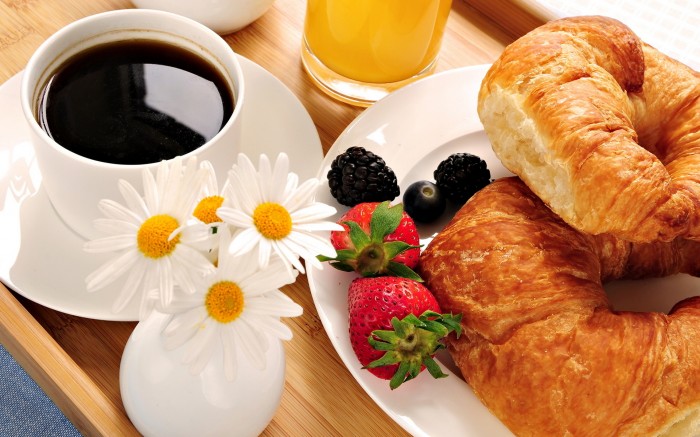 Breakfast is the most important meal for our health as it provides our brains and bodies with the needed energy throughout the day especially at the beginning of the day while working. There are several breakfast ideas that can help you to enjoy having your breakfast in the morning. If you want to know more about the various ideas of breakfast around the world, you should read this article. Here in this list, you will find ten of different breakfast ideas in many countries.
10 An Egyptian Breakfast
The Egyptians prepare many kinds of food that are very delicious such as Ful Medames with eggs. This dish combines eggs with fava beans, you can also add fried eggs as a side dish to make the breakfast more delicious. Also, you can try Shakshouka that is a combination of eggs, tomato, green pepper and onion. So, if you try the Egyptian breakfast, you will enjoy it.
9

 A Japanese Breakfast
If you visit Japan, you will enjoy the delicious Japanese breakfast there. In Japan, you can start your day in the morning with Steamed Rice and Miso Soup. If you want to complete your meal, you can add protein and vegetable dishes. There are also Tamagoyaki, which is a kind of rolled omelette, and Hourensou No Gomaae, that is a kind of Spinach Salad with Sesame Sauce.
8 A Chinese Breakfast
In China, you can eat Crullers or (You Tiao). This dish consists of Warm soymilk with a couple of fried crullers on the side for dipping. It's like unsweetened doughnuts and coffee. You can add to your meal Scallion Pancake that has delicious ingredients including crispy pancake that is chewy and layered with nuggets of green onion.
7 A Russian Breakfast
For your breakfast in Russia, you can try Grenki that is a very delicious meal in the Russian kitchen. This meal consists of eggs, milk and white bread loaf. You can make your meal more delicious with jam, cheese or sausages. Also, you can try Kutia with Rice and Raisins and the main ingredients include rice, raisins, cinnamon and sugar. This dish is a very traditional one in Russia.
6  A Hungarian Breakfast
There are a lot of tasty foods on the Hungarian breakfast list such as Rétes (Hungarian strudel) which is a strudel-like log of pastry stuffed with fillings such as apple, cherry or poppy seeds and topped with powdered sugar. Also, you can try Kifli (crescent bread) that can be eaten with butter or sliced in half and topped with cheese, meat or peppers as a sandwich.
5 A Korean Breakfast
Before you read about the next Korean meal, you should know that the traditional Korean breakfast has rice, soup, meat and a full array of side dishes. You can try tost-u (toast) or gaeran tost-u (egg toast). This kind of sandwiches contains eggs, cabbage and a liberal dusting of brown sugar with toast. This sandwich is sold by street vendors in cities, so it is a very common one. Another common Korean breakfast consists of fried eggs, fruit, Japanese-style white bread from a Korean bakery and some local strawberry butter.
4 Jordanian Breakfast
In Jordan, you can eat the delicious Falafel. You can try balls of fried chickpea flour and the best of Middle Eastern spices. With this delicious dish, you can enjoy Fattuosh which is a kind of chopped vegetable salad that contains for example tomatoes, cucumbers, radish…etc. Also, you should try fried flatbread with olive oil, lemon juice and sumac to make it tastier.
3 An English Breakfast
This kind of breakfast is a very delicious one since it consists of orange juice, cereals, stewed or fresh fruits to start your meal. Then, you will have bacon and eggs with sausages, grilled tomato, mushrooms, tea, toast, and marmalade. So, this meal is full of a lot of useful ingredients that make it deserves the name of a "Full English Breakfast".
2 An Iranian breakfast
In Iran, you can enjoy Sobhaneh for your breakfast. This breakfast consists of pita (lavash), barbari bread or sangag, feta cheese or butter, walnuts, fruit jam or honey with sliced cucumbers and tomatoes. Also, you can enjoy Dizi Sangi, which consists of a long-simmered stew of lamb shank, boneless rib meat, onion, white beans, potatoes and tomatoes. So, you will enjoy your breakfast in Iran.
1 An Italian Breakfast
One of the most delicious dishes in Italy is Italian Frittatas that consists of fried eggs with salami, roasted sweet peppers and mozzarella which is baked in a ramekin. Also, there is the most traditional breakfast in Italy which consists of cornetto and cappuccino. This meal contains croissant, filled with cream, chocolate or jam and Cappuccino. So, enjoy your breakfast in Italy that is the land of thousands of breakfasts.
To sum up, all the countries have many kinds of meals that make them distinguished from each other.