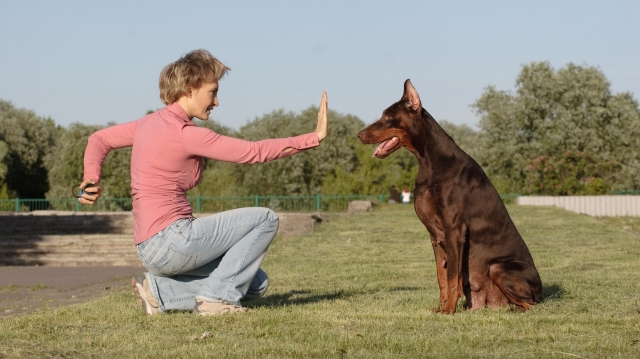 Animals
Top 10 Best Dog Trainers in the United States
The dogs are the best friends but it seems that this is not the same thing for all dog owners. What does this mean? There are too many problems that you can face with your dogs such as jumping on people, dragging you along walks, refusing to obey you or even coming to you when called, climbing furniture, stealing food, barking at visitors, chasing different things such as dogs, cats, cars and more destructive actions that annoy you and leave you confused without knowing what to do or how to solve these problems wishing that you can get rid of your dog to live a peaceful and quiet life without more destruction.
But why leave your friend while you can find professional dog trainers or calming products that can help you to handle all the problems from which you suffer from your dog? Here is a quick glance at the top 10 best dog trainers in the United States beginning with the least famous to the most experienced and famous ones.
10 James Hamm
James Hamm or The Lonestar Dog Trainer is an off-leash dog and puppy training expert. He trains both people and dogs to allow dog owners to solve their problems with their dogs such as anti-social and stressful behavior. Your dog is taught how to behave off-leash which helps you as a dog owner to freely enjoy your time with your dog and have more fun. James Hamm provides different services in Central Texas and even outside it such as puppy consultations, board and train programs, puppy boot camps and there are also private dog training lessons [Check these dog effective products].
In California, you can find Linda Michaels who is a certified professional dog trainer. Through using positive dog training methods that are really effective, she can easily train all dogs and solve all problem behaviors. She focuses more on dealing with the main factors that are responsible for causing the problem behavior instead of just treating the symptoms. Private lessons, behavior consultation, and phone consultations are among the services that are presented by Linda Michaels. [Learn how to train your dog easily]
Through Toledo Dog Training, Tonya Wilhelm provides positive dog training services not just locally but globally as well. Working as a full-time dog training expert for over twenty years has allowed her to help thousands of dog owners to start happy relationships with their dogs. The dog owners get the needed tools and learn the necessary skills for the positive training of their dogs. Tonya provides different dog training services such as weekend dog retreats and camps, dog workshops, dog behavior lectures, group and private dog training classes in addition to online dog training services via the internet and even phone.
Brian Kilcommons is one of the best and most experienced dog trainers in the United States. He is highly admired and is not just a dog trainer as he is also an author. He is known to be the author of pet training manuals and has published several books. Seven of his books are written by him and his wife Sarah Wilson who is also a dog trainer. Because Kilcommons is a perfect dog trainer, he trained the dogs of many celebrities and this is why you can call him the dog trainer of the celebrities or the stars. He has trained more than 35,000 dogs and believes that saying "NO" to dogs is a useless method to prevent them from doing something because this word is abstract for them and they do not understand its meaning.
Martin Deeley is widely known as a professional canine behaviorist and dog training expert. He is also called the Florida dog trainer making him one of the best dog trainers not just in the United States but in the whole world. Martin is the director of the International Association of Canine Professionals and appeared several times with Cesar Millan for giving dog training advice. He provides different services such as one on one dog training whether it is at the Montverde Training Center or in your home, board and train dog training and there is also puppy training which is the right start for any dog owner.
Larry Benoit helps you to turn your dog into a well-behaved pet for a better relationship between both of you. He trains all dogs starting from 12 weeks and older. You will learn how to train your dog on your own and the classes last for just one hour each. There is a homework that you will do every week with your dog and the family members are allowed to attend and watch the class. The dog training services that are provided by Larry include basic and advance dog obedience, group dog training classes, private dog training in your home and there is also intensive dog training in Larry's house.
Dr. Ian Dunbar is not just a professional dog trainer as he is also a veterinarian and animal behaviorist. He has written several books such as How to Teach a New Dog Old Tricks, AFTER You Get Your Puppy and more books and DVDs about puppy and dog training and their behavior. Dr. Ian Dunbar is the first one in the whole world to design and teach off-leash puppy socialization and training classes and this was in 1982. Dr. Ian appeared on several television and radio programs not just in the United States but also in other countries such as Japan. He appeared in Dash Village in Japan and Today Show in the United States. He also hosted "Dogs with Dunbar", which is a famous UK television series, for five seasons.
Kyra Sundance is not just a good dog trainer but she is also a perfect author. She has written numerous books about training dogs and puppies not just for adults but also for kids. There are many perfect and interesting books which you can make use of to solve your problems with your dog or puppy such as "101 Ways to Do More with Your Dog!, The Dog Tricks and Training Workbook, 101 Dog Tricks, The Dog Rules, 10-Minute Dog Training Games, 51 Puppy Tricks, 101 Dog Tricks: Kids Edition" and more. Training dogs for Kyra is a lifestyle and is also about involving your dog in your life through sports, training and more.
Zak George is an American broadcaster and one of the most famous dog trainers not just in the United States but in the whole world as well. Zak George does not only focus on training dogs, but he also aims to make people learn that training dogs with being based on the relationship are the best and most effective way to get the results that they dream of. According to Zak George, using loving and positive methods while dealing with your dog will help you to create a good relationship that lasts forever and you have to avoid force and superstition while training your dog. Zak George is also known for presenting different interesting shows such as Who Let the Dogs Out? on CBBC UK kids channel, SuperFetch in 2009 and other shows on the Animal Planet channel.
It is difficult to find a dog owner or even a dog lover who does not know Cesar Millan or at least heard something about him. Cesar Milan is a Mexican dog trainer who is widely known for many people around the world and not just in the United States. Cesar was born in Culiacán, Sinaloa, Mexico and worked with animals on his grandfather's farm. He was also called the dog boy in his country which reflects his passion for dogs and training them.
Cesar moved to the United States when he was 21 years old and started his life there working as a dog groomer and walker. What increased the popularity of Cesar Millan to be a well-known character in different countries around the world is his television series Dog Whisperer with Cesar Millan which was broadcast in over eighty countries around the world starting from 2004 to 2012.