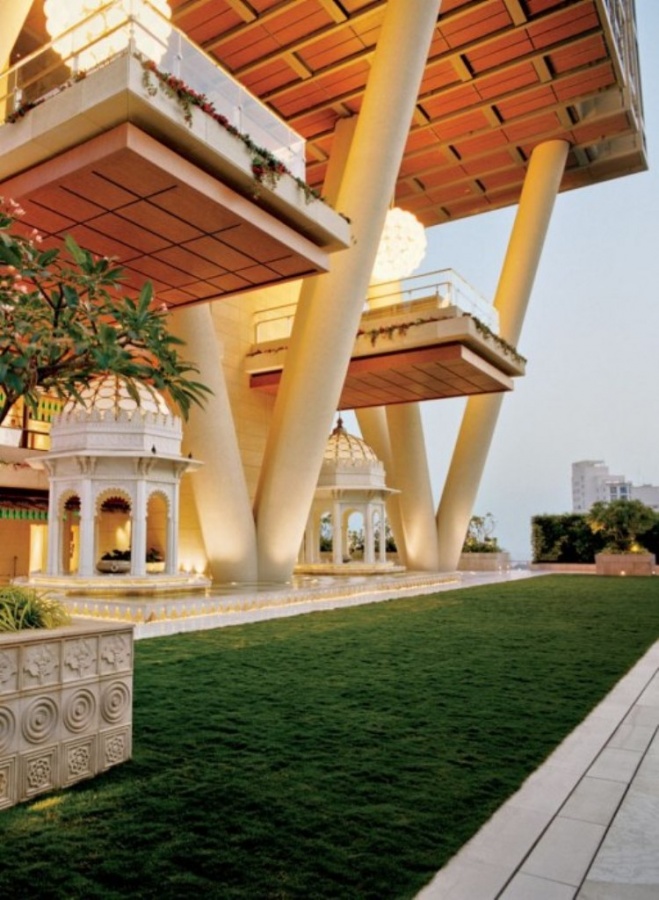 We do our best and try to earn money to be able to find a beautiful home to live in and spend our time in. We spend a lot of money getting this place in which we rest our bodies, minds and enjoy our time with the whole family. What we spend on our homes does not exceed thousands of dollars, however, we consider these homes as the most expensive ones. So, what should be said about the homes that cost millions of dollars?
Such multimillion-dollar homes feature all the amenities that you can imagine to live the most luxurious life on earth. It is not only celebrities who own these homes as there are other people around the world who are unknown to us but very wealthy and invest their money through purchasing an extravagant home to enjoy their unique life. For more information about these homes, their owners, and what these homes feature, we present to you the following top 10 world's most expensive houses.
10. Dracula's Castle – $135 million
This castle that is also known as Bran castle is located in Romania and is possessed by Arhduke Dominic. It was turned into a museum in the 1980s and it consists of 57 rooms and 17 bedrooms. The castle that contains antique furniture was put to sale by its owner in 2007 and it costs about $135 million.
9. Updown Court – $139 million
It is located in Windlesham, Surrey, United Kingdom. The land on which this home is built is 58 carats and the home features 103 bedrooms, horse barn, private cinemas, squash and tennis courts, bowling alleys, marble driveway that can accommodate 8 limousines and other amenities that allow you to enjoy your time without getting bored.
8. The Manor – $150 million
This mansion is located in Los Angeles, United States and is known as the most expensive celebrity house as it is owned by Aeron Spelling who is a famous television producer. It was built in 1991 on a 4.6-hectare land to look like a French chateau. It features 123 rooms, swimming pools, bowling alley, cinema, tennis courts, beauty salon and spa in the attic, three kitchens, four garages, skating rink, orchard, modern gym and several gardens including 18th century style gardens around the mansion, orange gardens and roof gardens.
7. The Pinnacle – $155 million
It is a unique house that is located in Montana, United States and is possessed by Tim and Edra Blixseth. It allows you to enjoy skiing thanks to its location and it features many facilities that help you to overcome the cold weather such as fireplaces that are placed in all bathrooms, heated flooring system that can be found everywhere in the house in addition to other amenities such as 10 bedrooms, gym, large wine cellar, massage room and gym.
6. Franchuk Villa – $161 million
It is a Victorian style villa that is located in Kensington, UK and is possessed by Musa Salem who is a Lebanon's developer. The house consists of 6 floors and among the amenities that can be found in this house are private cinemas, swimming pool in the basement, news room, panic room, gym and a large garage.
5. Hearst Mansion – $165 million
This fascinating mansion is located in Beverly Hills, United States and was built by William Randolph Hearst who is an American newspaper publisher. It was sold in 1976 to Leonard Ross who is an investor and a lawyer. The mansion is built on a 6-hectare land and features 6 separate residences, 8 fireplaces, 29 bedrooms, tennis courts, 3 swimming pools and a nightclub to enjoy your time and never to get bored in such a place.
4. Fairfield Pond – $198 million
It is built on a 63-acre land and is located in The Hamptons, United States. The house is possessed by Ira Rennert and features many amenities that make you live a luxurious life such as 29 bedrooms, 39 bathrooms, private bowling alley, 5 tennis courts, basketball court and a hot tub that costs $150,000 which makes some people believe that this house is a retreat place or spa. This home costs $198 million to be the most expensive one in the United States.
3. The Penthouse – $200 million
It is just an apartment that is ranked as the most expensive flat not just in the United Kingdom but in the whole world. It is located in Hyde Park, London, United Kingdom which means that it allows you to enjoy the breathtaking views of Central London. The apartment features a car park, wine tasting room and allows you to have access to squash courts and spas. The apartment is highly secured as it features iris scanner, panic room and bulletproof windows.
2. Villa Leopolda – $736 million
It is the most expensive house in France and the 2nd most expensive house in the whole world. It was built in 1902 for King Leopold II and was sold after that to Edmund Safra. This villa is located in Cote D'Azur, France and features a private beach front which is known to be the catchiest in the south of France. There are many amenities that are offered at this villa such as 11 bedrooms, 14 bathrooms, swimming pool and large gardens with lemon, cypress and olive trees.
1. Antilla – $1 billion not million
It is the most expensive house in the world and is placed at the top of the list as it costs $1,000,000,000. This 27-storey house is located in Mumbai, India and is owned by Mukesh Ambani who is the 5th richest man in the world. The house is 40,000 square feet and features everything you need, think of or even imagine to have in your real life. All the amenities that are required for living the most luxurious life on earth can be found in this house to the extent that you find all the floors are different and there are not two floors which are the same. The house features a health centre with Jacuzzi, ballroom for dancing, yoga studio, ice room, swimming pool, bar, gym, Krishna temple, library, helipad, a four-storey garden and garage that lies in six floors to accommodate 168 cars. There is a staff of 600 people taking care of that house and the maintenance activities that are required there.
How much does your home cost?!!!!