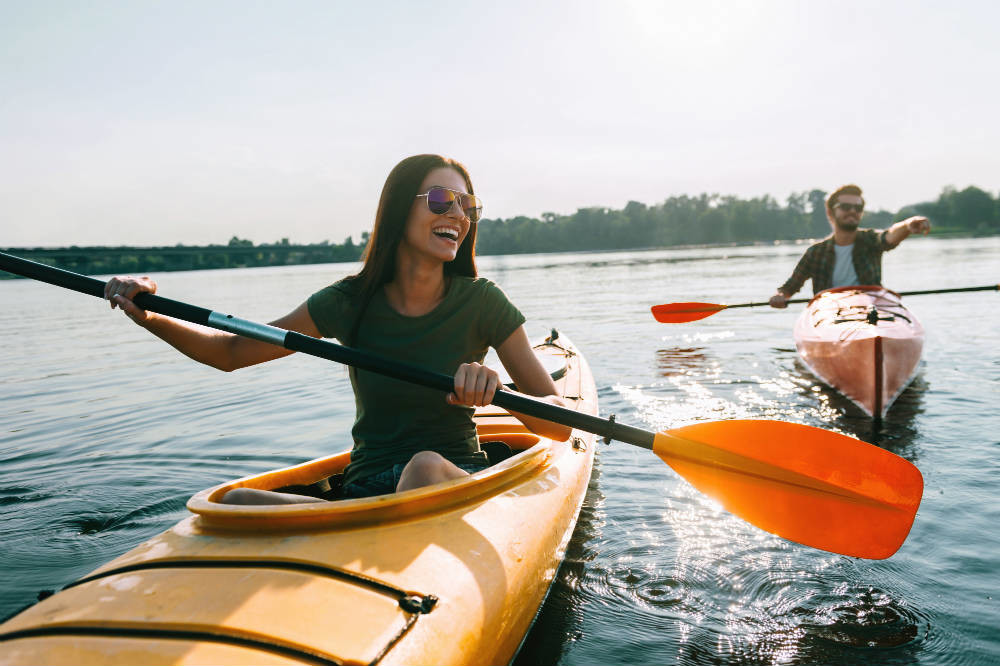 Travel! It's that time when you can get away from mundane life and explore a beautiful locale. Whether it's for pleasure or business, most of us love to travel. And we cannot avoid taking a break from our routine. When you are on vacation, you finally get to relax and forget about timetables and schedules. However, that's no excuse to neglect your exercise or go all out gorging on junk food. If you are on a trip, don't waste time by lazing around. Would you want to get back to your routine with all that holiday fat? If no, there are ways you can stay in shape while enjoying your vacation. Fitness and travel go great together. By indulging in some activity and exercise during your trip, you are not only doing your body a favor, but it's also fun and refreshing to exercise in a new place. We are all creatures of habit and have certain routines that we strictly follow, whether it's diet or exercise. But when we travel, it's difficult to stick to them as nothing is familiar, and it can mess with our habit. Here are 10 ways that will help you stay fit even when you are traveling
1 Walking Around
Okay, so you are at this beautiful location, and the weather seems right. Why not take this opportunity for a little bit of walking? You can rise early or head out in the evening and just explore the place. You don't always need to go long distances by taking a cab or a bike; you can always walk around and check out the places around you. Find a park to walk around. It might not be as good as a gym workout, but it sure is something. In addition to walking, you can also do some exercises.
2 Use The Stairs
You might be staying at a relative's or a hotel. No matter where you stay if you are not on the ground floor, use the staircase. Don't be too lazy and opt for the lift, unless you have luggage. Otherwise, taking the stairs is good for your body as it is a very effective cardio workout that also strengthens your bones and muscles. You can run up and down the stairs a couple of times to pump up your body. It works great for your legs as well as overall fitness.
3 Pack Equipment
Okay, I don't mean pack your dumbbells or barbells. Finding space to keep them and even carrying them around would be impossible. But, you can surely pack resistance bands or skip rods.They are lightweight and don't even take up much room. You can exercise along with a group of friends or alone. You might have experienced horrible cramps everytime you start working out again after a long break. To avoid that, whenever you get some free time, pull them out and work on a few stretches. That way, your body will always be accustomed to exercise.
4 Indulge In Outdoor Sports
If you are with a group of friends, what better way to stay fit than to play sports together? You can either go cycling or run together. There are many things you can do to sweat it out and get your heart rate up. When you are exploring a new city, you can always indulge in athletic activity to spice up the fun. Club a bike tour or walk tour with other fun activities like volleyball or football at a park. You will be engrossed in the beautiful location and enjoy yourself so much that you will barely notice the strain and keep going until you are drenched in sweat.
5 Water Games
Sports is a great way to squeeze some exercise into your trip. However, water sports double the fun and effect. If your destination is near a water body or pool, make sure to utilize it to get that beach body and, not to mention, a beautiful holiday tan. Swimming is a great full body workout. There are so many other activities you can do in water, like kayaking. It works well on your core and upper body. And while you are at it, you can mix sports and fun at the beach with beach volleyball or other pool games. The buoyancy and resistance of water help work those muscles and give your body an intense workout.
6 Hiking
Are you at a beautiful hill station? Then, what better opportunity than now to go hiking? It not only lets you enjoy the beautiful scenery and fresh air, but it also challenges the body for an intense exercise. You will be so captivated by the breathtaking view that you won't realize you are working out. The more you keep going ahead to find a better view, the more you push yourself further. Don't forget to wear appropriate clothing and shoes for a hike because you can't risk a nasty fall.
7 Follow Your Diet
While cheating on your diet is okay once in a while, do not let go of your diet for a long break. Don't make travel an excuse to indulge in unhealthy eating and drinking habits. You can always monitor your food, no matter where you go. There's nothing wrong with treating yourself, especially while traveling, but that doesn't mean you should forget all the effort you've put in so far to stay fit. Look for healthier options when you go out to eat and avoid intake of too much junk or alcohol because the after effects may show up post vacay.
8 Yoga
Even if you don't practice yoga regularly, make it a point to practice it when you travel. Because it's good for your body, mind, and soul. And it keeps your body fit. Yoga has practical results as it helps you adapt to the new environment while maintaining you in shape. All you need is a yoga mat, and you are ready to go. Find any peaceful spot and give yourself an hour or so to relax and do a few yoga poses. Even if you have any bad cramps or a headache due to the strenuous travel, yoga can fix all of that and more. Wherever you are in the world, yoga is the best way to remain fit.
9 Local Activities
Some places may have a few festivals or tribal rituals that are currently happening at that time. Do not miss the opportunity to participate and witness these beautiful celebrations. You can take part in dance and other activities, and it will just be like a fun workout. You will come across locals gathering and dance in celebration or even playing games. Don't hesitate to participate because you get to experience the culture of the place and also get a good exercise while you are at it.
10 Cardio In The Hotel Room
This one is a no-brainer. You can just practice an intense workout session with push-ups, squats, sit-ups, or planks in a limited amount of time and a closed space. All you need is an empty room and some music to pump you, and you are ready to go. Take this time to keep fit and in shape even when you are traveling. And if nothing works out, you can always find a CrossFit gym nearby and join for a couple of days.
Don't be overwhelmed by a big city and lack of time. Plan out athletic activities that can be indulged in while you are out. Exercising while you are on the road or traveling to a beautiful location is a challenge for many people. If you are passionate about fitness, step out of your comfort zone and be adventurous. Grab any opportunity to work that body. Travel is all about meeting new people, experiencing new things, and collecting memories. So, on your next journey, don't compromise. Bring on your A game, and when you return home, you will not only have a bag full of fun memories but a waistline to kill for.
Guest Poster:
Nisha has a great passion towards writing and loves the idea of sharing. She has written many articles on yoga, fitness, wellness, remedies, and beauty. She keeps reading articles on different blogs that gives a kick to her passion and provides her with different ideas. She is growing day by day and mastering herself in writing appealing articles. She is a regular contributor to StyleCraze.com & Other few websites too.