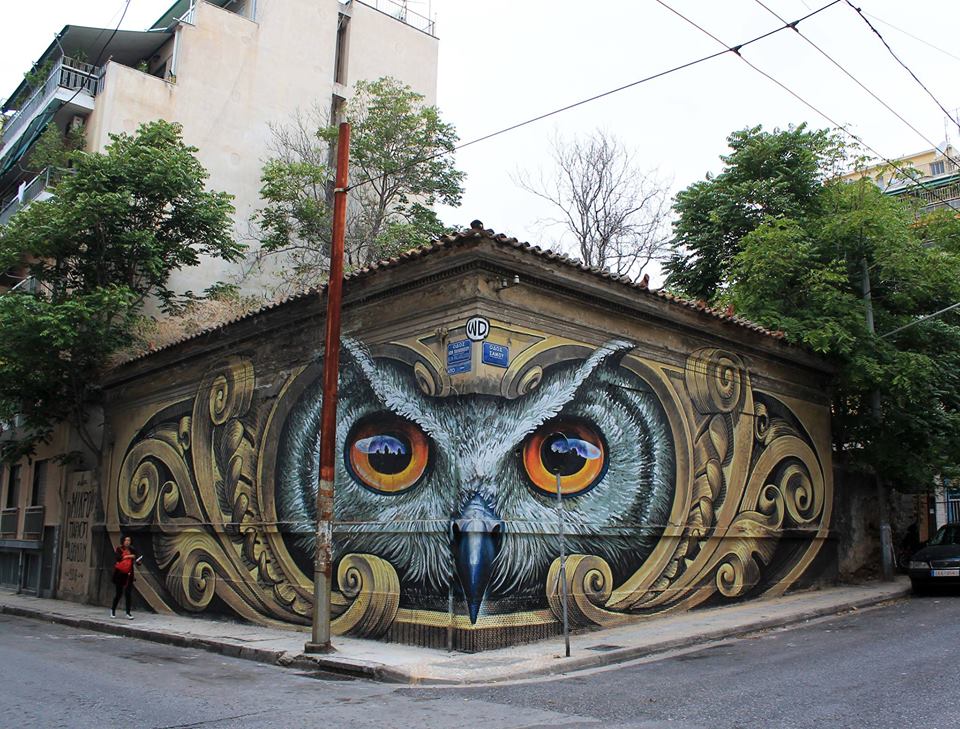 Arts
Top 10 Most Talented Graffiti artists Around the World
In our modern world, a lot of art forms have been introduced to us. Thankfully, graffiti has been one of them. In case you are not sure what this art is; it is the art of drawings and writings with paint on the walls or any other surface, and this art is often performed in public for everyone to see and admire. Although it has become lately popular, the roots of this art go back to the ancient times, especially in Ancient Egypt and Greece. It may be a public form of art, but painting or marking other people's properties without their permission is deemed to be a crime that the performer should be punished for. The materials currently used to perform graffiti are mainly a spray paint and marker pens, also known as sharpies.
Getting into the core of the topic, graffiti is one of the art forms that is used to express convenient messages that are related to either social or political issue. This form of art has been debated about for a long time and it has received a lot of disagreements from law enforcement and the officials of the city. Graffiti has been quickly developing and, like any other form of art, the copyrights of the artists need to be protected. Meet the top ten most talented Graffiti artists around the world.
10 KEF! Art
KEF!
is a graffiti artist who comes from a small village in Germany. Currently, he lives in London. He has been popular for his unique and fascinating style. The curves he paints are famous for being smooth and pleasant, expressive positive vibes. This artist chose KEF! as the name of fame as it means scar; he believes that art is actually part of his skin, just like a scar is, so KEF is the perfect way to define his passion for art. His real definition of art means being a part of your own identity; something that you can never get rid of. KEF Started developing an interest in this art when he was 14 years old and once his teenage years were over, he decided to take his art game more seriously; as a result, he left for London where he mastered painting in the most innovative ways and styles ever. His skills became more multifaceted and complex and his inspiration came from nature and philosophy and that was reflected in his exceptional creations. KEF partnered up with an American brand where his art gets displayed in their stores, so his art is getting more popular.
9 RATUR
Charles Corrot is an artist who is passionate about urban art. He started by creating street art and graffiti in 2015 and posting pictures on
Instagram.
His account rapidly gained a lot of followers and witnessed big success; as a result, Charles decided to create a website entitled StreetArtAndGraffiti.com. He had his team and he created an online gallery for Street Art. This gallery is dedicated to artists who want to have their own artworks sold.
has been fond of drawing and painting since a very young age and during her high school years, she got introduced to the art of graffiti. She was a female figure that was recognized by her hair and flops; she used her hair to inform her fans of the changes that she goes through. Her work has been exhibited in galleries in France as well as abroad. Vinie
7 L7matrix
L7m is an abbreviation for Luis Seven Martins. He was only 13 years old by the time he got introduced to spray paints. Luis has tried using different techniques in order to create his own and unique one until he finally created a whole new method by using china ink, latex, pastel and acrylic as his main materials for painting. Those trials have helped him in exploring a lot of different approaches, making him closer to reaching a mastered level in the art of graffiti. However, Luis stated that he loves using the traditional tools as well, including spray, acrylic, and in some cases he may even use Coke. Luis has succeeded in combining colored puzzles and geometrical elements with realism; he believes that this form of art is capable of awakening mixed emotions inside the beholders and that's what makes his art perfect, especially that this artist gets his inspiration from life without excluding anything from it; he likes its beauty as much as he likes its sorrow. This unusual source of inspiration has helped him develop an elegantly chaotic piece of art. Consequently, Luis was capable of entering that fascinating world of art without being distracted by his own thoughts or feelings because, simply, they were all focused on this exceptional art of the streets.
6 ALIAS
They are known as the Berlin Street Art and they admit of being highly addicted to Street Art. Their passion started to surface when they started photographing random street art and then, they started painting their own art and documenting it as well. Thanks to the social media, they have also developed their own page on several social media platforms, especially on Facebook. Berlin Alias Street Art has developed a huge international network, using it for supporting street art and artists. They have also run several exhibitions nationally and internationally. They use their knowledge in providing pieces of advice for beginners.
Alice
has also partnered up with the Italian Cultural Institute of Singapore and Uruguay, and she was also asked to paint the facade of the Museo Italiano in Melbourne, where she also had a solo exhibition for displaying her exceptional artworks. Alice has also completed projects with high-profile companies, including Nike, Range Rover, Toyota, Canon, and Microsoft. Besides, her work has been featured in several publications such as The Wall Street Journal, Vanity, New York Times International, and a lot more.
4 Mr Dheo
MrDheo was born with art running through his veins. His talent started to surface when he was as young as three years old; he started to copy sentences from magazines and newspapers and draw all on his own. Surprisingly, he hated the art class in school, for he liked developing his own techniques without being impacted by any basics or instructions, so his skills were given the chance to evolve flawlessly. At the age of fifteen, his interest in the art of graffiti has started to surface up, turning his drawings into letter studies and then he started street painting. He met other artists who shared the same interest of his. Mr.Dheo has been painting for almost seventeen years now, and he succeeded in leaving his imprints around a plentiful of cities all around the world. He also succeeded in partnering up with international companies, but he claims that nothing can beat the perfection of the streets walls in paint.
WD stands for Wild Drawing. This artist has earned several degrees in Fine Arts as well as Applied Arts. He was born in Bali, but his artwork is mainly in Greece. He started taking street art as a profession in 2000 and has been doing so up till now, developing his own techniques and paving the way to be one of the most talented graffiti artists around the world.
Alexandre Farto is Vhils's real name. He is a Portuguese street artist who grew up in the outskirts of Lisbon. Vhils studied at the University of the Arts in London, Central Saint Martins, and Byam Shaw Fine Art Skills and Practices. He grew up during times of political conflicts that resulted in too many destructive walls around due to the impact of wars, so Vhils has decided to break through all the layers of posters, dirt on the wall and start a brand new, fresh positive drawings everywhere. He started gaining popularity for beautifying the streets until Banksy's agent, Steve Lazarides, decided to give him an additional space where he can create his street art. Vhils was known for using unique and exceptional techniques in his artwork; for that, his work evolved rapidly. He has also worked as a photographer alongside other photographers who established a team together. He is also known for starting his process with specific tools, including drills, chisels, hammers, bleach, etching acid, and other tools. His experiment of removing layers of dirt to create art has taught him that people are just like art; you need to eliminate some layers that include the impact of society and history in order to find purer layers of human beings.