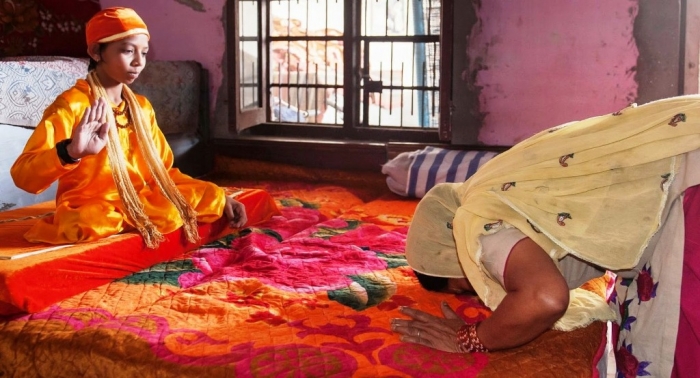 It is a normal thing to see an animal with a tail, but have you ever seen a human being with a tail before and what does s\he look like if this is true? You may say that it is impossible and there is not a human being who has a tail on earth. You are true as when we hear something like that we will think that the person who says that is crazy or just lying to attract attention to him\her, but when you see this with your own eyes you will believe it. The question is how does this happen and why does this occur to a specific person and not to others? Our story is about an Indian teenager who has a short tail which is 7 inches. The teenager is called Arshid Ali Khan and he is just 13 years old. He lives in the state of Punjab with his grandfather, who is called Iqbal Qureshi, and two uncles after the death of his father and the marriage of his mother.
Arshid turned from just an ordinary teenager to an extraordinary boy who is considered by locals as a divine symbol and is called Balaji. This boy is worshipped like a god by the people in his state thanks to the seven-inch tail that he has. He helps the locals to make their wishes come true by praying to god and this is why people go to him. According to Arshid's grandfather, Arshid began to talk for the first time when he was just one year old and he started with saying the names of gods in different religions which made his grandfather believe that he has something divine.
The home in which Arshid lives turned to a temple for the locals who come to worship him, receive his blessings and of course touch his unique tail. The locals believe that by doing that, all of their wishes will come true as there are childless couples who have become able to conceive after being blessed by Arshid.
This unbelievable tail forces Arshid to use a wheelchair as he cannot walk like other ordinary people. He suffers from walking problems and this is caused by brittle bones according to some doctors, while there are other doctors who say that he cannot walk because of his tail that protrudes from his spine. Some doctors also think that the main cause of Arshid's problem is a meningocele which is a form of spina bifida. A doctor says that he can remove Arshid's tail successfully, but his family is afraid and thinks that it is better for Arshid to stay the same as he is without being able to walk than risking his life and undergoing a dangerous operation.
Arshid tries to live an ordinary life like other teenagers at his age and this is why he attends his school and plays with his friends although he cannot walk. He believes that people will continue to worship him and believe in his abilities to make their wishes come true even after removing his tail.
The question is
If Arshid can really help others to solve their problems and make their wishes come true, why does not he try first to help himself and get rid of the problem from which he suffers?