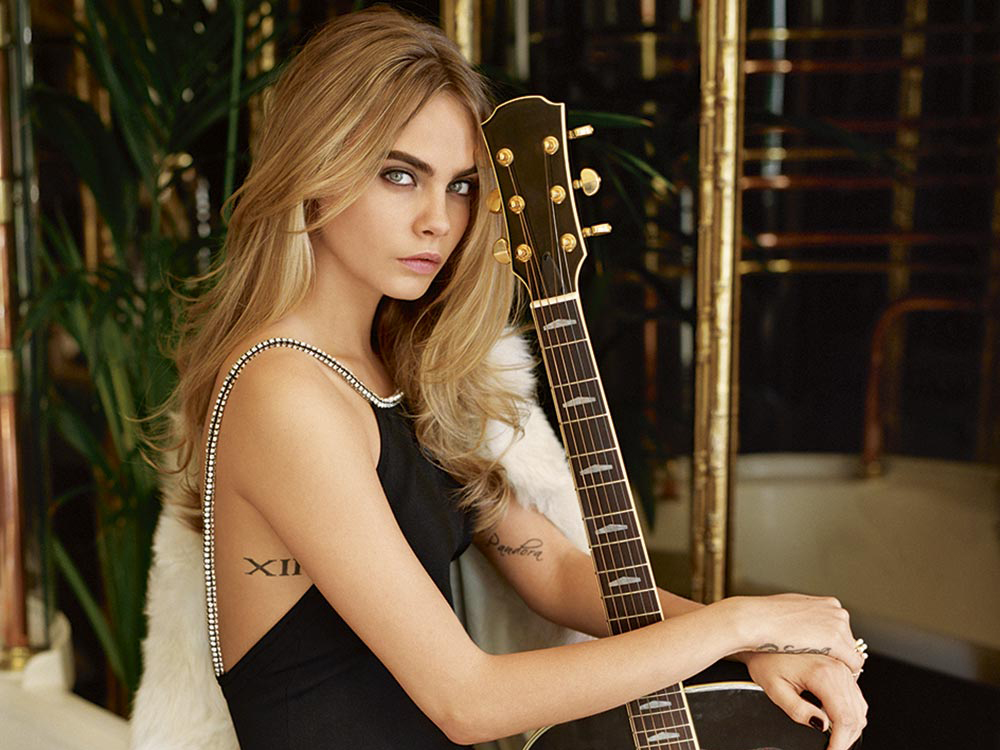 Modelling is the dream of almost all young girls all around the world, however dreaming is not enough at all to be a super model. In order to be a model, there are certain characteristics that must be available in every girl who wants to enter the career of modelling such as weight, height and beauty. Yet, do not ever think that this path is easy or free of obstacles. So before deciding to be a model you have to know that you will have to work for long hours, you will not be able to eat freely and you will be surrounded by many people.
In addition, if being a model is hard, being a successful model is even harder. That is why you must know that you have to work hard to be a famous and successful model. Here is a list of the top 10 most famous female models around the world.
10 Kate Moss
Kate Moss is a well-known British model who was born in 1974. She started her modelling career at the age of 14 after she was discovered by Sarah Doukas. During her professional path, Moss was the star for many poplar designers and brands such as: Gucci, Dolce & Gabbana, Calvin Klein, Channel and Rimmel London. Moreover, she appeared on the cover of more than 300 magazine throughout her modelling career. Also, in 2005, she won a Fashion Icon award from the Council of Fashion Designers of America.
9 Cindy Crawford
Cindy Crawford is an American supermodel who was born in 1966. Cindy had a very successful modelling career, through which she achieved many accomplishments to the extent that made Forbes magazine chose her as the highest paid model on the entire planet. Also, she was chosen several times by different magazines among the sexiest women in the world. Yet, for your surprise, in 2006 and in her fourth decade she claimed the 26th rank in Hot 100 issue of Maxim magazine. In addition to her modelling path, Crawford also appeared on many TV shows and movies.
8 Naomi Campbell
Naomi Campbell is an English model who was born in 1970. Not only she started her career at young age, but also she managed to be among the most successful and in demand supermodels even though she was only 15 years old. Naomi achieved a huge success which led her to participate in fashion shows of popular designers like Versace. Despite her success, Naomi suffered somehow from discrimination because of her black color. However, by the help of her friends she passed this ordeal. For example she appeared on the cover of the French magazine Vogue after her friend Yves St. Laurent threatens to withdraw from the advertising campaign of this magazine if they keep refusing to put black girls on the cover page. Campbell was not only known as a good model, but she was also a good person who was involved in lots of charity works.
7 Miranda Kerr
Miranda Kerr is an Australian model who was born in 1983. As many other models Miranda started her modelling career at a young age. Kerr achieved lots of success in Australia and then she travelled to New York where she accomplished several successes as well. There, she was involved in many catwalks and advertising campaigns. Because of her wide success, she became the first Australian Model who sign with Victoria's Secret. Along with her success in modelling, Kerr launched a brand of skincare products which is called "KORA Organics." Moreover, Miranda was chosen several times among the sexiest women all around the world.
6 Twiggy
Lesly Lawson nicknamed as Twiggy is a British model who was born in 1949. Even though her modelling career was not that long, she managed to make her short career a successful one. She achieved a wide fame all around the world and she participated in fashion shows in various countries such as: France, Japan and the United States. In addition, The Daily Express chose her to be "The Face of 1966." Twiggy ended her modelling career early saying that "you can't be a clothes hanger for your entire life." Then she made a career shift and started acting. Her acting career was also a successful one, through which she won two Golden Globe awards.
5 Cara Delevingne
Cara Delevingne is an English supermodel who was born in 1992. Cara started her career at very young age, when she was only 10. But her true career started when Sarah Doukas, the founder of Storm Model Management, discovered her. Despite her young age, Cara managed to be a remarkable model and appeared in fashion shows for famous designerssuch as: Burberry, Mulberry, Dolce & Gabbana and Jason Wu. Cara's young age also was not a reason to prevent her from winning the "Model of the Year" award from The British Fashion Award in 2012 and 2014. From 2011 and till now Delevingne participated in lots of catwalks. Furthermore, she also works as an actress.
4 Claudia Schiffer
Claudia Schiffer is a German model who was born in 1970. Schiffer is a well-known model and she is one of the most successful models in the 90s.Throughout her professional modelling path she appeared on more the 1000 magazine's cover. In the 90s Claudia participated in a big campaign for Guess and Paul Marciano stated that "Guess name became really much more known around the world because of Claudia." Aside from modelling Claudia involved in some charity works with the UNICEF and currently she is a Goodwill Ambassador in the UK.
3 Linda Evangelista
Linda Evangelista is a Canadian model who was born in 1965. Evangelista is one of the most famous models of all times, especially in the 80s and the 90s. By the age of 19, Evangelista started her international career when she moved to Paris. Linda appeared on the cover page of various magazines including, Vogue, Glamour, Elle, Allure and Rolling Stone. Largerfeld the head designers of Chanel fashion house stated that "there is no other model in the world as professional as she is." Beside Chanel, Evangelista worked with Versace, Valentino, Dolce & Gabbana, Yves Saint Laurent, Giorgio Armani, Escada, Calvin Klein, etc. Moreover, Linda won many awards such as: a star on Canada's wall of fame in 2003.
2 Christie Brinkley
Christie Brinkley is an American model who was born in 1954. In 1973, she started her career in Paris after she was discovered by the photographer Errol Sawyer. Christie was the face of Cover Girl cosmetics for 25 years which is considered as one of the longest modelling contracts ever. Brinkley appeared on almost 500 magazine's covers such as: Vogue, Newsweek, Rolling Stone and Glamour. Along with modelling Brinkley had an acting career. She appeared on some movies and TV shows. Beside modelling and acting, Brinkley wrote a health and beauty book which was included in the New York best seller list.
1 Tyra Banks
Tyra Banks is an American model who was born in 1973. Banks started her modelling career at the age of 15 after she was rejected from four modelling agencies. She moved to Europe and had a successful career there which led her to appear on the covers of big magazines such as: Elle, Seventeen and Teen vogue. Tyra was the first African American model who appeared on the covers of GQ and Sports Illustrated Swimsuit Issue. In addition, Banks was one of Victoria's Secret Angels. Besides modelling, Tyra appeared in many music videos and wrote a novel about her professional modelling career.